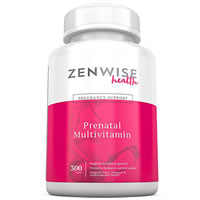 Product Name:  Zenwise Health Prenatal Multivitamin
Overall Rating:  

Type:   300 tablets
Serving Size:  2 tablets per day
Servings Included:  150
Price:  $18.97
Cost Per Serving:  $0.13
Where to Buy:  Click Here
# of Ingredients:  29
Overall Opinion:
Zenwise Health Prenatal Multivitamin has a lot going for it.  It's a great prenatal vitamin, especially for the price.
The ingredients in this prenatal multivitamin are great.  It has some ingredients in it that a lot of prenatals leave out, such as Iron and Vitamin K.  It also has added probiotics to help with digestive support.
It has the perfect amount of Folic Acid, Vitamin C, B3, Zinc, and Biotin.  These are all ingredients that are necessary for you and your baby as he/she is developing.
You also can't beat the price of this prenatal vitamin.  It's $18.97 for 150-day supply; it's very cheap.
The one thing I don't like about it is how big the pills are…. and you need to take 2 per day.  I know a lot of you out there struggle with swallowing pills, and these ones will be too big for you.
But overall, I think this prenatal is definitely better than average and I gave it 4 out of 5 stars.
Detailed Opinion:
Ease of Use
The one thing I didn't care for about this prenatal vitamin is they're not that easy to use.
You have to take two tablets per day, and the tablets are rather large.  I'd prefer to only take one pill per day if I have to swallow them, but the dosage for this one is two pills.
For those of you who have issues swallowing pills, you may have trouble with these ones, as they're pretty large.  I wouldn't say their "horse pills", but they're bigger than your average vitamin.
The directions say to take these with a meal. So I'd take them with dinner or right after dinner most nights.
Taste
You swallow these ones, so there's not much of a taste.  If anything, they have a slightly "vitamin" taste.  And the bottle definitely smells strongly of vitamins.  I saw some reviews online that complained about the way these smell.  To me that just doesn't make sense.  It IS a vitamin so of course it's going to smell like one.  The smell honestly didn't bother me.
Ingredient Analysis
This is where Zenwise Health Prenatal Multivitamin really shines.  It has a lot of great stuff packed into it.
To start off, it contains Vitamin K, which is actually a rather difficult ingredient to find in prenatals. Vitamin K helps with blood clotting, and also with the formation of some critical parts in your baby.  It helps with the formation of healthy bones, teeth, and cranial development. I'd say this is a very important ingredient to have.
Folic Acid is often the first ingredient we look for in prenatal vitamins, and rightfully so.  Zenwise Health Prenatal Multivitamin contains 800 mcg of Folic Acid.  This ingredient is great for helping to prevent neural tube defects in your young one.
These pills also have Iron in them in the amount of 30 mg.  This is a great amount, and it's nice to have this ingredient included.  A lot of prenatal supplements don't contain iron.  So many women out there need to supplement iron through their diet or an additional pill.  This one includes it, which is really convenient.
This multivitamin also contains great amounts of Zinc, Biotin, Vitamin C, and B3.
It has Choline, Calcium, and Iodine as well, although I wish it had a little more of these three ingredients.
This prenatal goes above and beyond and also includes Probiotics to help with your digestive health before, during, and after pregnancy.
It doesn't have Omega-3s in it, but that's easy to supplement outside of this prenatal.
Overall, the ingredient lineup is pretty good.  Again, like all prenatals, it doesn't hit every mark, but it hits a lot of them.
Side Effects
I didn't have any adverse side effects while taking this prenatal vitamin.
Price/Value
This multivitamin is $18.97 for 150-day supply.  That's only $0.13 per day, which is extremely cheap.
Guarantee
I purchased through Amazon, so it has the typical Amazon guarantee, which I think is 30 days.
Where To Buy
To buy Zenwise Health Prenatal Multivitamin, click here.
Zenwise Health Prenatal Multivitamin: Summary
| | |
| --- | --- |
| Factor | Zenwise Health Prenatal Multivitamin |
| Overall Rating | |
| Ease of Use | Not so easy to use, they're very big |
| Taste | Taste a little like vitamins |
| Ingredients | Folic Acid, Vitamin K, Iron |
| Side Effects | No adverse side effects |
| Price/Value | $18.97 for 150 day supply |
| Guarantee | Guarantee through Amazon |
| Where To Buy | Click Here |