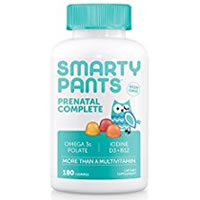 Product Name:  Smarty Pants Prenatal Complete
Overall Rating:  

Type:  180 gummies
Serving Size:  6 gummies per day
Servings Included:  30
Price:  $34.95
Cost Per Serving:  $1.17
Where to Buy:  Click Here
# of Ingredients:  17
Overall Opinion:
I really love these prenatal gummies so I gave them 5 out of 5 stars.
To start off with, these taste delish!  They're little gumdrops that taste like candy.  It's easy to take 6 a day because they taste so good.
The ingredients in Smarty Pants Prenatal Complete are great.  These gummies are formulated without a lot of harmful ingredients such as GMO's, soy, milk, wheat, artificial flavors and colors, etc.
It also includes a lot of ingredients that are beneficial for you and baby. Such as Methylfolate, Omega 3 Fish Oil, Vitamin D, Vitamin K, Iodine, and many more.  And I was pleased with the dosages as well!
The one drawback of this prenatal vitamin is the price.  It's $34.95 for a 30-day supply, which sounds expensive compared to other prenatals.   But in my opinion, it's totally worth it.
All in all, I'm very happy with this prenatal vitamin and I highly recommend it.
Detailed Opinion:
Ease of Use
I found these gummies are very easy to use, although you do have to take 6 of them per day.
To me, they're more like candy so I really didn't mind taking 6 a day.  I actually found it hard to stop at just 6 gummies!
They're pretty small gummies that resemble the candy "Dots"; they look like little gumdrops. You can take them with or without food.  I usually take mine after breakfast or lunch.  You can take them before bed if you want, but I wouldn't recommend it because they have a little sugar in them.
Taste
These prenatal gummies taste SO good.  They literally taste like candy, not vitamins.
Their texture is a bit different than more "gummy" vitamins.  These are as chewy, and tend to melt in your mouth more than most.  They're very soft, and kind of have a gooey texture once you start eating them.
There are 3 different flavors in the bottle… lemon, orange, and strawberry banana.  All 3 flavors are delicious, but my personal favorites are the strawberry banana and lemon.
Ingredient Analysis
Smarty Pants Prenatal Complete has a great ingredient lineup.
It has Omega 3 Fish Oil in it, which not all prenatals include. Omega 3 Fatty Acids are great for baby's developing brain and retinas.  This is one ingredient I love seeing in my prenatal vitamin.
Folate as Methylfolate is included in it in the amount of 800 mcg, which is the perfect amount.  Folate (or Folic Acid) is very important in your baby's development to prevent neural tube defects.
This prenatal also contains a great amount of Vitamin D (1000 iu). Lack of Vitamin D during pregnancy can cause some serious issues, so I was happy that this vitamin included a good amount of it.
Smarty Pants Prenatal Complete also contains Iodine and Vitamin K, which are ingredients that are relatively hard to find in prenantals, but are extremely valuable to both yours and your developing baby.
These gummies don't contain iron, so you'll either need to get iron from your diet or a supplement (ask your doctor about which is best or you).
These little gumdrops are free of GMO's, synthetic colors, artificial flavors, milk, eggs, soy and many other things….which is completely awesome!
So overall, this prenatal hits a lot of marks as far as ingredients I look for in a prenatal vitamin.  Now, is it perfect? No.  No prenatal vitamin is perfect.  But this one comes pretty darn close.
Side Effects
I didn't have any negative side effects while using this prenatal vitamin.
Price/Value
A bottle sells for $34.95, for a 30-day supply.  That works out to $1.17 per day, which is a bit pricey, but worth it for this high quality product.
Guarantee
Yes, if you purchase from their website, they have a money back guarantee.  Although, it doesn't state how long the guarantee is for, so maybe it's indefinitely?
Where To Buy
To buy Smarty Pants Prenatal Complete, click here.
Smarty Pants Prenatal Complete: Summary
| | |
| --- | --- |
| Factor | Smarty Pants Prenatal Complete |
| Overall Rating | |
| Ease of Use | Simple to use, eat 6 gummies per day |
| Taste | Taste like candy, they melt in your mouth |
| Ingredients | Omega 3 Fish Oil, Methylfolate, Vitamin D, Iodine, Vitamin K |
| Side Effects | No side effects |
| Price/Value | $34.95 for a 30 day supply |
| Guarantee | Yes, through their website |
| Where To Buy | Click Here |