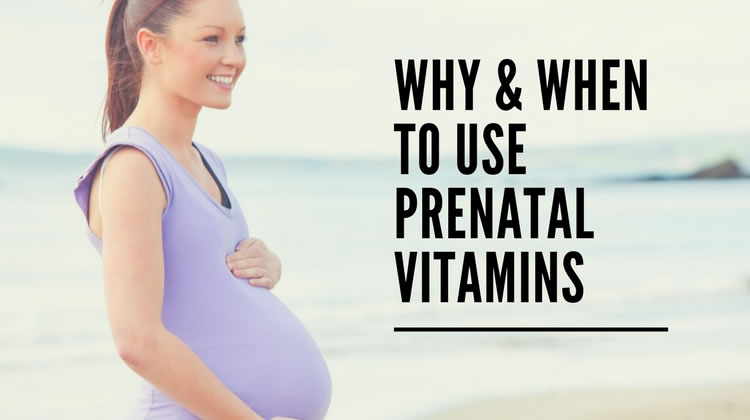 If you have a bundle of joy on the way or are thinking of the possibility, there are likely countless questions and emotions running through your head.
Even the smallest decisions seem monumental.
But above all else, at the end of the day, the biggest priority is a healthy, happy baby.
And a healthy, happy mommy makes for a great duo!
Looking to achieve this magical combo, you've probably scoured the Internet and read any nugget of material you could get your hands on.
In your search or perhaps after a visit with your doctor, prenatal vitamins have certainly come across your radar.
So, what's the big deal about prenatal vitamins?  And why does virtually everyone take them?
Let's take a closer look…
Why Use Prenatal Vitamins?
During pregnancy, your body goes through a great number of changes in order to make way for a baby.
Creating and nurturing a tiny human is no simple feat, yet our bodies seamlessly step up to the task.
Besides a growing tummy, our hormones fluctuate and readjust our entire body system.
Respiratory rate rises, heartbeat quickens, kidneys work overtime, our spinal curvature is realigned, blood volume nearly doubles, hair grows faster, and our feet and ankles swell due to extra fluid.
Our body quite literally changes from head-to-toe!
As a result, dietary and nutritional needs also change during pregnancy.
Mom needs extra support and nutrients beyond the recommended daily amount to feed and nourish the baby.  And baby needs those nutrients for proper growth and development.
A nutritious diet with a variety of whole foods including an abundance of fruits and veggies, lean proteins, whole grains, and low-fat dairy products are essential for a healthy mom and baby.
The idea behind prenatal supplements is to ensure you and baby are getting the optimal nutrients necessary for a healthy pregnancy.
A healthy diet is pivotal, but prenatal vitamins are the extra bit of insurance to make sure you and baby are optimally taken care of and to bridge any nutritional gaps that may be lacking in your diet.
Keep in mind, prenatal vitamins are meant to supplement a healthy diet, not replace it.
With all the questions, decisions, and changes going on, a prenatal vitamin can help take some of the worry out.
So, now that you know why it's important to use prenatal vitamins, it's time to understand when exactly you should take them…
When To Use Prenatal Vitamins
A common question when digesting all of the information available on pregnancy is when to start using prenatal vitamins.
The simple answer is–  before, during, and after pregnancy.
Let's go into a bit more detail for each time frame.
Before Pregnancy
In an ideal world, it's absolutely best to start taking your prenatal vitamin before the bun is in the oven.
Think of it as a pre-prenatal vitamin.
Ideally, start taking your prenatal vitamin 3 months before you plan on conceiving.
If that's not possible, aim for at least 4 weeks before a planned pregnancy.
The reason this is important is because the egg begins to mature around 3 months before being released.
It's crucial that the earliest stages of life have the essential nutrients to start with.
After conception, things start moving remarkably fast.
When the egg cell and sperm cell combine, they create a zygote.
Around 36 hours after the egg is fertilized, it rapidly begins dividing into multiple cells.
It makes its way down the Fallopian tube, enters the uterus, and nestles itself into the nutrient-rich lining of the uterus at about 7 days after conception.
Around 20 to 28 days after conception is when a congenital malformation can occur, leading to a neural tube defect (NTD).
An NTD is a birth defect of the spinal cord, spine, or brain.
The most common types are spina bifida and anencephaly.
Proper nutrients, especially adequate folate levels, are crucial at this time to prevent any birth defects.
Folate is necessary for the growth of the baby's tissues, cells, and organs.
These fatal defects occur just 3-4 weeks after conception, usually before a woman even knows she's pregnant.
That's why using a prenatal vitamin even before becoming pregnant is important to optimally nourish the body.
If you haven't already been taking your prenatal vitamin and think you might be pregnant, call your doctor as soon as possible and ask if you should start taking a 600-mcg supplement of folic acid.
It's better to be safe than sorry and to take the supplement before this critical period ends.
During Pregnancy
So now that the pre-prenatal stage is over, it's time to focus on prenatal.
It's imperative that you use prenatal vitamins over the entire course of your pregnancy.
The body continues to change and fluctuate over the entire 9 months.
This results in varying nutritional needs.
A prenatal vitamin keeps you (and baby) covered throughout the whole pregnancy.
The mother's immune defense is also weakened due to pregnancy and prenatal supplements work to keep it functioning properly.
These supplements are specifically formulated to include the vitamins and minerals you need, regardless of where you're at or which trimester you're in.
Of course, this doesn't mean you can live off ice cream and Cheez-Its and rely solely on your prenatal vitamin.
The supplement works as just that, a supplement or addition to your daily diet.
A nutritious, well-balanced diet needs to be at the forefront.
However, a prenatal vitamin does a fantastic job at covering any nutritional gaps you might have.
It also takes some of the guesswork out of your daily routine.
After The Birth
You've grown quite acquainted to your prenatal vitamin by now.
But it's called prenatal, so it must be time to part ways after your mini-me arrives.
Not so fast…
Time to redefine this supplement once again.
How about post-prenatal vitamin?
So your body has been on a roller coaster ride since conception and it wouldn't leave you hanging with an anticlimactic finish.
9+ months of love, sweat, and tears and it's time to get that peanut out of the womb and into this world.
We've come a long way with childbirth and modern medicine, but no matter what, you're still giving birth to a child.
Regardless of the type of delivery you have, your body goes through trauma and needs time to properly heal.
Luckily, prenatal vitamins are perfectly set-up to aid in this healing process.
Your body is weak and exhausted after delivery, especially if you lost a significant amount of blood during labor.
Lochia can set in, which is normal bleeding succeeding a vaginal or C-section birth.
It can be heavy and prolonged and can last up to several weeks.
This is where your post-prenatal vitamin sweeps in like Iron Man or in this case Iron Woman.
Prenatal vitamins have higher amounts of iron in them, making them ideal for restoring iron and energy levels and also keeping anemia at bay.
These supplements also contain B vitamins and folate, which helps prevent against the "baby blues" and postpartum depression.
A great deal of calcium is lost during pregnancy, since calcium is taken from the mother's bones and transferred to the baby.
Prenatal vitamins contain extra calcium that can boost mom's levels back up along with vitamin d, which increases the absorption of calcium.
Another beneficial ingredient in prenatal vitamins is omega-3 fatty acids.
These fatty acids work to reduce harmful inflammation and control blood pressure.
About 6-8 weeks after childbirth, women usually feel generally recovered.
However, it can take months before the body is fully "healed".
This is definitely a time where your body needs all the help it can get.
And What About During Breastfeeding?
We've talked a lot about the benefits prenatals have for mommy after birth, but what about the new little superstar?
Prenatals not only help the baby grow and develop during pregnancy, but after childbirth as well.
This is true in the case of breastfeeding.
It's recommended to continue taking your prenatal supplement if you're breastfeeding your baby.
The suggested time frame is for at least 6 weeks or for the entire duration that you breastfeed.
Even after pregnancy, your baby's nutrition is a direct result of your diet.
Newborns require sufficient levels of vitamins D, E, K, and A, along with B vitamins, iron, zinc, and calcium and water-soluble vitamins like niacin, vitamin C, and riboflavin.
Fortunately, most prenatal vitamins contain the majority if not all of these nutrients.
This is yet another crucial reason why prenatal vitamins benefit the continued growth, development, and overall health of your baby.
A Final Wrap-Up…
As we've said, prenatal vitamins are specifically designed for the optimal health and well-being of both mom and baby.
These supplements contain the necessary vitamins and minerals needed to support the changes and extra demands on mom.
They also perfectly provide the essential nutrients that are crucial for baby's development during pregnancy.
Prenatal vitamins work synergistically with mom's diet to help mend any potential nutritional gaps.
Even though they are termed "prenatal", these supplements should be used more than just during pregnancy.
Prenatal vitamins should be used before conception in order to create an optimal, nutritious environment for the baby to grow.
They help prevent against any dangerous birth defects that occur early on in pregnancy.
They should also be used during pregnancy to ensure mom and baby are getting efficient nutrients and to foster a healthy rate of growth and development.
Finally, prenatal vitamins should be taken after birth as well.
The ingredients in these supplements assist the healing process in mom, while keeping her nutrient levels normal, especially while breastfeeding.
These vitamins are truly the gift that keeps on giving from before, during, and after childbirth.
To find the perfect prenatal supplement for you and your baby, check out our current list of the 10 best prenatal vitamins!