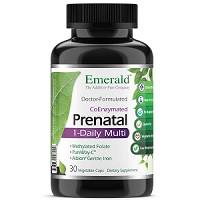 Product Name: Emerald 1-Daily Multi Prenatal
Overall Rating:

Type/Size: 30 Capsules
Serving Size: 1 capsule
Servings Included: 30
Price: $19.76
Cost Per Serving: $0.66
Where to Buy: Click Here
# of Ingredients: 35
Overall Opinion:
The best word to describe Emerald 1-Daily Multi Prenatal is average—which isn't necessarily a good or a bad thing. For example, the entire process of taking the vitamin and incorporating it into your daily life is average, which is a good thing. It's easy to swallow, doesn't have any side effect, and it's tasteless.
However, the ingredient makeup is also just average, which isn't great. While Emerald 1-Daily Multi Prenatal has many ingredients, it doesn't contain everything needed to maintain a healthy pregnancy. For example, Folate, Omega-3s, and Choline are left completely off the ingredient list, which is a pretty big deal.
I don't think you'd be making a wrong choice if you took this prenatal vitamin, but I do think it's worth checking with your OB to see what other supplements he/she might recommend you take along with it for the sake of you and your little one.
Detailed Opinion:
Ease of Use
Emerald 1-Daily Multi Prenatal is extremely easy to use. Simply take one capsule daily, at either breakfast or lunch. It was easiest for me to take it in the morning with breakfast, so that's what I did.
When taken with food, it's super gentle on your stomach, too. I didn't have any issue whatsoever in that department, which is definitely a bonus.
Additionally, the capsule itself is very easy to swallow. It isn't very big, and the plastic coating on the outside made it really easy to take.
Taste
Because of the plastic coating around the vitamin, Emerald 1-Daily Multi Prenatal truly doesn't have any taste at all.
I also didn't experience any gross aftertaste immediately after taking the vitamin, or throughout the day, so it's tasteless on all accounts.
Ingredient Analysis
When I looked at the ingredient list of Emerald 1-Daily Multi Prenatal, I was blown away at how many different vitamins it contained. So I was super intrigued to see if the vitamins were at the proper recommended dietary allowance (RDA), especially since you only have to take one capsule a day, according to their instructions.
After analyzing this long list of ingredients, I think this prenatal is an average prenatal vitamin when compared to others available.
If you've read any of my other prenatal reviews, you know I like to point out the amount of Folate or Folic Acid each prenatal vitamin contains. I am shocked to see that this prenatal vitamin doesn't contain any. How weird is that?! I really haven't seen that before.
If you do end up taking Emerald 1-Daily Multi Prenatal, I highly recommend talking to your OB about finding a Folic Acid/Folate supplement that he/she recommends to accompany this prenatal vitamin. But I really can't believe it doesn't contain any!
For the positives of Emerald 1-Daily Multi Prenatal, it contains the proper RDA of Vitamin A, Thiamin-B1, Riboflavin-B2, Niacin-B3, Pyridoxine-B6, Biotin-B7, Vitamin B12, Vitamin D, Iron, and Zinc.
It's low in Vitamin C and Calcium, but I'm never concerned about that since they're found naturally in many of the foods we eat and drink, and also a little low in Vitamin E, but it's just under so not much to be concerned about.
Unfortunately, it's super low in Vitamin K and Iodine, which is a bummer.
Vitamin K is essential for healthy blood clotting and is associated with the formation of the baby's skeletal and cranial formation. Iodine is crucial for the healthy development of the central nervous system, which includes the fetal brain and spinal cord. So these are major ingredients needed for a healthy pregnancy.
Additionally, Emerald 1-Daily Multi Prenatal is completely missing Choline and Omega-3s.
Proper placental function, neural tube and brain development, and liver functions of the fetus are dependent on the presence of Choline, and Omega-3s are directly involved with brain health and intelligence and help determine the total length of pregnancy.
Overall, I think Emerald 1-Daily Prenatal Vitamin is a little misleading. From the appearance of the bottle, it looks like this prenatal vitamin has everything you need and more, but I think a lot of them are filler ingredients that aren't actually vital during pregnancy.
For that reason, I think this prenatal vitamin is just average when compared to other prenatal vitamins on the market.
Side Effects
I didn't experience any negative side effects while taking Emerald 1-Daily Multi Prenatal.
I did want to mention, however, that my urine was neon yellow while taking this vitamin. This isn't a negative side effect, and has happened to me with other prenatal vitamins, but I wanted to make sure to mention it so you weren't surprised.
Price/Value
I'm not sure Emerald 1-Daily Multi Prenatal is worth the money. While it's definitely not a horrible prenatal vitamin, you'll have to purchase additional supplements in order to maintain a healthy pregnancy.
For example, you'll probably have to pick up Folic Acid or Folate since there isn't any of that, or Omega-3s in general, in this prenatal vitamin. So I think you'll end up spending more money overall.
Guarantee
Emerald sells their products on third-party website, such as Amazon. Individual retailers have their own return policy and guarantees, so make sure you reach out to your chosen retailer for more information before purchasing.
Where To Buy
To purchase Emerald 1-Daily Multi Prenatal, click here.
Emerald 1-Daily Multi Prenatal: Summary
| | |
| --- | --- |
| Factor | Emerald 1-Daily Multi Prenatal |
| Overall Rating | |
| Ease of Use | Take one capsule daily with breakfast or lunch; very easy to swallow |
| Taste | Tasteless |
| Ingredients | Average ingredient list—low in Vitamin K and Iodine, and completely leaves off Folic Acid, Choline, and Omega-3s |
| Side Effects | No negative side effects—did have bright yellow urine, however |
| Price/Value | $19.76 for 30-day supply |
| Guarantee | Sold on third-party websites, such as Amazon. Dependent on each individual retailer |
| Where To Buy | Click Here |