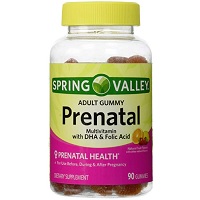 Product Name:  Spring Valley Prenatal Multivitamin
Overall Rating: 

Type/Size:  90 Gummies
Serving Size:  2 gummies daily
Servings Included:  45
Price:  $15.00
Cost Per Serving:  $0.33
Where to Buy:  Click Here
# of Ingredients:  14
Overall Opinion:
If you're looking for a delicious gummy that it super easy to take, then Spring Valley Prenatal Multivitamin gummies are for you.  However, if you're actually looking to keep you and your baby healthy during pregnancy, this is the last prenatal vitamin you should consider.
After analyzing how terrible and lacking the ingredient list is, I rated this prenatal vitamin a 1/5 stars—and I honestly wish I could give it a lower rating than that.
These gummies really are delicious, and taste like candy. And truthfully, I don't think they contain too many ingredients that candy don't.  Aside for FOUR—yep, just four—ingredients that are at the proper recommended dietary allowance (RDA), this prenatal is extremely low in other crucial ingredients, and fails to include majority of important supplements for you and baby.
The delicious taste and ease of use is just a cover for what these "prenatal vitamins" really are—expensive gummy candies.  Do yourself, and your baby, a favor and choose almost any other prenatal vitamin before you choose this one.
Detailed Opinion:
Ease of Use
Spring Valley Prenatal Multivitamin gummies are extremely easy to take!  You just have to chew two gummies daily.  It says to take them with a meal, but I took them both with and without a meal on different days, and didn't feel any different.  So you really can take them whenever!
I personally took them before breakfast every morning, which made it super easy to remember.
Taste
I absolutely LOVED the taste of Spring Valley Prenatal gummies.  They honestly tasted more like candy to me than a vitamin.  If I'm being honest, I might have taken an extra gummy every so often because of how good they were!
I think there are supposed to be three flavors of gummies—orange, lemon, and strawberry.  However, I only saw orange and lemon so maybe they forgot strawberry in mine?  Either way, the orange and lemon definitely taste like orange and lemon, but they taste more like a candy than a flavored vitamin! So, so delicious!
Ingredient Analysis
Spring Valley Prenatal Multivitamin gummies taste so delicious, and are super easy to use, so everything about the experience of using them I absolutely love!  However, when I actually analyzed the ingredients, which is, of course, the most important part of a prenatal vitamin, I found that they're absolutely terrible.
To kick things off on a good note, I will say that I am SO excited that this prenatal vitamin actually has DHA in it.  As you know, DHA is crucial for brain development for your baby, and so many prenatal vitamins are choosing to leave that out these days.  I loved that it included 50 mg of that ingredient.
Spring Valley also included 800 mcg of Folic Acid, which is the perfect amount!  Just make sure that you take note of the fact that it's in the form of Folic Acid, not Folate, so if you need to take Folate specifically, this wouldn't be a good prenatal vitamin for you.
Some additional positives of Spring Valley Prenatal Multivitamins are that they have the perfect amount of Vitamin A, Niacin-B3, Pyridoxine-B6, and Vitamin B12.  Vitamin B6 is super important to be present in your prenatal vitamin as it is beneficial for proper red blood cell and niacin formation, nervous system function, steroid hormone function, and synthesis of nucleic acid.
On the flip side, Spring Valley gummies are low in Vitamin C, Vitamin D, and Vitamin E.  They are also extremely low in Choline, Zinc, and Omega-3s.  On top of that, these vitamins are completely missing Thiamin-B1, Riboflavin-B2, Calcium, Iron, and Iodine.  So basically, it only contains four ingredients at the proper recommended dietary allowance, and is missing the majority of important vitamins.
I literally couldn't be more unimpressed with the ingredient list of these prenatal vitamins.  They are missing so many crucial ingredients, and are low in most others.  I don't understand why any pregnant woman would want to take these to keep her or her baby growing and healthy—because I really don't think they would.
The only thing I think these vitamins should be used for is eating as candy.  And the lack of ingredients is probably why I felt totally fine eating these on an empty stomach.  Overall, these gummies are a total fail.
Side Effects
I didn't experience any negative side effects while taking this vitamin—other than the urge to take more than directed because of how yummy they are.
I also took them with and without a meal and didn't feel sick when I took them on an empty stomach, so I think they're pretty easy on the stomach! (However, it's because they don't contain any real ingredients.)
Price/Value
Spring Valley Prenatal Multivitamins are a complete waste of money.  They have no real ingredients in them, so they're basically candy.  And this price tag is super expensive for 90 candies.
This prenatal vitamin honestly made me angry.  Why would you even create a prenatal vitamin if they aren't actually going to help mom and baby during pregnancy?  It's a total lie of a product, and not marketed correctly, at all.
Guarantee
Spring Valley only sells their products at third-party retailers, such as Amazon, Walmart, and other online stores. So the return policy is dependent on those individual retailers.
Where To Buy
To buy Spring Valley Prenatal Multivitamin, click here.
Spring Valley Prenatal Multivitamin: Summary
| | |
| --- | --- |
| Factor | Spring Valley Prenatal Multivitamin |
| Overall Rating | |
| Ease of Use | Super easy… chew two gummies daily, preferably with a meal. |
| Taste | Extremely delicious. Orange and lemon flavors taste more like candy than a vitamin. |
| Ingredients | Horrible ingredient list. Contains only 4 ingredients at the proper RDA, and is very low in other ingredients or completely missing ingredients altogether. |
| Side Effects | No negative side effects, even when taken on an empty stomach. |
| Price/Value | $15.00 for 45-day supply |
| Guarantee | Only sold through third-party retailers; return policy based on individuals store policies. |
| Where To Buy | Click Here |