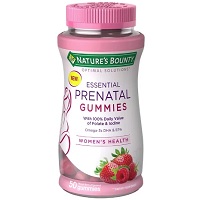 Product Name:  Nature's Bounty Essential Prenatal Gummies
Overall Rating: 

Type/Size:  50 Gummies
Serving Size:  2 gummies
Servings Included:  25
Price:  $8.99
Cost Per Serving:  $0.18
Where to Buy:  Click Here
# of Ingredients:  14
Overall Opinion:
Since Nature's Bounty is such a popular brand for vitamins as a whole, including prenatal vitamins, I had high expectations for Nature's Bounty Essential Prenatal Gummies.  And at first glance, they seem great.  I love the taste of them, they're super gentle on your stomach, and the cheap price tag is appealing.
However, once you glance at the ingredient list, you'll quickly find that these gummies don't contain much more than your run-of-the-mill fruit snack.  In fact, many of the crucial ingredients needed to maintain a healthy pregnancy for both mother and baby are missing altogether.
I wouldn't recommend this prenatal vitamin to anyone and believe me there are many better options at a similar price point, and in the form of a gummy!
Detailed Opinion:
Ease of Use
Nature's Bounty Essential Prenatal Gummies are extremely easy to take.  You simply eat two gummies daily—that's it!
The instructions say to take them with a meal, but I found that when I ate them without food, I didn't have any issues either.  So I think you have a lot of flexibility when it comes to fitting the vitamins into a busy schedule.
Taste
I really enjoyed the taste of these prenatal gummies.  I actually looked forward to taking them each day, and sometimes saved them until the afternoon for a little "treat".
They have a taste similar to a fruit snack, and really don't have any sort of vitamin taste to them at all.  I also didn't have any gross aftertaste or burps after taking them, so I have zero complaints in this department.
Ingredient Analysis
Nature's Bounty is a really popular brand, not just for prenatal vitamins, but vitamins in general, and I have a lot of friends currently using their products.  For that reason, I was super interested to see if this prenatal vitamin was actually a worthwhile product for both mother and baby.
After analyzing the ingredient list, I'm super unimpressed with this prenatal vitamin.  I'm really surprised how many key ingredients it leaves out, and I don't think this is a great choice for pregnant mamas (even if they taste delicious!).
As I always do, I want to make sure and first point out that Nature's Bounty Essential Prenatal Gummies have 600 mcg of Folate in it, which is the perfect amount.  Additionally, it's also in the form of Folate instead of Folic Acid, which is a major positive for this prenatal vitamin.  More and more women are finding that they need this ingredient specifically in the form of Folate, so this is a good fit for most expectant mothers in that regard.
In addition to have the proper RDA of Folic Acid, these gummies also have the right amount of Vitamin A, Pyridoxine-B6, Biotin-B7, Vitamin B12, Vitamin D, Vitamin E, and Iodine.
I'm specifically happy to see the proper RDA for Vitamin D since inadequate amounts of this vitamin are prevalent among pregnancies, and can lead to low birth weight and poorly calcified bones.
They are a little low in Zinc and Vitamin C, but that's never cause for concern since so many foods we eat regularly have plenty of Vitamin C in them naturally.
Sadly, that's pretty much where the positives end when it comes to Nature's Bounty Essential Prenatal Gummies.  This prenatal vitamin completely left out Thiamin-B1, Riboflavin-B2, Niacin-B3, Vitamin K, Calcium, Iron, and Omega-3s.  And while it technically contains Choline, it has such an insanely small amount that I don't think you can count it as an ingredient in this prenatal vitamin.
While it's a major letdown that these prenatal gummies are missing all of these ingredients, I'm really bummed about the Thiamin-B1, especially since this is one of the first prenatal vitamins I've reviewed that doesn't have the proper RDA of this ingredient, let alone keeping it off the ingredient makeup entirely.
Thiamin-B1 aids in the healthy growth and function of the baby's brain, heart, and muscles, so it's hugely important!
Overall, Nature's Bounty Essential Prenatal Gummies are a big letdown.  They taste like an adult fruit snack, and that may just be all that they are.  I wouldn't recommend this for any expectant mothers to aid in a healthy pregnancy.
Side Effects
I didn't experience any negative side effects while taking Nature's Bounty Essential Prenatal Gummies.  This was the case even when I didn't take the vitamin with a meal, so they're definitely gentle on your stomach.
Price/Value
The low price tag attached to Nature's Bounty Essential Prenatal Gummies is very appealing, but that still doesn't make this prenatal vitamin worth the money.  It leaves off way too many crucial ingredients needed for expectant mothers and their growing babies, so you're essentially throwing away your money when you purchase these.
There are many other, better prenatal vitamins on the market, including in gummy form that should be considered instead of Nature's Bounty Essential Prenatal Gummies.
Guarantee
Nature's Bounty sells their products on third-party websites, such as Amazon, and in major retailers, such as Walmart and CVS.  The return policy for their products is dependent on the individual retailer, so make sure you check with them before purchasing.
Where To Buy
To purchase Nature's Bounty Essential Prenatal Gummies, click here.
Nature's Bounty Essential Prenatal Gummies: Summary
| | |
| --- | --- |
| Factor | Nature's Bounty Essential Prenatal Gummies |
| Overall Rating | |
| Ease of Use | Take two gummies daily, preferably with a meal (though I didn't find that necessary) |
| Taste | Really delicious; tastes like an adult fruit snack |
| Ingredients | Disappointing ingredient list; leaves off many crucial ingredients necessary for a healthy pregnancy |
| Side Effects | No negative side effects |
| Price/Value | $8.99 for 25-day supply |
| Guarantee | Nature's Bounty sells their products on third-party websites and stores, such as Amazon, Walmart, and CVS.  Return policy dependent on individual retailer |
| Where To Buy | Click Here |