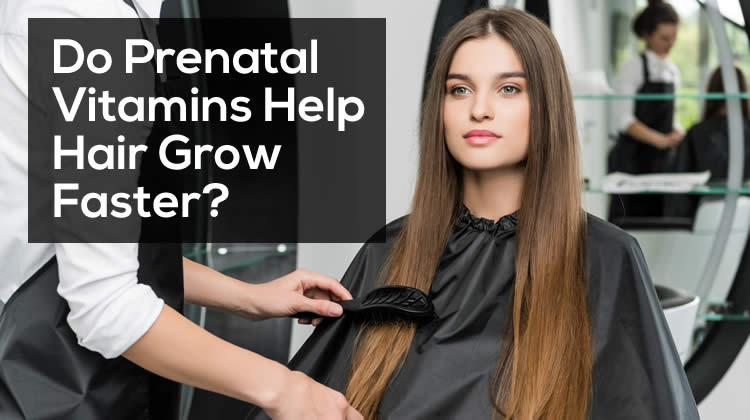 Prenatal supplements are chock full of vitamins that benefit you inside and out.
The ingredients are fine tuned to deliver the proper vitamins and minerals you need to nourish and foster a healthy baby.
They promote normal fetal growth and development and safeguard against any harmful deficiencies.
Prenatal vitamins also benefit mommy by supplying her with vital nutrients so that she is equipped to handle the extra demands on her body.
So, it's no secret that they can help with the overall health of your pregnancy.
But can prenatal vitamins help with the growth of your baby AND with the growth of your hair?
This seems like a great two-for-one deal, obviously the baby takes the cake but wouldn't your future mini me be happy to have Rapunzel as a mommy?
Before you have your partner, the dashing prince, calling up to you to let down your hair, let's get into the logistics of how prenatal vitamins may help your hair grow faster.
Hair Growth Ingredients
It turns out that prenatal vitamins help grow the bun in your oven as well as the bun on your head.
Just as those vitamins nourish your baby, they can do the same for your hair.
Here are some of the best vitamins and minerals that support hair growth that can be found in prenatal supplements.
Biotin
Probably one of the best-known ingredients that can help your hair out is Biotin.
Biotin is among the B-complex vitamins and is also referred to as Vitamin B7.
This beauty promoting B-vitamin helps the growth and density of existing hair.
Biotin produces keratin…
And keratin is the protein that makes up your hair and gives its structure.
Biotin also works to improve the elasticity of your hair, which may help protect it and in turn promote growth.
One of the main consequences of a biotin deficiency is hair loss.
Niacin
Another B-vitamin that is nothing but nice to your hair is Niacin.
This nutrient is also known as Vitamin B3.
Niacin helps your body turn carbohydrates into usable energy.
This vitamin works to keep the proper structure of blood cells and increases the circulation of blood.
So what it does is boost energy and blood flow to the scalp, which brings more nutrients and oxygen to your precious hair follicles, encouraging their growth and health.
Pantothenic Acid

This vitamin belongs to the B-Vitamin family as well.
This one is referred to as Vitamin B5.
Vitamin B5 works by nourishing and strengthening hair follicles.
Through this process it helps the hair follicles function optimally and the result is a promotion of hair growth.
As a perk, it also relieves unsightly and sometimes painful itching and flakes due to dandruff.
Cobalamin
You may be wondering what this weird sounding vitamin is doing here.
You might know this nutrient better as Vitamin B12.
Surprise!  Yet, another B-Vitamin making the list of the top hair beneficiaries.
This vitamin plays a large role in the production of red blood cells, energy production, and cell division.
All these areas are crucial for the quality and growth of hair.
Iron
Iron is a mineral that plays a role in assisting red blood cells to carry oxygen to your cells.
This makes your hair cells work their very best and in turn leads to the promotion of hair growth.
A lack of iron in the body, which causes anemia, is a main reason for hair loss.
Vitamin A
Vitamin A is required for cell growth.
This includes hair, which after bone marrow is the second fastest growing tissue in the body.
Vitamin A promotes the healthy functioning of skin glands, which produce an oily substance known as sebum.
Sebum keeps the scalp properly moisturized and healthy.
This protects hair from drying out and becoming brittle.
All of these functions promote hair to be longer and stronger.
Vitamin D
Vitamin D is suggested to promote healthy hair follicle growth along with the creation of new hair follicles.
This function also helps reduce hair loss.
A deficiency of Vitamin D is associated with alopecia, the fancy word for hair loss.
Vitamin C

Vitamin C is an antioxidant that is able to protect the scalp and combat the harmful effects of oxidative stress that's due to free radicals.
We don't normally associate free radicals with hair but it can leave damage that blocks the growth of hair and actually causes it to age prematurely and thin out over time.
The body also requires vitamin C in order to make collagen.
Collagen is a protein that makes up a large part of our hair.
Another bonus is that vitamin C helps the body absorb iron, which we know is another nutrient that supports healthy hair.
Zinc
Zinc is a mineral that plays an important role in the health, growth, and repair of hair cells.
Another job it has is helping the oil glands surrounding hair follicles to work optimally.
A lack of zinc in the diet can lead to hair loss.
Supplementing with zinc has been suggested to help reduce hair loss.
Omega-3 Fatty Acids
Omega-3 is an essential fatty acid that helps maintain proper cardiovascular function and tissue maintenance.
This fatty acid promotes hair growth, along with luster and sheen.
It also helps lower harmful inflammation that can lead to hair loss.
A Nice Perk Of Pregnancy?
Pregnancy also naturally brings about some hair perks.
It's very common for women during pregnancy to experience changes in their hair growth and texture.
These changes are due to the pregnancy hormones being secreted by your body.
One hormone in particular is estrogen, which is seen in higher levels than normal.
Estrogen prolongs the growth phase of hair.
So not only is hair growing faster but it's less likely to shed or fall out.
This also leads to thicker hair.
Some women notice a healthier sheen to their hair, as well.
During pregnancy, your blood circulation increases and helps push extra nutrients to your hair (and nails).
As for the texture change, some women might experience their curly hair becoming straighter.
Your original hair texture and growth rate will most likely head back to normal about 3 to 6 months after giving birth.
Should You Take Prenatal Vitamins Strictly For Hair Growth?
Prenatal supplements are definitely teeming with beneficial ingredients that promote the growth and health of your hair.
A common question that has surfaced lately is if you should take these prenatal vitamins just to help your hair.
If you're not thinking of getting pregnant, already are pregnant, or are nursing an infant, supplementing with a prenatal vitamin may not be in your best interest.
These supplements are specifically designed to meet the increased nutrient needs to support a growing fetus.
During pregnancy, your daily requirement for vitamins and minerals goes up compared to when you're not expecting.
Some of these ingredients are not healthy to take in high doses and could lead to adverse side effects.
For instance, Vitamin A could be toxic to the liver if you take excess amounts.
Another mineral that may cause concern is iron.
If you get more iron than you need, it could lead to vomiting, nausea, diarrhea, and constipation.
You're much safer off taking a specific supplement or multivitamin that has your recommended daily amount, as opposed to an expecting mother.
Healthy food sources that contain these nutrients are always a good way to go, as well!
Add these foods into your diet to benefit hair growth and health:
Salmon (great source of Omega-3 fatty acids)
Yellow peppers (great source of Vitamin C)
Oysters (great source of Zinc)
Eggs (rich in Biotin)
Sweet potatoes (loaded with beta carotene, the precursor to Vitamin A)
Sunflower seeds (abundant in Vitamin E)
Almonds (high in Biotin)
Spinach (rich in Iron)
Greek yogurt (good source of Vitamin B5)
Oatmeal (loaded with Iron and Zinc)
Guava (great source of Vitamin C)
Lentils (full of Biotin, Zinc, and Iron)
Barley (packed with Vitamin E)
Halibut (good source of Iron)
Shellfish (a good source of Vitamin B12)
In Conclusion…
We've gone over quite a bit of information, so let's do a quick re-cap.
We established that prenatal vitamins help your baby and your hair grow.
Prenatal vitamins are an abundant source of hair healthy ingredients.
The main minerals and vitamins that work to promote fast growing, luscious hair include:  Biotin, Zinc, Vitamin C, Vitamin E, Vitamin B12, Iron, Vitamin B3, Vitamin B5, and Omega-3 fatty acids.
So, if you're searching for the right prenatal vitamin and want an extra hair boost, be sure to look for these ingredients, or a combination of them, in the formula.
All of these hair health benefits are quite tempting even for those who aren't pregnant or thinking of becoming pregnant.
You're better of resisting the urge to take prenatal vitamins strictly for hair growth.
These supplements contain higher doses than normal of vitamins and minerals that are commonly deficient in pregnant women.
Some of these ingredients can cause harm if you get too much of them.
Iron can cause upset stomach, diarrhea, and constipation.
Vitamin A can be toxic to your liver if taken in excess.
If you're not pregnant, opt for finding a specific supplement or multivitamin with the vitamins and minerals mentioned above that includes your safe recommended daily amount.
If you are pregnant, you may experience hair growth and a change in texture due to added estrogen being produced throughout your system.
If you're looking for baby benefits and hair benefits, check out our list of the 10 best prenatal vitamins to help you find the perfect match!