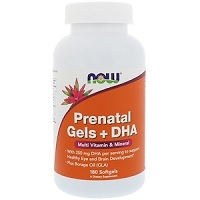 Product Name:  NOW Supplements Prenatal Gels + DHA
Overall Rating: 

Type/Size:  180 Softgels
Serving Size:  3 softgels
Servings Included:  60
Price:  $27.65
Cost Per Serving:  $0.15
Where to Buy:  Click Here
# of Ingredients:  30
Overall Opinion:
I'm pretty convinced that no prenatal vitamin is perfect, but NOW Supplements Prenatal Gels + DHA comes pretty darn close to that.  While failing to meet the Recommended Dietary Allowance (RDA) with a few ingredients, it somehow manages to contain every essential vitamin and ingredient needed for a healthy pregnancy.
This prenatal does require you to take three softgels a day with a meal, but the softgels themselves are very easy to swallow, and don't leave behind any aftertaste at all.  Additionally, I didn't experience any other weird or unsettling side effects while taking this prenatal vitamin, which is always something worth celebrating.
The price point is pretty competitive with other prenatal vitamins on the market and can be easily purchased online.  (I personally recommend going through Amazon as it's cheaper than on their website—weird!)
If you're an expectant mother looking for a prenatal vitamin to keep you and your little one healthy during pregnancy, NOW Supplements Prenatal Gels + DHA is one I recommend you look into.
Detailed Opinion:
Ease of Use
For the most part, NOW Supplements Prenatal Gels + DHA are easy to take.  You simply take three softgels daily with a meal.  I always take my prenatal vitamin with breakfast, so this didn't add any added steps to my normal daily routine.
Three softgels is quite a lot of vitamins to take, and the softgels themselves are pretty large, so make sure you have a lot of water on hand when taking them.  However, they do have a plastic coating so they weren't difficult for me to swallow at all.  I just made sure to take them one at a time (obviously haha).
Taste
NOW Supplements Prenatal Gels + DHA doesn't have any taste at all since the softgels have a plastic coating around them.
Additionally, I didn't experience any gross aftertaste or weird burps throughout the day, so I would say these are truly tasteless prenatal vitamins.
Ingredient Analysis
While breastfeeding my second son, I took a few supplements from NOW Supplements that worked really well for me, so I was super intrigued to see what NOW Supplements Prenatal Gels + DHA were all about as far as the ingredients were concerned.
After analyzing the ingredient list, I'm definitely impressed and excited about what I discovered!  While not perfect, it does have a competitive formula that would keep both mother and baby healthy during pregnancy.
If you've read any of my other prenatal reviews, you know the first thing I like to point out is regarding Folate/Folic Acid.  NOW Supplements Prenatal Gels + DHA has 800 mcg of Folate in it, which is the perfect amount.  This also means this prenatal vitamin is safe for women who specifically need Folic Acid in the form of Folate, which is a nice positive for NOW Supplements Prenatal Gels + DHA right out of the gate.
In addition to having the proper Recommended Dietary Allowance (RDA) of Folate, this product also has the proper amount of Vitamin A, Thiamin-B1, Riboflavin-B2, Pyridoxine-B6, Biotin-B7, Vitamin B12, Vitamin C, Vitamin E, Iron, Zinc, and Omega-3s.
More often than not, I'm finding that most prenatal vitamins on the market don't contain the proper amount of Omega-3s, so I was really jazzed to find that NOW Supplements Prenatal Gels + DHA does. Omega-3 fatty acids are fundamentally essential in providing the building blocks for the baby's retinas and brain.
And if that wasn't enough, Omega-3s also help determine the total length of the pregnancy, and safeguard the mother from perinatal depression.  So this ingredient is definitely something to get excited about!
On the flip side, NOW Supplements Prenatal Gels + DHA is a little low in Niacin-B3 (13mg instead of the recommended 18mg) and Vitamin D (10mg instead of the recommended 15mg), and really low in Vitamin K (only 34mcg instead of the recommended 90mcg), Choline (10mg instead of 450mg), Iodine (150mcg instead of the recommended 220 mcg), and Calcium.
I'm never concerned about a supplement being low in Calcium since it's found naturally in most of the food we eat.
However, I'm always really disappointed when prenatal vitamins don't contain the proper amount of Choline, and as you can see above, this prenatal vitamin is seriously lacking.  Proper placental function, neural tube and brain development, and liver functions of the fetus are dependent on the presence of Choline.
So if you decide to move forward with taking NOW Supplements Prenatal Gels + DHA, I strongly recommend speaking to your OB about safe choline supplements, and any other additional supplements he/she may recommend based on some of the lacking ingredients in this prenatal vitamin.
Overall, I'm pretty impressed with NOW Supplements Prenatal Gels + DHA.  It definitely isn't perfect, but it doesn't leave a single essential ingredient out of the formula, which is almost unheard of these days.  I personally think this is an awesome option for a prenatal vitamin for any expectant mother.
Side Effects
I didn't experience any negative side effects while taking NOW Supplements Prenatal Gels + DHA.  I did make sure to take it with a meal each time as directed, though, so I would make sure you follow the instructions to avoid any issues.
Price/Value
NOW Supplements Prenatal Gels + DHA has a price point comparable to many other prenatal vitamins on the market.  Well, I guess only if you purchase them through Amazon.  These prenatal vitamins are quite a bit more expensive on the NOW Supplements website, which is strange.
Regardless of what price you end up purchasing them for, I definitely think they're worth the money!  Most prenatal vitamins on the market today leave off one or two essential ingredients, but this prenatal has everything you need.
Sure, a few of the ingredients aren't at the proper RDA, but this is still one of the better prenatal vitamins available.
Guarantee
NOW Supplements sells their products on their website, and through third-party websites, such as Amazon.  If you choose to purchase their products through a third-party source, the return policy is dependent on the individual retailer.
If you choose to purchase directly from NOW Supplements, they only accept refunds on unopened products 30 days after purchase, which is ridiculous.  You should be able to see if the supplement agrees with you but NOW Supplements takes that option off of the table.
Additionally, they will not cover the shipping cost to return the product, so this is another reason to go through Amazon or a different retailer.
Where To Buy
To purchase NOW Supplements Prenatal Gels + DHA, click here.
I did want to note that while you can purchase NOW Supplements directly through their website, they seem to be much more affordable through Amazon, which is why I've provided that link instead of their direct website link.  You can find that here, though.
NOW Supplements Prenatal Gels + DHA: Summary
| | |
| --- | --- |
| Factor | NOW Supplements Prenatal Gels + DHA |
| Overall Rating | |
| Ease of Use | Take three softgels daily with a meal; pills are quite large but not too difficult to swallow given the plastic coating |
| Taste | No taste or aftertaste |
| Ingredients | Impressive ingredient list—doesn't leave any essential ingredients out of the formula. Low in a few of the ingredients, though |
| Side Effects | No negative side effects |
| Price/Value | $27.65 for 60-day supply |
| Guarantee | NOW Supplements sells their products on their website and on third-party websites such as Amazon. Their website offers a 30-day money-back guarantee on unopened product. |
| Where To Buy | Click Here |