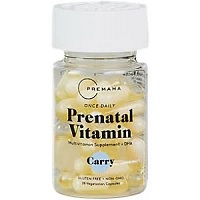 Product Name:  Premama Once Daily Prenatal Vitamin + DHA
Overall Rating: 

Type/Size:  28 Capsules
Serving Size:  1 capsule
Servings Included:  28
Price:  $34.99
Cost Per Serving:  $1.24
Where to Buy:  Click Here
# of Ingredients:  10
Overall Opinion:
Let me cut to the chase– Premama Once Daily Prenatal Vitamin isn't a prenatal vitamin you'll want to spend your money on.  Not only is it an expensive option when it comes to prenatal vitamins, but if you find that the product doesn't work for you, you also aren't able to send it back for a refund.
Apart from the terrible return policy, this prenatal simply doesn't have the ingredients necessary to keep an expectant mother and her baby healthy during pregnancy.  It's missing a bunch of crucial ingredients needed during those nine months, and I'm pretty surprised it's even allowed to market itself as a prenatal vitamin.
While the experience of actually taking this prenatal vitamin isn't unpleasant in the least, you'll quickly find that you're paying a high price for little more than a breath mint.  For that reason, I think any expectant mother should look elsewhere than Premama Once Daily Prenatal Vitamin when it comes to achieving a healthy pregnancy and baby.
Detailed Opinion:
Ease of Use
Premama Once Daily Prenatal Vitamin is super easy to use.  Simply swallow one capsule daily, with or without food.  I actually took this prenatal vitamin both ways and didn't experience an upset stomach either time, so that flexibility is definitely a positive for this prenatal vitamin.
The capsule itself is also very small and has a plastic coating around it, so the vitamin is very easy to swallow.
Taste
Normally when a prenatal vitamin is in the form of a capsule, it doesn't have any taste at all.  Or, if it does, it just tastes like an average vitamin.  This is definitely not the case with Premama Once Daily Prenatal Vitamin.
When I first opened the bottle, I was hit with an extreme minty scent, which completely caught me by surprise.  And as you might expect, that's exactly what they tasted like, too!  It actually tasted like I was swallowing a mint instead of a prenatal vitamin.
I can honestly say I've never experienced this with any other vitamin I've tried before, so this is a unique aspect of this prenatal.
Ingredient Analysis
When I first glanced at the ingredient list for Premama Once Daily Prenatal Vitamin, it seems pretty short, so I was really looking forward to taking a closer look at the ingredient makeup to see how it measured up.
After analyzing the very brief list of ingredients, I'm really surprised that anyone would use this as a prenatal vitamin.  I don't mean to sound harsh, but the ingredient list is so lacking, and the price tag so high!
Before I jump into the bulk of the ingredient breakdown, I first want to mention that Premama Once Daily Prenatal Vitamin has 865 mcg of Folate in it, which is the perfect amount.  This also means this prenatal vitamin is safe for women who specifically need Folic Acid in the form of Folate, which is a positive.
In addition to having the proper Recommended Dietary Allowance (RDA) of Folate, Premama Once Daily Prenatal Vitamin also has the perfect amount Riboflavin-B2, Vitamin B6, Biotin B7, Vitamin B12, and Vitamin D.
I'm always a little excited when I see the proper amount of Vitamin B12 in a prenatal vitamin.  This ingredient aids in regulating gene expression, DNA synthesis, growth of organs, and cell differentiation throughout crucial embryonic and fetal development.
Additionally, Vitamin B12 may potentially inhibit neural tube defects such as spina bifida, so it's a super important ingredient to have present in any prenatal vitamin.
Now for the negative side of Premama Once Daily Prenatal Vitamin.  This prenatal vitamin is super low in Iron, Iodine, and Omega-3s, and doesn't have any Vitamin A, Thiamin-B1, Vitamin C, Vitamin E, Vitamin K, Calcium, Zinc, and so little Choline (literally 0.8% of the RDA) that is shouldn't really count.
I don't really know what to make of that, to be honest.  How could a prenatal vitamin have so many essential ingredients missing and still market itself as a prenatal review?  In my opinion, this is irresponsible of the brand, especially since so many women don't really know what they should be looking for in a prenatal vitamin.
So, I guess it's pretty clear that I'm super unimpressed with Premama Once Daily Prenatal Vitamin, and wouldn't recommend it to an expectant mother.
Side Effects
I didn't experience any negative side effects while taking Premama Once Daily Prenatal Vitamin.
I did experience minty burps throughout the day due to the extreme taste of the vitamin, but that wasn't negative for me.  Additionally, this didn't cause me to burp any more than normal either.
Price/Value
Premama Once Daily Prenatal Vitamin is absolutely not worth the money.  For starters, this is a more expensive prenatal vitamin, and you don't have the option to try it and return it (more on that below).  And since the ingredient list is totally lacking, you're forced to throw away $35 on a glorified mint.
For that reason, I don't think any woman should waste her money on this prenatal vitamin.  There are far better products on the market from brands with much better customer service.
Guarantee
Premama Wellness has a horrible return policy.  You have 30 days to return the product to get your money back, which seems pretty consistent with other brands.  However, the product must be in "new and unused condition".
I have no idea how you're supposed to know whether this prenatal vitamin agrees with you if you can't even try it without the risk of losing your money.  So I'm super annoyed with this aspect of the brand.
Where To Buy
To purchase Premama Once Daily Prenatal Vitamin, click here.
Premama Once Daily Prenatal Vitamin: Summary
| | |
| --- | --- |
| Factor | Premama Once Daily Prenatal Vitamin |
| Overall Rating | |
| Ease of Use | Take one pill daily, with or without food. Capsule is very easy to swallow |
| Taste | Extreme minty taste |
| Ingredients | Terrible ingredient list—missing the majority of crucial ingredients needed to maintain a healthy pregnancy |
| Side Effects | No negative side effects |
| Price/Value | $34.99 for 28-day supply |
| Guarantee | 30-day money-back guarantee on new, unused product; terrible return policy |
| Where To Buy | Click Here |