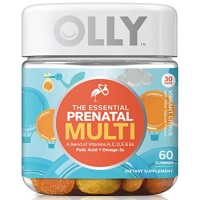 Product Name:  Olly Essential Prenatal Multi
Overall Rating: 

Type/Size:  60 Gummies
Serving Size:  2 gummies per day
Servings Included:  30
Price:  $13.99
Cost Per Serving:  $0.47
Where to Buy:  Click Here
# of Ingredients:  11
Overall Opinion:
I found these gummy prenatal vitamins to be very average after taking them for a while.  So I ranked them 2.5 out of 5 stars.
If the rating was based off of taste along, I'd give these a 5 out of 5, but unfortunately the ingredients fell short in my eyes.
But going back to the taste, these taste really good.  They have a citrus flavor and are coated with sugar.  I actually wish the dosage was more than just 2 gummies per day!
You also can't beat the price, these are pretty cheap.  It's only $13.99 for a month supply.
Olly has a 30 day money back guarantee which is also great for if you aren't happy with the product.
Now, the area where this prenatal really falls short is in the ingredient department.  It's missing quite a few ingredients I like to see in my prenatal vitamin.
But at least it includes 800mcg of Folic Acid, which is one of the most important vitamins during pregnancy.
It just worries me taking a prenatal vitamin that's lacking in a lot of vitamins; baby's health and development comes first and I don't want to jeopardize that at all.
So overall, this prenatal vitamin got 2.5 out of 5 stars from me.
Detailed Opinion:
Ease of Use
I think these gummies are very easy to use.  You just need to take 2 per day.  You can take them with or without food or water, which is convenient.
The gummies themselves are pretty large compared to most.  They resemble little discs.  But I didn't have a problem with the size of them; they were still easy to chew.
Taste
These gummies taste really good.  They're a citrus flavor and have a sugar coating.
I usually don't like when gummies have a sugar coating because it makes them overly sweet, but these still tasted delicious.
The citrus taste is very fresh and not fake tasting.  A lot of gummies that claim to have a citrus taste end up tasting overly sweet and artificial to me, but these taste great.
Ingredient Analysis
The ingredients in Olly Essential Prenatal Multi are good, but not great.  I wish they included a few more ingredients.
To start, it has Folic Acid in the amount of 800mcg, which is 100% of the recommended dietary allowance during pregnancy.  So that's a great amount, I'm glad to see it has a good amount of Folic Acid, as that's a very important vitamin during pregnancy.
Now, it's good in Folic Acid, but it actually falls short in some other very important areas.
Olly Gummies don't contain any B1, B2, Biotin, Vitamin K, Calcium, Iron, or Iodine.  That's a lot to be missing, in my opinion.  Many of these vitamins are essential for your baby's development, specifically your baby's brain, heart muscles, and much more.
Olly Essential Prenatal Multi is a little low in Zinc and Omegas too.  I wish the dosages of these were a bit higher.  But at least it includes some Omegas.
So overall, the ingredients could be better, but no prenatal vitamin is perfect.
Side Effects
I noticed I got a sour tasting after taste in my mouth when I took these.  I felt like I needed to brush my teeth after eating them.
Price/Value
These gummies are a good price.  They're $13.99 for a 30 day supply, which is around $0.50 per day.  That's less than your average prenatal vitamin.
Guarantee
Yes, they have a 30 day guarantee through their website, which is great!
Where To Buy
To buy Olly Essential Prenatal Multi, click here.
Olly Essential Prenatal Multi: Summary
| | |
| --- | --- |
| Factor | Olly Essential Prenatal Multi |
| Overall Rating | |
| Ease of Use | Chew 2 gummies per day, very easy to use |
| Taste | Taste really good, like citrus |
| Ingredients | Missing some vitamins such as B1, B2, Biotin, Vitamin K, Calcium, Iron, and Iodine |
| Side Effects | Bad, sour after taste |
| Price/Value | $13.99 per bottle, great price |
| Guarantee | Yes, 30 day guarantee |
| Where To Buy | Click Here |