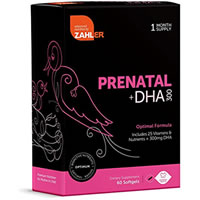 Product Name:  Zahler Prenatal Vitamin + DHA
Overall Rating: 

Type:  60 softgels
Serving Size:  2 softgels per day
Servings Included:  30
Price:  $32.47
Cost Per Serving:  $1.08
Where to Buy:  Click Here
# of Ingredients:  26
Overall Opinion:
This is a very impressive prenatal vitamin so I gave it 4.5 out of 5 stars.
The ingredients are the star of the show; it has almost everything I look for in my prenatal.  Zahler Prenatal + DHA has the perfect amount of most ingredients.  It was just lacking some Calcium and Choline.  It has Folate, DHA, Vitamin K, and many other vitamins that are essential for your baby's health during critical periods.
These are a great price for the quality of vitamin you get.
The one thing I don't like about these is that you need to take one pill, twice per day.  I found it hard to remember to take them some days.  I wish I could take them both in one sitting.  The pills themselves are also on the larger side.   But I don't have a problem taking pills, so they were fine.
Overall, I love these softgels and think they're one of the better prenatal vitamins out there.
Detailed Opinion:
Ease of Use
This prenatal vitamin comes in the form of softgels. The softgels are a reddish, brown color and are a little longer than your average vitamin.  I didn't have a problem swallowing the pills because they're pretty skinny, but for those of you who have problems swallowing pills, you may want to take into account that these are pretty long pills.
The directions say to take one pill, twice daily with meals.  I took them with breakfast and dinner, but I'm sure if you took them at any meal, it'd be fine.  I wish you could take them both at once, as that makes it easier to remember.  That was the one big pain about taking these, remembering to take one twice per day.
They come in a blister pack, as opposed to a bottle.
Taste
These are softgels that you swallow, so they don't have any taste.  I didn't have any fishy taste or burps from the DHA either (yay!).
Ingredient Analysis
As far as ingredients go, Zahler Prenatal + DHA has a lot of good things in it.
First off, as the name of the product suggests, it has DHA in it.  Not all prenatal vitamins contain DHA (fish oil), so sometimes it's necessary to take an additional DHA supplement (depending on what your physician tells you). This one kills two birds with one stone and includes DHA in it.  The dosage is 300 mg, which is a little low for my liking; I like to see around 650mg.  But at least it's a start.
Zahler Prenatal + DHA also has Folate in the amount of 1000mcg in it.  The form of Folate is Quatrefolic* 5-methyletrahydrofolic acid. I saw online that many women who have the MTHFR mutation were excited about this ingredient because they can absorb it as opposed to Folic Acid.  1000mcg is a great dosage; it's even higher than the average 800mcg dosage most prenatal vitamins have.
Also included in these soft gels is Vitamin K.  You'd be surprised how difficult it is to find Vitamin K in prenatal vitamins. These have 80mcg of Vitamin K; I usually like to see 90mcg.
It also has a great amount of Vitamin D, Vitamin C, Vitamin A, Vitamin B2, Iron, and Vitamin E.
Now, these vitamins are lacking a few things.  They don't have nearly enough Calcium or Choline.  When your baby is developing, it takes calcium directly from your bones, so it's important to get enough Calcium so you don't suffer from a deficiency.
But all in all, I'm very impressed with this ingredient lineup.
Side Effects
The first time I took these, I took one a few hours after I ate so I felt nauseous.  Just make sure to follow the instructions and take them WITH a meal and you shouldn't have this effect.
Price/Value
Zahler Prenatal + DHA sells for $32.47 for a 30 day supply.  That's a little over $1.00 a day, which is a great price to pay for the health of your baby.
Guarantee
I bought these on Amazon, so they have the normal Amazon guarantee, which is 30 days.  I couldn't find a direct website for the company, so I think these are just sold on Amazon.
Where To Buy
To buy Zahler Prenatal + DHA, click here.
Zahler Prenatal + DHA: Summary
| | |
| --- | --- |
| Factor | Zahler Prenatal + DHA |
| Overall Rating | |
| Ease of Use | Not as easy as most, you have to take one twice per day |
| Taste | No taste |
| Ingredients | DHA, Folate, Vitamin K |
| Side Effects | No side effects as long as you take them as directed |
| Price/Value | $32.47 for 30 day supply |
| Guarantee | Yes, through Amazon 30 day guarantee |
| Where To Buy | Click Here |