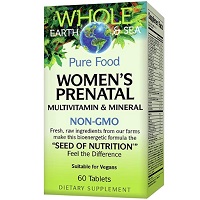 Product Name: Whole Earth & Sea Women's Prenatal Vitamin
Overall Rating:

Type/Size: 60 Tablets
Serving Size: 2 tablets daily
Servings Included: 30
Price: $27.97
Cost Per Serving: $0.93
Where to Buy: Click Here
# of Ingredients: 29
Overall Opinion:
There's a lot to be impressed with when it comes to Whole Earth & Sea Women's Prenatal Vitamin. For starters, most of the ingredients found in the supplement are fresh ingredients from their own farm. Impressive, right?
While the tablets are mostly easy to take, they are a bit difficult to swallow and taste pretty nasty, which can be a deadly combination for a morning-sick expectant mother. Beyond that, however, this prenatal vitamin is easy to work into your daily schedule and doesn't leave you with any nasty side effects.
The ingredient list is really what makes Whole Earth & Sea Prenatal Vitamin pretty average. While nearly all of the necessary vitamins during pregnancy are present in the ingredient list, many of them fall short of the Recommended Dietary Allowance (RDA). Sporting a more expensive price tag than many other options on the market, this was a bummer for me.
Whole Earth & Sea Prenatal Vitamin could be a nice fit for some expectant mothers, but you'll have to pair it with other supplements to ensure both you and your baby are healthy during pregnancy!
Detailed Opinion:
Ease of Use
Whole Earth & Sea Women's Prenatal Vitamin has you swallow two tablets daily. It doesn't specify to take them with a meal, but I always opted to take them after breakfast each morning. However, it appears that you have some flexibility as far as when you want to take the vitamin throughout the day.
The tablets themselves are very large and dry, and made it pretty difficult to swallow, even with a significant amount of water on hand. I made the mistake of swallowing them together once or twice and would highly recommend taking them one at a time. This will help you avoid that feeling of a pill stuck in your throat!
Taste
You would think a tablet that's being swallowed couldn't taste all that horrible, but that isn't the case with Whole Earth & Sea Women's Prenatal Vitamin. The taste is really nasty, and has a bit of a fishy aftertaste to it. Yuck!
I didn't experience any gross burps after I had taken them, so that's definitely worth mentioning. But I was eager to swallow each tablet quickly so the taste wouldn't linger in my mouth for very long.
Ingredient Analysis
Having never heard of Whole Earth & Sea Women's Prenatal Vitamins before, I went in with a completely blank slate as far as what to expect from both the experience of taking the vitamin and the ingredient makeup.
After analyzing the ingredient list, I'd say this prenatal vitamin is pretty average when compared to other prenatal vitamins available on the market today.
Before getting into the details of why I'm both impressed and unimpressed with the ingredient list, I did want to point out that this prenatal vitamins has 700mcg of Folate in it, which is the perfect amount! Additionally, it's in the form of Folate, which many pregnant women are looking for that form specifically. That's definitely a positive right off the bat!
In addition to the Folate, some other positives about the ingredients found in Whole Earth & Sea Women's Prenatal Vitamin is that they have the right amount of Vitamin A, Thiamin-B1, Riboflavin-B2, Vitamin B12, Vitamin D, Vitamin E, Iron, and Zinc.
I was specifically impressed about the Iron because I've found so many prenatal vitamins don't contain the right amount, or any at all. Iron plays a big role in healthy placental and fetal growth and development, and not having enough iron can lead to anemia during pregnancy.
Whole Earth & Sea Women's Prenatal vitamins are slightly low in Niacin-B3, Pyridoxine-B6, Vitamin C, and Vitamin K. For the most part, they are pretty close to where they need to be. And when it comes to Vitamin C, I'm not super concerned since it can be found naturally in so many foods.
However, the Vitamin K being low is a bit of a letdown. Vitamin K is associated with the formation of the baby's skeletal, cranial, and tooth formation, and it's not easily transferred to the baby during pregnancy. So we need as much Vitamin K as possible when it comes to our prenatal vitamins.
When it comes to Choline, Calcium, and Iodine, those are much lower than the Recommended Dietary Allowance (RDA), and since Iodine is crucial for the healthy development of the central nervous system, including the fetal brain and spinal cord, this is definitely something to be aware of when taking this prenatal vitamin.
Finally, a couple ingredients that Whole Earth & Sea Women's Prenatal Vitamin doesn't contain at all are Biotin and additional Omega-3s, which is a bummer! There are plenty of supplements you can take for both Biotin and Omega-3s, but I'd like to see those higher.
Overall, I don't feel strongly one way or another about this prenatal vitamin. I definitely think it has some nice aspects regarding the ingredient list, but it's also far from perfect. So when you compare it to others available to expectant mothers today, I think it does a pretty average job of getting everything needed into the tablets.
Side Effects
I didn't experience any negative side effects while taking this vitamin, so that's always a bonus. While it doesn't specify that you have to take it with food, I always took it after I had eaten breakfast, so you may have a different experience if you take the vitamin on an empty stomach.
Price/Value
It's clear right off the bat that Whole Earth & Sea Women's Prenatal Vitamins are pretty expensive. For almost a dollar a day, you would expect these prenatal vitamins to be nearly perfect. While they definitely aren't horrible, they also have quite a few ingredients lacking in RDA or missing completely.
For that reason, I'm not sure they're worth the money. There are many other prenatal vitamins on the market with a similar or better ingredient breakdown that are more affordable, and I would gravitate to those options over this more expensive prenatal vitamin.
Guarantee
Whole Earth & Sea sells their prenatal vitamins on third-party websites and in health stores, such as Amazon and Sprouts. The return policy for these vitamins is dependent on the individual retailer where you purchase the vitamins from, so make sure you investigate the return policy before purchasing.
Where To Buy
To purchase Whole Earth & Sea Women's Prenatal Vitamin, click here.
Whole Earth & Sea Women's Prenatal Vitamin: Summary
| | |
| --- | --- |
| Factor | Whole Earth & Sea Women's Prenatal Vitamin |
| Overall Rating | |
| Ease of Use | Swallow two tablets daily. Tablets are very large and dry, making it difficult to swallow. Take one at a time |
| Taste | Really nasty taste; a bit of a fishy taste before swallowing |
| Ingredients | Average ingredient list. Contains nearly all necessary ingredients for pregnancy but does not meet RDA on many of them. Does not contain any Biotin or additional Omega-3s |
| Side Effects | No negative side effects when taken with food |
| Price/Value | $27.97 for 30-day supply |
| Guarantee | Sold through third-party retailers; based on return policy of individual retailers |
| Where To Buy | Click Here |