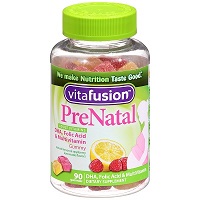 Product Name:  Vitafusion Prenatal Vitamin
Overall Rating: 

Type/Size:  90 Gummies
Serving Size:  2 gummies per day
Servings Included:  45
Price:  $14.10
Cost Per Serving:  $0.31
Where to Buy:  Click Here
# of Ingredients:  22
Overall Opinion:
Vitafusion Prenatal Gummy Vitamins taste really good, but that's about all they have going for them.
I was very under impressed by the ingredient lineup in these gummies.
They're missing a lot of vitamins that are critical for both mom and baby throughout pregnancy.  I haven't seen another prenatal vitamin that doesn't even include Vitamin B1 and B2.  These are very common nutrients that are found in 99% of prenatal vitamins.  Not to mention, they're missing way more than just these two.
They're also quite low in a few areas such as Omega-3s and Vitamin C (as well as others).
Now, they do have a good amount of Folic Acid, which I'm happy to see.  But that's not enough to make up for what they're missing.
Prenatal vitamins aren't something you want to mess around with, especially when they can be so beneficial to both you and your child during pregnancy.
So even though these gummy vitamins may taste good, I think there are way better choices as far as prenatal vitamins go.
I ended up ranking Vitafusion Prenatal Vitamin 1 out of 5 stars.
Detailed Opinion:
Ease of Use
These gummy vitamins are very easy to use.
You just need to take two per day; it doesn't say whether you need to take them with or without food so I think you can do either.
Taste
Vitafusion Prenatal Gummy Vitamins taste really good.  They come with two flavors… Lemon and Raspberry Lemonade.  Both of them taste pretty similar and have a lemony flavor.
They're not overly sweet, even though they're coated in sugar.  They kind of taste like candy and I could easily take more than two based off the taste of them.
Ingredient Analysis
Now, this is where this prenatal vitamin fell short.
It's lacking a lot of the nutrients I look for in my prenatal vitamin.
These gummies completely leave out B1, B2, Biotin, Vitamin K, Choline, Calcium, and Iron.  That's a lot of vitamins to leave out. Usually I'll see a prenatal lacking in 1 or 2 vitamins, but not this many.
Those are some very crucial nutrients to leave out when you're growing a baby, and I wouldn't feel comfortable taking these gummies while I'm pregnant… especially during the critical first trimester.
It's also low in the following vitamins: Vitamin C, Vitamin E, Iodine, Zinc, and Omega-3s.
Like I've mentioned before, I still have yet to find the perfect prenatal vitamin.  But this one doesn't even come close to having all that I look for.
Now, it does have a good amount of Folic Acid in it, which I know is what a lot of you (including myself) look for in a prenatal vitamin.
But the lack of other vitamins and nutrients is very concerning to me, and it's not worth the health of my baby as well as myself.
Side Effects
After I chewed these, I noticed an awful taste was left in my mouth.  The taste was sour and I had to brush my teeth after I'd take these.
Price/Value
These gummies work out to $0.31 per day, which is very cheap.  But in this case, you kind of get what you pay for unfortunately.
Guarantee
The guarantee depends on where you purchase them.  They're available through most drugstores and supermarkets, but they're not available for purchase on the Vitafusion website.
Where To Buy
To buy Vitafusion Prenatal Vitamin, click here.
Vitafusion Prenatal Vitamin: Summary
| | |
| --- | --- |
| Factor | Vitafusion Prenatal Vitamin |
| Overall Rating | |
| Ease of Use | Easy to take, chew 2 gummy vitamins daily |
| Taste | Taste really good, lemony and sweet |
| Ingredients | Lacking a lot of crucial ingredients |
| Side Effects | There was a bad aftertaste in my mouth |
| Price/Value | $14.10 for a 45 day supply |
| Guarantee | Depends on where you purchase |
| Where To Buy | Click Here |