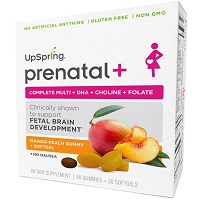 Product Name:  UpSpring Prenatal+ Gummy
Overall Rating: 

Type:  90 Gummies and 30 Softgels
Serving Size:  3 gummies per day, 1 softgel per day
Servings Included:  30
Price:  $24.99
Cost Per Serving:  $0.83
Where to Buy:  Click Here
# of Ingredients:  15 in gummy, 2 in DHA softgel
Overall Opinion:
UpSpring Prenatal+ Gummy is one of the best tasting and highest quality prenatal vitamins I've found.
To start off, these taste SO good!  The mango peach flavor is fruity and delicious.  They don't even taste like vitamins; they taste like candy.
This prenatal vitamin comes with 2 parts… a gummy and a softgel.  The gummies are packed with vitamins and the softgels contain Omega-3s, which I love.
The combo of both the gummies and the softgel provide almost all vitamins you and your baby need during pregnancy.
They are missing a few things, but they're better than most prenatal vitamins as far as ingredients go.
Overall, I absolute love these and rated them 5 out of 5 stars.
Detailed Opinion:
Ease of Use
This prenatal gummy has two different parts.  I got the pack that comes with both gummies and DHA softgels.
You take 3 gummies per day, and 1 softgel per day.
The nice thing about these is you can take them all at once, or you can space them out throughout the day.  I found it easier to just take them all at once, that way I wouldn't forget how many I had taken.  You could take one gummy at each meal if you'd prefer to take them separately.
The gummies have a little different texture than most gummies.  They're a little gritty, and once you start chewing them, they melt in your mouth.
The packaging says the softgels are extra small, but I don't think they're THAT small.  I found that every few days one of the softgels would get stuck in my throat.
But overall, these are pretty easy to use.
Taste
The UpSpring gummies taste SO good.  They're a mango-peach flavor that's so delicious.  They're tart and sweet (without being overly sweet).
The softgels you swallow, so they don't have much of a taste.  But I didn't get any fishy burps, which is always a plus!
Ingredient Analysis
Overall, it's hard to beat this ingredient lineup.  Is it perfect? No. But the ingredients are great and come close to hitting all marks I look for.
Folic acid or Foalte is always the first ingredient expecting mothers look for in their prenatal vitamin.  This one contains Folate in the amount of 800mcg.  This amount is perfect, and very standard in prenatal vitamins. For those of you who don't know, Folate is the natural form of Folic Acid.
These gummies contain great amounts of Vitamin C, D, B1, B2, B3, B6, B12, and Biotin.  I was very pleased to see this as all these vitamins are crucial to you and your developing baby in his/her early days.
Now, these gummies aren't perfect, like I mentioned.  They're a little low in a few vitamins, and missing a few completely.
I wish they had higher amounts of Vitamin A, Vitamin K, Choline, and Zinc.  But at least they include Vitamin K, a lot of prenatal vitamins leave Vitamin K out.
Now, UpSpring Prenatal+ Gummy doesn't have calcium, iron, or iodine in it.  I'm a little surprised that it doesn't have any iodine, as a lot of prenatals do.  But I'd say about half of the prenatal vitamins I try don't have iron in them, especially the gummies.  So you'll need to provide additional supplementation of these ingredients either through diet or vitamins. Just make sure to check with your doctor first for their recommendation on how to do so.
The second part of this prenatal vitamin are Omega-3 softgels.  The softgels include DHA and choline, simple enough.  I'm really glad they include these softgels as omega-3s are essential for your baby's brain and retina development and are directly involved with intelligence and brain function.
Side Effects
The only side effect I had is that sometimes the softgels would get stuck in my throat.
Price/Value
These sell for $25 for a 30 day supply.  That's a great price considering what you get with these.
Guarantee
No, they don't have a money back guarantee, which is really disappointing.  I wish UpSpring would stand behind their products more.
Where To Buy
To buy UpSpring Prenatal+ Gummy, click here.
UpSpring Prenatal+ Gummy: Summary
| | |
| --- | --- |
| Factor | UpSpring Prenatal+ Gummy |
| Overall Rating | |
| Ease of Use | Pretty easy to use… chew 3 gummies per day and swallow 1 softgel |
| Taste | Gummies taste so good and fruity! |
| Ingredients | Overall great ingredients, only missing a few |
| Side Effects | Sometimes softgels would get stuck in my throat. |
| Price/Value | $24.99 for a 30 day supply |
| Guarantee | No guarantee |
| Where To Buy | Click Here |