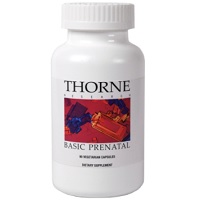 Product Name:  Thorne Basic Prenatal
Overall Rating: 

Type/Size:  90 vegetarian capsules
Serving Size:  3 capsules
Servings Included:  30
Price:  $26.90
Cost Per Serving:  $0.90
Where to Buy:  Click Here
# of Ingredients:  24
Overall Opinion:
Thorne Basic Prenatal is a high quality prenatal vitamin.
I'm very impressed with the ingredients in this one.  It's only missing a few things I look for in my prenatals.  But overall, both mom and baby should be happy with the nutrition included in these capsules.
The price is great; it's less than $30.00 for a 30 day supply.  You can't beat that.
The two things I don't like about this prenatal are the huge size of the pills and the fact they have no money back guarantee.
The capsules are very big, and you need to take 3 per day!  Let me tell ya, they aren't very easy to get down.  I also preferred taking them at nighttime to avoid any weird tasting burps throughout the day.
Like I mentioned, they also don't have a money back guarantee. So unfortunately, if these don't work out for you, you're kind of out of luck.
But overall, I think Thorne Basic Prenatal is better than most prenatal vitamins out there and I gave it 4 out of 5 stars.
Detailed Opinion:
Ease of Use
These aren't the easiest prenatal vitamins to take.
You need to take 3 capsules per day, and they're pretty big.  I have no problem taking 3 a day if they're tasty (like gummies) or easy to swallow.  But these are pretty large, which made them harder to get down.
They're vegetarian capsules, so at least they have a slick coating to get them down your throat.  But there were many times these got stuck in my throat.
There were even a few times I was left gagging because I think all 3 got jammed in my throat and I couldn't breathe.  I just chugged a ton of water and they finally went down.
I definitely wish these were smaller.
Taste
There isn't much taste to these vegetarian capsules.
But if you get them stuck in your throat and they start to dissolve, you can taste some nasty vitamin taste.
Ingredient Analysis
Thorne Basic Prenatal has a great ingredient list.
It has 1mg of Folate, which is higher than most prenatals, and a great amount to have.
It also includes perfect amounts of Vitamin A, B1, B3, Biotin, B12, C, D, E, K, Iron, and Zinc.  I'm very impressed that it includes great amounts of these vitamins… even Vitamin K!  Many prenatal vitamins don't include Vitamin K at all, so this is a huge bonus. Vitamin K isn't easily transferred to the baby during pregnancy, so most newborns are born deficient in Vitamin K.  This make it all the more important to get a good dose of Vitamin K in your prenatal vitamin.
Now, it's a little low in B2, B6, Calcium, and Iodine.  So you can either supplement a little extra of these in your diet or your can take additional supplements to get the needed amount (just make sure to check with your OBGYN first).
The only two ingredients it's missing in my opinion are Choline and Omega-3s.  It's common for Omegas to be left out of prenatal vitamins, so there's really no surprise there.
They also added some additional ingredients in here, such as Copper, Selenium, Manganese, Chronium, and Molybdenum.  All these ingredients have great health benefits for you and your growing baby.
But overall, this prenatal vitamin has a very impressive ingredient list.
Side Effects
I'd often get these stuck in my throat.
Throughout the day I also noticed weird tasting burps, but this was eliminated when I'd take the product at night.
Price/Value
This prenatal vitamin sells for $26.90 per bottle.  That works out to $0.90 per day, which is a great price point.
Guarantee
Thorne doesn't offer a money back guarantee, which I was really disappointed to see.
They obviously don't stand behind their products like they should.
Where To Buy
To buy Thorne Basic Prenatal, click here.
Thorne Basic Prenatal: Summary
| | |
| --- | --- |
| Factor | Thorne Basic Prenatal |
| Overall Rating | |
| Ease of Use | Difficult to take, need to take 3 huge pills per day. |
| Taste | No taste |
| Ingredients | Great ingredient lineup |
| Side Effects | They'd get stuck in my throat. |
| Price/Value | $26.90 for a 30 day supply |
| Guarantee | No money back guarantee |
| Where To Buy | Click Here |