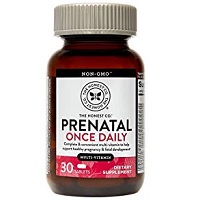 Product Name:  The Honest Co. Prenatal Once Daily
Overall Rating: 

Type/Size:  30 Tablets
Serving Size:  1 tablet per day
Servings Included:  30
Price:  $19.95
Cost Per Serving:  $0.66
Where to Buy:  Click Here
# of Ingredients:  26
Overall Opinion:
Millions of moms swear by The Honest Co. and their baby products, so I was interested to see how The Honest Co. Prenatal Once Daily vitamins stacked up.  After analyzing the ingredients and using the vitamin, I can safely say that this is one of the best prenatal vitamins on the market today.
For that reason, I gave it 4.5 out of 5 stars after trying it out.
While the pill itself is large and difficult to swallow, it provides the flexibility that most women need in that you can take the vitamin any time of day, with or without food. And it doesn't deliver any gross burps or after-taste as you move through your day, which is a definite perk.
When it comes to the ingredient list, this vitamin doesn't leave anything off, and somehow manages to pack it with the Recommended Daily Amount (RDA) for each and every ingredient.  They also include their own Prenatal Wellness Blend and Enzyme Blend to top it all off.  The presence of so many good ingredients makes the difficulty of swallowing the pill easy to look past.
At such an affordable price for a 30-day supply, and an ingredient list that genuinely takes care of both mom and baby, The Honest Co. Prenatal Once Daily vitamin should be on every mom's radar—before, during, and after pregnancy.
Detailed Opinion:
Ease of Use
The Honest Co. Prenatal Once Daily vitamins are really easy to use in some ways, and slightly more challenging in others.
The easy side of things is that you only have to take one pill a day, and you can literally take it whenever you want.  It even specifies in their instructions that you can take this prenatal vitamin on an empty stomach.  So I really enjoyed that flexibility since I can sometimes forget to take it in the morning when I normally would.
On the flip side, these pills are really large, and they are pretty "dry".  What I mean is they don't have any sort of coating on them that would make them smooth and easier to swallow.  So when it comes to actually swallowing these vitamins, it's pretty tricky.  I found I needed a lot of water, and that it still would sometimes feel stuck in my throat.
So if you're someone who has a tough time swallowing pills to begin with, let alone one this massive, this could be a difficult prenatal for you to try.
Taste
As a tablet you swallow, The Honest Co. Prenatal Once Daily vitamins don't have any taste.  I also found that even as I went through my day, I wasn't having any gross burps or weird after taste from the vitamin.  This is definitely a bullet point in the pro column for this prenatal vitamin!
Ingredient Analysis
The Honest Co. has a pretty awesome reputation when it comes to their baby-related products, and millions of moms swear by this company, so I was super interested to see how their prenatal vitamin stacked up compared to others on the market! As you will soon tell, I was beyond impressed with what I found.
On the positive side, The Honest Co. Prenatal Once Daily vitamins have 650 mcg of Folate in it, which is the perfect amount.  However, just make sure you take note of the fact that it's in the form of Folate, not Folic Acid, so if you prefer one over the other, make sure you're paying attention to that ingredient specifically.
These tablets also have a great amount of Vitamin A, Vitamin D, Vitamin E, Thiamin, Riboflavin-B2, Niacin-B3, B6, Vitamin B12, Biotin, Iron, Iodine, Zinc, and Choline, as well.  I see so many prenatal vitamins that fail to include the proper amount of Choline, or leave it off altogether, so I was excited that it was in the right dosage here!  Proper placental function, neural tube and brain development, and liver functions of the fetus are all dependent on the presence of choline, so it's more than important for baby!
While this may be getting nitpicky, these prenatal vitamins are slightly low in Vitamin C and Vitamin K, but just barely below the Recommended Daily Amount (RDA).  However, they are considerably low in Calcium, which I really don't like seeing.  As I'm sure you know, Calcium plays a major role in bone development for your baby, so if you choose this vitamin, make sure you talk to your OB/GYN about getting the right amount of calcium for you and your baby!
I found it really interesting that The Honest Co. Prenatal Once Daily vitamins had copper in them.  This is one of the first times I've seen this in a prenatal vitamin, so it definitely caught my eye on the ingredient list. After doing a little research, I found it's helpful in forming red blood cells, so that's awesome to see it included in the ingredient list!
Additionally, they include a Prenatal Wellness Blend in their vitamin that includes different plant extracts, as well as an Enzyme Blend, which I think are both really nice additions to this prenatal vitamin.
Overall, I am overly impressed with this ingredient combination for The Honest Co. Prenatal Once Daily vitamins.  The only thing they are missing is DHA, but there are plenty of Prenatal DHA supplements out there, so make sure you talk to your doctor about finding one that works for you.
Side Effects
I didn't experience any negative side effects while I was taking The Honest Co. Prenatal Once Daily vitamins, so that's always a major plus!
Price/Value
Priced at less than $20 for a 30-day supply, The Honest Co. Prenatal Once Daily vitamins are a relatively affordable option when compared to other prenatal vitamins on the market.
After analyzing the ingredient list, these are well worth the money!  These are wholesome prenatal vitamins that take care of you and baby, and I would truthfully pay even more for a 30-day supply than they are charging. You're definitely getting a bang for your buck!
Guarantee
The Honest Co. has a really great return policy.  It states on their website that you have a full year (365 days) after receiving the product to return any items you aren't satisfied with for a full refund.
They also state that if you aren't happy with your product after that time frame, they'll figure out a solution with you.  So definitely great customer service!
Where To Buy
To buy The Honest Co. Prenatal Once Daily vitamins, click here.
The Honest Co. Prenatal Once Daily: Summary
| | |
| --- | --- |
| Factor | The Honest Co. Prenatal Once Daily |
| Overall Rating | |
| Ease of Use | Take one pill daily at any time, with or without food; large, dry pill that is difficult to swallow |
| Taste | No taste when swallowing product and no gross after-taste throughout the day |
| Ingredients | Amazing ingredient list—has the proper RDA of almost every important ingredient; low in Calcium |
| Side Effects | No negative side effects |
| Price/Value | $19.95 for a 30-day supply |
| Guarantee | Returns for a full refund accepted 365 days after receiving your product |
| Where To Buy | Click Here |