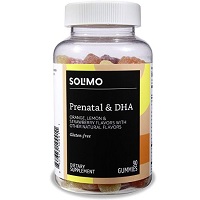 Product Name: Solimo Prenatal + DHA Vitamin
Overall Rating:

Type/Size: 90 Gummies
Serving Size: 2 gummies daily
Servings Included: 45
Price: $7.99
Cost Per Serving: $0.09
Where to Buy: Click Here
# of Ingredients: 11
Overall Opinion:
Solimo Prenatal + DHA Vitamin is Amazon's own brand, and for many of us, Amazon can do no wrong. And upon first appearance with this prenatal vitamin, it appears that it's a total win. However, when you dig deeper, it falls short in a lot of areas.
That's why I ended up rating Solimo Prenatal + DHA Vitamin 2/5 stars.
These vitamins are extremely easy to use, taste delicious, and contain DHA, which many other prenatal vitamins on the market fail to do. They are also insanely affordable, which is something all of us can appreciate!
Unfortunately, Solimo Prenatal + DHA falls short when it comes to the actual ingredient makeup of the vitamin. Many essential ingredients are left off entirely, and other ingredients, such as the DHA, aren't nearly close enough to the Recommended Dietary Allowance (RDA).
While so much of me wants to love this prenatal vitamin from Amazon (trust me, I'd eat these gummies all day long!), I'm not sure this is the best fit for expectant mothers and their babies, despite how affordable they might be.
Detailed Opinion:
Ease of Use
At first I didn't believe how simple Solimo Prenatal + DHA Vitamin's instructions were. All it says on the packaging is to chew two gummies daily. However, it really is that simple! Sometimes I took the vitamin in the morning before I had eaten anything, and other times I would remember to take it after lunch on a full stomach.
No matter what time of day I took it, or whether I had eaten food or not, I didn't have any issue with the vitamin. It really was that easy to use, which I appreciate.
Taste
Solimo Prenatal + DHA Vitamin comes in three different gummy flavors—orange, lemon, and strawberry. While I personally liked the strawberry best, all three of the flavors were absolutely delicious.
I might be a total nerd, but I was excited to take these each morning because of how good they taste. They taste just like candy, and for someone who loves sugar (me!), this was a welcome treat in the morning.
Ingredient Analysis
In all honesty, I'm a big fan of Amazon, so when I saw that Solimo Prenatal + DHA Vitamin was Amazon's own brand, I was pretty excited to give it a try. And since it's so easy to take and tastes delicious, I was really hoping the actual ingredient list would make this prenatal vitamin an all around winner.
After analyzing the ingredient list, I'm sadly not very impressed with the prenatal vitamin.
Before I jump in to the more in-depth review of the ingredients, I have to say how happy I am that Solimo Prenatal + DHA actually has DHA in it. For how important of an ingredient DHA is for both baby and mother, so many prenatal vitamins fail to include it in their ingredient list!
Unfortunately, it's super low in DHA, containing 50mg when 300mg are recommended daily. So my excitement might not have been totally warranted, but Solimo is one of the few prenatal vitamins that at least included the ingredient in there, so I'm still counting it as a plus!
Overall, Solimo Prenatal + DHA is really low in Omega-3s, containing only 70mg when you need 650mg daily, so that's definitely something to be aware of. You'll likely need an additional supplement to get the proper amount of Omega-3s in your diet.
Additionally, Solimo Prenatal + DHA also contains 800mcg of Folic Acid, which is the perfect amount for a prenatal vitamin. Just to point out, however, it's not in the form of Folate, so make sure you chat with your OB about that first!
Some additional positives about the ingredients found in this prenatal vitamin is that they have the right amount of Vitamin A, Niacin-B3, Pyridoxine-B6, Vitamin B12, and Vitamin E. Vitamin B3 helps turns food into energy, and I'm sure all you pregnant mamas can understand how important that is!
On the other hand, Solimo Prenatal + DHA Vitamin is low in Vitamin C and D, which isn't that big of a deal because of how many foods offer a high amount of both. However, I did just want to make sure and mention it to you.
The vitamin is also really low in Choline and Zinc, so you'll definitely want to make sure you're fitting that into your diet elsewhere. For example, Choline is linked to the creation of organs, so it's really important you get the proper RDA (Recommended Dietary Allowance).
I think the aspect I'm most disappointed about when it comes to this prenatal vitamin is how many ingredients are missing entirely. Unfortunately, Solimo didn't include Thiamin-B1, Riboflavin-B2, Biotin-B7, Vitamin K, Calcium, Iron, or Iodine in their prenatal vitamin, which is such a bummer. All of those vitamins are crucial for the health of you and your baby.
For example, Vitamin K is connected to healthy blood clotting, Iodine helps with the development of the fetal brain and spinal cord, and the list goes on. To have a lot of essential ingredients missing is just a bummer.
Overall, I'm disappointed with the ingredient list for Solimo Prenatal + DHA Vitamin and wish it had more of the important vitamins present in its makeup.
Side Effects
I didn't experience any negative side effects while taking this vitamin, so that's always a bonus. I also took it on an empty stomach multiple times and it didn't give me any discomfort, so this prenatal vitamin really can be taken any time of day, with or without food. I really enjoy that flexibility!
Price/Value
Since Solimo Prenatal + DHA Vitamin is Amazon's own brand, I shouldn't be surprised at how insanely affordable this prenatal vitamin is. For a 45-day supply, it will cost you less than $8, so it might be the cheapest prenatal vitamin on the market.
Besides the ease of use and delicious taste, Solimo Prenatal + DHA Vitamin doesn't have the most impressive ingredient list. It's missing many essential vitamins you need during pregnancy, so I'm not sure the taste and ease of use is reason enough to use this specific prenatal vitamin.
However, it does contain some important supplements, including DHA, so with the cheap price tag, I still think this would be a worthwhile purchase. You would just have to find an additional vitamin, or more than one, to take along with it.
Guarantee
Solimo sells their prenatal vitamins on third-party websites and health stores, such as Amazon. The return policy for these vitamins is dependent on the individual retailer where you purchase the vitamins from, so make sure you investigate the return policy before purchasing!
Where To Buy
To purchase Solimo Prenatal + DHA Vitamin, click here.
Solimo Prenatal + DHA Vitamin: Summary
| | |
| --- | --- |
| Factor | Solimo Prenatal + DHA Vitamin |
| Overall Rating | |
| Ease of Use | Chew two gummies daily—that easy! Taken with and without food and didn't experience any stomach discomfort |
| Taste | Delicious gummy—tastes like candy! Especially enjoyed the strawberry flavor |
| Ingredients | Unimpressive ingredient list. Leaves many essential ingredients out entirely and comes up low in a few others. |
| Side Effects | No negative side effects |
| Price/Value | $7.99 for 45-day supply |
| Guarantee | Sold through third-party retailers; based on return policy of individual retailers |
| Where To Buy | Click Here |