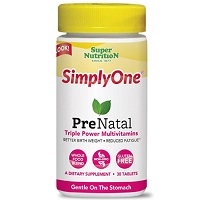 Product Name:  SimplyOne PreNatal Triple Power Multivitamin
Overall Rating: 

Type/Size:  30 Tablets
Serving Size:  1 tablet daily
Servings Included:  30
Price:  $9.65
Cost Per Serving:  $0.32
Where to Buy:  Click Here
# of Ingredients:  35
Overall Opinion:
Don't let SimplyOne PreNatal Multivitamin's cheap price tag fool you.  This prenatal vitamin has an incredible ingredient list, and is one of the best on the market in that regard.
After trying out the vitamin and reviewing the entirety of the ingredient list, I rated this prenatal vitamin 4/5 stars.
While you only have to take one pill a day, you absolutely have to take it after you've eaten a meal.  Taking it before, or even with food, will leave you feeling nauseous initially, and sick throughout the rest of the day.  Anyone with a sensitive stomach especially should be careful when taking this vitamin.
Aside from the lack of flexibility there, this prenatal vitamin is packed with all of the essential ingredients needed to keep both mom and baby healthy and growing during pregnancy, and even includes a few additional supplements that are great for baby but not found in common prenatal vitamins today.
With a cheap price tag and a bunch of retailers to purchase from, SimplyOne PreNatal Multivitamin is definitely one you should consider for your prenatal health.
Detailed Opinion:
Ease of Use
Some aspects of SimplyOne PreNatal Multivitamin are super easy to use and others not so much.  I did really like that you only have to take one pill a day, and I found that the pills were fairly easy to swallow. It's definitely still a pretty large pill so make sure you have a good amount of water on hand, but I found they went down fairly easy with a few gulps of water.
It does say in the instructions to take the vitamin after eating a meal, and you definitely want to follow this.  I accidentally took it before breakfast one day, and I felt super nauseous and sick to my stomach.  Even after eating, I still didn't feel great the entire day.
I also tried to take the pill with food, and even that made me feel a little off, so I would strongly recommend waiting 15-20 minutes after you're done eating to take this prenatal vitamin.  So that lack of flexibility made it a little more difficult to use.
Taste
SimplyOne PreNatal Multivitamin doesn't really have a taste.  It tastes like an average vitamin tastes before you swallow it—not great, but not horrible either.
The good news is that the taste doesn't linger in your mouth very long since you're swallowing these tablets, and I didn't have any gross tasting burps afterwards either.
Ingredient Analysis
I've never heard of SimplyOne PrenNatal Multivitamin, or really any of the SimplyOne's products before, so I went into trying out this vitamin with a completely open mind. After thoroughly reviewing the ingredient list, I found that I was really impressed at just how good the ingredient list is.
For starters, SimplyOne PreNatal Multivitamin has 1000 mcg of Folic Acid in it, which is the perfect amount.  However, if you're someone who needs to take it in the form of Folate instead of Folic Acid, this is a prenatal vitamin you should avoid, or make sure you talk to your doctor about first.
Some additional positives of SimplyOne PreNatal is that is has the perfect amount of Thiamin-B1, Riboflavin-B2, Pyridoxine-B6, Biotin-B7, Vitamin B12, Vitamin C, Vitamin D, Vitamin E, Iron, Iodine, and Zinc.  I'm always super happy when I see Iodine at the proper amount because it's super difficult to come by in foods and other sources.  It's also super important for the baby's brain and spinal cord development, so major kudos to this prenatal vitamin for including the proper RDA!
This prenatal is a little high in Vitamin A and Niacin-B3, and just a tiny bit low in Vitamin K, but that's just me being super picky 🙂 The levels aren't anything that would be unsafe or unhealthy for you or your baby.
However, it is super low in Choline and Calcium, and I didn't see any Omega-3s, which is a big bummer!  I'm pretty understanding when prenatals are low in Calcium because you can get it from so many other sources, but Choline is another story. Choline is found primarily in proteins such as beef, turkey, etc., and with many women opting to avoid meat during pregnancy or in general, this makes it even more important for women to get it in their prenatal vitamin.
Aside from the major ingredients I just covered, I was excited to see that SimplyOne PreNatal also included Magnesium, Copper, Potassium, and a Whole Food & Herb Blend.  A lot of prenatal vitamins are starting to include copper as it helps form your baby's heart, blood vessels, and skeletal and nervous systems, so that's a great bonus here!
Overall, I'm extremely impressed with the ingredient list for SimplyOne PreNatal Multivitamin, and think that while it doesn't include the right RDA for a couple of ingredients, it does better than most on the market.
Side Effects
When I accidentally took the prenatal vitamin before I ate, I felt super horrible.  In all fairness, it does instruct you to do that in the instructions, so it's my fault, but I was a little surprised at just how sick I felt.  I have taken other vitamins on an empty stomach before (when they instruct not to), and I didn't feel nearly as sick, and it went away with a meal, unlike this prenatal.
I also weirdly had very bright, neon-yellow urine while taking this vitamin.  Not totally sure what that was all about, but it was definitely shocking every time I went to the bathroom.
Price/Value
SimplyOne PreNatal Multivitamin is definitely worth the money.  I can't believe just how affordable it is!  Compared to other prenatal vitamins on the market, this definitely has one of the better ingredient lists, and would be sure to keep both you and baby healthy and growing.
I do think that if you're someone with a sensitive stomach, this could be a difficult prenatal vitamin for you to take, so make sure you know the return policy of the retailer you purchase it from.  I never get sick to my stomach, and this prenatal definitely made me feel nauseous when I took it before or with food.
Guarantee
SimplyOne only sells their products at third-party retailers, such as Amazon, Walmart, and other online stores. So the return policy is dependent on those individual retailers.
Where To Buy
To buy SimplyOne PreNatal Multivitamin, click here.
SimplyOne PreNatal Multivitamin: Summary
| | |
| --- | --- |
| Factor | SimplyOne PreNatal Multivitamin |
| Overall Rating | |
| Ease of Use | Take one vitamin daily.  Make sure you take 15-20 minutes after eating a meal to avoid feel nauseous. |
| Taste | No real taste—tastes like a normal vitamin. Taste does not linger and no gross burps throughout the day. |
| Ingredients | Super impressive ingredient list. Only low in Calcium, Choline, and Omega-3s. All other ingredients are present with the correct RDA. |
| Side Effects | Very nauseous when taken before or during meal. Only felt okay if I took it 20 or so minutes after I ate. Neon-yellow urine throughout the day, as well. |
| Price/Value | $19.65 for 30-day supply |
| Guarantee | Only sold through third-party retailers; return policy based on individuals store policies |
| Where To Buy | Click Here |