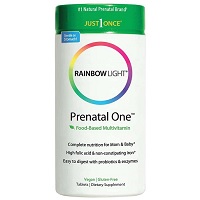 Product Name:  Rainbow Light Prenatal One
Overall Rating: 

Type/Size:  30 Tablets
Serving Size:  1 tablet per day
Servings Included:  30
Price:  $18.99
Cost Per Serving:  $0.63
Where to Buy:  Click Here
# of Ingredients:  30
Overall Opinion:
I think Rainbow Light Prenatal One is better than your average prenatal.  It's not the absolute holy grail of prenatal vitamins, however.  I ended up ranking it 3.5 out of 5 stars after trying it for a while.
I really like the ingredient lineup in these tablets.  It includes most things I look for in my prenatals, and then some.  It adds probiotics in them in order to improve your gut health as well.
The ingredients aren't perfect thought, it's still low in a few vitamins such as Vitamin D, Vitamin K, and Iodine.  And it doesn't have any Omega-3s.  But overall, it came close to having all the ingredients I look for.
Now, if you have any morning sickness, you may have some issues taking these like I did.  These are horse pills that are really hard to swallow because they're so big.  They'd also get stuck in my throat, which caused me to gag and feel nauseous.  So I wish they made the pills smaller and you could take 2 a day instead of just one.
The price is great, you can't beat it.
So overall, these prenatal tablets are pretty good.
Detailed Opinion:
Ease of Use
I have mixed feelings about these tablets.
I like that you only need to swallow one tablet per day, and you can take them with or between meals.  So it's very easy to remember to take them.
But I don't like how large the tablets are.  They're literally horse pills and are very hard to swallow.  I would have rather them make the pills smaller, and the dosage two tablets.
These definitely aren't easy to swallow if you're experiencing morning sickness and have major gag reflex.
Taste
These have a very vitamin-like taste.  Thankfully, the taste doesn't last long as you swallow these tablets as opposed to chewing them.
Ingredient Analysis
Overall, the ingredient lineup for Rainbow Light Prenatal One is very good.
I'm pretty impressed with all the vitamins it includes.
It has Folic Acid in the amount of 800 mcg, which is a very standard amount.  This is a great amount for you and your growing baby. Folic Acid is arguably the most important vitamin needed during your baby's development as it's been shown to help prevent neural tube defects.
It also has perfect amounts of Vitamin A, all the B Vitamins, C, E, and Iron.
I'm impressed with the amount of Iron in this prenatal vitamin.  A lot of prenatal vitamins choose to forego iron, but this one includes it, which is awesome!
Rainbow Light also includes digestive support in the form of probiotics in this supplement.  So it can help regulate your gut while your pregnant. We all know how your digestive tract needs a little help during pregnancy!
Now, Rainbow Light Prenatal One isn't perfect as far as ingredients go.
It's a little bit low in Vitamin D, Vitamin K, and Iodine.
I'm very surprised to see that it only has 400 iu of Vitamin D.  Vitamin D is very important for a developing baby, and a mother's deficiency in Vitamin D can compromise your baby's Vitamin D levels as well.  Being deficient in Vitamin D can lead to low birth weight, teeth problems, as well as weak bones.  So make sure to get some extra Vitamin D if taking this prenatal!
These tablets are also quite low in Calcium and Choline.  Calcium is needed for both bone and tooth development.  Choline is needed for proper placenta function as well as preventing neural tube defects.
This prenatal vitamin contains no Omega-3s, which sucks.  But you can easily take an additional DHA supplement (with permission from your doctor of course!).
So overall, these ingredients look pretty good, but are lacking in a few areas.
Side Effects
The only side effect I have with these is they get stuck in my throat!  That definitely doesn't help with nausea or gag reflex, let me tell ya!
Price/Value
A bottle of 30 tablets sells for $18.99.  That's only $0.63 per day, which is a great price!
Guarantee
Yes, Rainbow Light has a money back guarantee through their website, which I'm very happy to see.
Where To Buy
To buy Rainbow Light Prenatal One, click here.
Rainbow Light Prenatal One: Summary
| | |
| --- | --- |
| Factor | Rainbow Light Prenatal One |
| Overall Rating | |
| Ease of Use | Only need to take one per day, but hard to swallow. |
| Taste | Taste gross, but you swallow them. |
| Ingredients | Overall good ingredients, missing a few things though |
| Side Effects | No side effects |
| Price/Value | These sell for $18.99 for a 30 day supply. |
| Guarantee | Yes, they have a money back guarantee. |
| Where To Buy | Click Here |