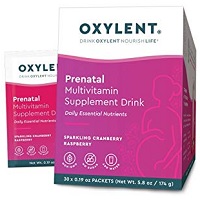 Product Name: Oxylent Prenatal Multivitamin Drink
Overall Rating:

Type/Size: 30 Packets
Serving Size: 1 packet daily
Servings Included: 30
Price: $36.95
Cost Per Serving: $1.23
Where to Buy: Click Here
# of Ingredients: 23
Overall Opinion:
If a prenatal drink mix is peaking your interest over a standard chewable or pill to swallow, Oxylent Prenatal Multivitamin Drink is one to consider. If you're on a tight budget, this might be more difficult to swing as it's on the higher end of the spectrum when it comes to price tag. However, the ingredient list is worth it.
Containing nearly every ingredient necessary to help maintain a healthy pregnancy, Oxylent Prenatal Multivitamin Drink also tastes delicious and can be enjoyed at any time of day (with or without food). Since it's missing Vitamin K and Omega-3s, and is low in a few other categories, you should make sure to chat with your OB about additional supplements you may need to take or specific foods to work into your diet.
However, with most every other prenatal vitamin missing or lacking in the same ingredients, this still makes Oxylent Prenatal Multivitamin Drink a vitamin to consider during your pregnancy. Drink mixes are harder to come by in the prenatal department, so if this interests you, give it a go!
Detailed Opinion:
Ease of Use
Oxylent Prenatal Multivitamin Drink is super easy to use. You drink one packet daily, and simply mix it with 6-8 ounces of water. I always poured the packet contents into the glass first and then filled it up with water, and I didn't even need to stir the mixture. There weren't any chunks, which is a total plus!
Sometimes I took the drink mix in the morning with breakfast, and other times I took it just when I remembered throughout the day, and I never experienced any stomach discomfort, so you don't need to take this prenatal drink with food. I always appreciate that flexibility!
Taste
I really enjoyed the taste of Oxylent Prenatal Multivitamin Drink. I believe they only offer one flavor, which is Cranberry Raspberry, but I don't think it necessarily tasted strongly like either of those flavors. It just tasted like a sweet, fruity drink to me.
You can definitely tell that you're drinking a vitamin, not some sports drink, but I still found it to be really enjoyable and easy to drink. And I don't think the taste would be off-putting to anyone. It's very mild and the vitamin taste isn't overwhelming.
I also didn't experience any gross aftertaste, which is a plus.
Ingredient Analysis
I don't get the opportunity to review many prenatal drink vitamins, so I was really intrigued to see how Oxylent Prenatal Multivitamin Drink compared to other vitamins on the market. And since it has a higher price tag than many other options available today, I was hoping the ingredients would be worth the cost.
After analyzing the ingredient list, I think this prenatal vitamin is worth the money! It may not be perfect, but it's definitely competitive as far as the ingredient list compared to other prenatal vitamins available to expectant mothers.
Before jumping into the extent of the ingredient list, I did want to point out that Oxylent Prenatal Drink contains Folate, which I think is a major positive. Many women specifically need Folic Acid in this form, and Oxylent provides that. Unfortunately, it only contains 400 mcg, which is only half of the recommended dietary allowance (RDA), so you may find you need an additional supplement to meet the proper RDA during pregnancy.
Oxylent Prenatal Multivitamin Drink contains the perfect amount of Vitamin A, Thiamin-B1, Riboflavin-B2, Niacin-B3, Pyridoxine-B6, Biotin-B7, Vitamin B12, Vitamin C, Vitamin D, Vitamin E, and Zinc.
It's slightly low in Calcium, but as I've said in other prenatal reviews, this doesn't really concern me since Calcium is found naturally in many of the food products we eat. It's also low in Choline, Iron, and Iodine. While all of these numbers are a letdown, Choline specifically bums me out since this ingredient plays a role in brain development and liver functions of the fetus. However, you can find Choline in foods such as eggs and meat, so no need to worry there (unless you're vegan!).
I'm super annoyed that Oxylent failed to include additional Omega-3s and Vitamin K in their prenatal multivitamin drink. While definitely not uncommon (many prenatal vitamins leave these ingredients out), Vitamin K is essential for healthy blood clotting. If you choose to take this prenatal vitamin, you'll want to make sure and talk to your OB about Vitamin K supplements or food items that are high in Vitamin K to be eating during pregnancy. Thankfully, there are many Omega-3s supplements on the market, too, so it won't be difficult to find a supplement there.
Overall, I'm pretty impressed with how Oxylent Prenatal Multivitamin Drink stacks up against other prenatal vitamins. It's definitely far from perfect, but the majority of the necessary ingredients are present and nearly all are at the proper RDA.
Side Effects
I didn't experience any negative side effects while taking Oxylent Prenatal Multivitamin Drink.
Price/Value
When comparing Oxylent Prenatal Multivitamin Drink to other prenatal vitamins on the market, it's definitely on the more expensive side. You can save about $5 a month if you subscribe to auto shipments, but even then, you're looking at over a dollar a day for your prenatal vitamin.
When looking at the ingredient list and ease of use, I do think that Oxylent Prenatal Multivitamin Drink is worth the money. It's very easy to incorporate into daily life, and it contains nearly every ingredient needed for a healthy pregnancy for both mother and child.
Guarantee
Oxylent offers a 30-day money-back guarantee on any unwanted products, which I think is a really generous return policy. They also express on their website that if you're beyond the 30 days, they'll still consider the return. Again, I think this is a great return policy!
This is especially nice to see since this is a more expensive option when it comes to prenatal vitamins. However, make sure to note that customers are responsible for the shipping charges to send the unwanted product back.
Where To Buy
To purchase Oxylent Prenatal Multivitamin Drink, click here.
Oxylent Prenatal Multivitamin Drink: Summary
| | |
| --- | --- |
| Factor | Oxylent Prenatal Multivitamin Drink |
| Overall Rating | |
| Ease of Use | Mix one packet with 6-8 ounces of water daily. Does not need to be taken with food |
| Taste | Tastes really good! Can definitely tell it's a vitamin but it's enjoyable to drink each day. Vitamin taste is present but mild |
| Ingredients | Impressive ingredient list—leaves off additional Omega-3s and Vitamin K but contains all other ingredients, with almost all at the proper RDA |
| Side Effects | No negative side effects |
| Price/Value | $36.95 for 30-day supply |
| Guarantee | Great return policy. Guaranteed money back for 30 days after purchase and will even consider returns after 30 days. Customers must pay to ship product back |
| Where To Buy | Click Here |