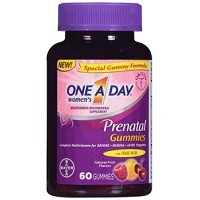 Product Name:  One A Day Prenatal Gummies
Overall Rating: 

Type/Size:  60 Gummies
Serving Size:  2 gummies per day
Servings Included:  30
Price:  $17.44
Cost Per Serving:  $0.58
Where to Buy:  Click Here
# of Ingredients:  12
Overall Opinion:
Since One A Day Prenatal Gummies are such a popular option among pregnant women, I had high hopes for this gummy and the ingredients it contains.  However, I found it to be seriously lacking, and even included a few ingredients I definitely don't want to take while pregnant!
For that reason, I gave it 2 out of 5 stars after trying it out.
The gummy is super easy to take—you just need to eat two a day, and it's totally up to you when you want to take it, and whether you take it with food or not.  The taste wasn't bad at all either, and tasted similar to a fruit snack or gummy bear.
The ingredient list is definitely lacking.  While it does contain a few of the ingredients you want to see in a prenatal vitamin, it also leaves crucial ingredients out, and doesn't put enough of the good stuff in.  Unfortunately, it also contains dyes such as Red #40, which many pregnant women do not want to take period, let alone when they're growing a baby!
One A Day Prenatal Gummies include the proper amount of folic acid, which is great, but fails to include Omegas, so you may need to supplement if you choose to take this vitamin during your pregnancy!
Overall, the ease of use and taste of the gummy isn't enough to pick this as your prenatal gummy.  It's simply lacking too many ingredients both you and your baby need to thrive!
Detailed Opinion:
Ease of Use
One A Day Prenatal Gummies are extremely easy to use.  In fact, all the instructions say is to fully chew two gummies a day, so you can decide what time of day you want to take them, whether to take them with or without food, and if you want to take them both at the same time or separate them.
I found that it was easiest for me to take them with breakfast each morning, and eat them both at the same time.  They're a bit chewier than most gummies, but still had a similar texture to a fruit snack or gummy bear.
Taste
These don't taste as good as most gummies I've tried.  The taste isn't strong, and even though there are different "fruits", they all pretty much taste the same to me.  I found that to be a plus because there are definitely some fruit flavors that I absolutely hate the taste (like grape, for example).
One A Day Prenatal Gummies are sweet, but I wouldn't say they taste like candy.  They taste like what they actual are—vitamin gummies.  They have a chalky texture as you chew them and it left a weird film in my mouth after chewing them.
Ingredient Analysis
I'm pretty disappointed in the ingredients list for One A Day Prenatal Gummies.  Since it's such a popular option, I thought the ingredients would be much better, but I was definitely wrong.
On the positive side, One A Day Prenatal Gummies have 800 mcg of Folic Acid in it, which is the perfect amount.  However, it's not in the form of folate, so any of you who need folate should steer clear of this one.
These gummies also have a great amount of Vitamin A, D, Niacin, B6, B12, and Biotin, as well.  I'm happy to see that this vitamin contains a good amount of Vitamin A, which is so important for the development of the baby's heart and nervous system, as well as Vitamin D, which helps prevent scary stuff such as preterm labor and miscarriage.
However, on the flip side, these prenatals are low in Calcium, Vitamin C, and Iodine.  I'm actually shocked at just how low the Calcium is, especially since it's so necessary for bone development!  They're also really high in Vitamin E, which I haven't seen before, so I'm not sure what that's all about.
This prenatal is completely lacking in Iron, B1, B2, Vitamin K, Choline, and Omegas.  While I'm not super surprised by the lack of Omegas, a lot of prenatals are now opting to include DHA, and many pregnant women are looking for that.  You'll definitely want to consult with your OBGYN first, but if you choose to take this vitamin, you may want to invest in an Omega supplement. The same is true for taking an Iron supplement!
As for the lack of Vitamin K and Choline, I'm pretty bummed this prenatal gummy chose not to include them because they are great for you and your baby!
As a final note, I think it's worth mentioning that these gummies contain Red #40, Blue #1, and Yellow #6.  I know not everyone is as sensitive about these ingredients, but I definitely don't like to see these dyes in my products.  I'd rather the gummies be clear!  So I wasn't happy to see those listed in the ingredients.
So overall, the ingredients were less than impressive, to say the least!
Side Effects
I didn't experience any negative side effects while I was taking these gummies, so that's definitely a positive!
Price/Value
If you go to the One A Day website, they will direct you to a link to buy their gummies from Walmart or Amazon.  When I followed that link, you can find these gummies on Amazon for $17.44, which I think is super cheap!
However, if you look the gummies up on Amazon without the redirect from One A Day's website, the bottle costs closer to $30. I still think that's pretty affordable, but this prenatal vitamin just doesn't bring a ton to the table.
I think there are other prenatal vitamins out there, gummy or not, that would do more for you than these would, so I don't think they're worth the money.
Guarantee
Since you have to purchase the vitamins from a third-party retailer, the return policy and guarantee is on a case-by-case basis of where you purchase the product from.  However, Amazon is normally pretty good about refunding you your money, no matter when you purchased the product, so that's a great option.
Where To Buy
To buy One A Day Prenatal Gummies, click here.
One A Day Prenatal Gummies: Summary
| | |
| --- | --- |
| Factor | One A Day Prenatal Gummies |
| Overall Rating | |
| Ease of Use | Easy to take… eat two gummies daily |
| Taste | Sweet taste; taste doesn't linger after swallowing |
| Ingredients | Unimpressive ingredient list; leaves a lot of ingredients out, doesn't put enough of the good stuff in, and contains Red #40 |
| Side Effects | No side effects |
| Price/Value | $17.44 for a 30-day supply |
| Guarantee | No guarantee |
| Where To Buy | Click Here |