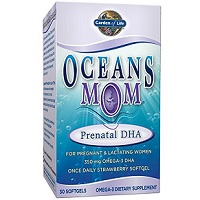 Product Name: Garden Of Life Oceans Mom Prenatal DHA
Overall Rating:

Type/Size: 30 Softgels
Serving Size: 1 softgel daily
Servings Included: 30
Price: $15.99
Cost Per Serving: $0.53
Where to Buy: Click Here
# of Ingredients: 2
Overall Opinion:
With many prenatal vitamins choosing to leave out Docosahexaenoic Acid (DHA) on their ingredient list, supplements like Oceans Mom Prenatal DHA are crucial for women who are pregnant or breastfeeding. DHA is essential for your baby's retinas and brain development, and can help women carry to term.
Oceans Mom is slightly expensive, especially since it's just a supplement in addition to a recommended prenatal vitamin. You can also choose to take one or two softgels daily, but if you opt for two, you're looking at a daily serving that costs more than a dollar.
While the fishy flavor isn't super overpowering, and the softgels are really easy to swallow, this price is a little hard to justify, especially since it only contains half of the Omega-3 Fatty Acids you need for Recommended Dietary Allowance (RDA).
While the idea itself is both good and necessary, Oceans Mom Prenatal DHA doesn't execute it perfectly, and will end up costing you more money than it's worth.
Detailed Opinion:
Ease of Use
Oceans Mom Prenatal DHA supplement is super easy to take! You just need to swallow one softgel daily with water. It also recommends that you take it with food, so I just took it after breakfast each morning.
The pills are also gel and pretty small, so they're super easy to swallow! I don't recommend swallowing them without water, but I'm pretty sure most of you would be able to.
You should also make sure to refrigerate these softgels after opening to ensure freshness. A lot of women also believe that taking fish oil cold helps alleviate those gross fishy burps, so I would definitely recommend following this piece of advice.
Taste
No surprise here, but Oceans Mom Prenatal DHA supplements taste a little fishy. They have added a light, natural strawberry flavoring to help cover the flavor, and the softgels aren't in your mouth for long, so it's not really a big deal!
While the strawberry flavoring does help a little bit, that fishy flavor still comes through, unfortunately. However, it isn't overpowering at all, and I noticed it was a lot better when I took the softgels cold.
Ingredient Analysis
Oceans Mom Prenatal DHA softgels only contain two ingredients. The first is Docosahexaenoic Acid (DHA), and the second is Eicosapentaenoic Acid (EPA).
The Recommended Dietary Allowance (RDA) of Omega-3 Fatty Acids for pregnant women is somewhere around 650 mg daily. In this supplement, it contains 350 mg of DHA, which is the perfect amount. At least 300 mg of the total Omega-3s should come from DHA.
However, on the flip side, it only contains 15 mg of EPA. So total, this supplement only contains 365 mgs of Omega-3s.
Truthfully, I'm a bit disappointed by that. With many prenatal vitamins choosing to leave off Omega-3s altogether, or only contain a very small amount, I wish that this DHA supplement would contain all of the Omega-3s needed for pregnant women on a daily basis.
And at a higher price point for the number of softgels you get, I don't think women should have to go out and buy another supplement to ensure they are getting all of the Omega-3s necessary, especially since so many prenatal vitamins do a poor job of including this necessary ingredient at the proper DHA.
You can opt to take two softgels daily, which would get you the right amount, but those instructions are listed under "Advanced Usage" on the packaging instead of the "Suggested Use."
Unfortunately, if you do choose to take two daily, this is only going to last you two weeks, which is really expensive. So overall, I'm a bit disappointed with the ingredient list of Oceans Mom Prenatal DHA.
Side Effects
I didn't experience any real negative side effects while taking this vitamin, so that's a major bonus! However, I did have gross fishy burps throughout the morning.
This wasn't super surprising to me since it contains purified deep sea fish oil, and they weren't super overpowering like other DHA products I've taken, but it is definitely worth mentioning if you're sensitive to that.
I also found taking them cold helped with that, and the burps only lasted until lunch time.
Price/Value
I don't think Ocaens Mom Prenatal DHA is worth the money. If I take 2 a day, which would get me closer to the amount of DHA/EPA I aim to take while pregnant, one bottle will only last me two weeks.
I think there are better, and more affordable, options on the market than this supplement, and for that reason, I don't think it's worth the money.
Guarantee
Garden of Life offers a 30-day money back guarantee on their products.
Where To Buy
To buy Ocean's Mom Prenatal DHA, click here.
Oceans Mom Prenatal DHA: Summary
| | |
| --- | --- |
| Factor | Oceans Mom Prenatal DHA |
| Overall Rating | |
| Ease of Use | Super easy; softgel is easy to swallow and you only have to take one softgel daily with food. Should refrigerate after opening |
| Taste | Fishy taste with slight strawberry flavoring; not overpowering |
| Ingredients | Only contains DHA and EPA. Disappointing since it only contains half of the necessary Omega-3s for women during pregnancy |
| Side Effects | No negative side effects except for fishy burps throughout the morning |
| Price/Value | $15.99 for 30-day supply |
| Guarantee | 30-day money-back guarantee on all products |
| Where To Buy | Click Here |