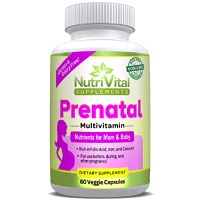 Product Name: NutriVital Supplements Prenatal Multivitamin
Overall Rating:

Type/Size: 60 Capsules
Serving Size: 2 capsules daily
Servings Included: 30
Price: $22.80
Cost Per Serving: $0.73
Where to Buy: Click Here
# of Ingredients: 19
Overall Opinion:
Many aspects of NutriVital Supplements Prenatal Multivitamin are a bit polarizing. On one hand, they are super easy to take and leave you without any negative side effects, which are both awesome benefits for any prenatal vitamin. They're also really easy to swallow, which definitely can't be said about most prenatal capsules!
On the other hand, they're on the more expensive side of the spectrum, and the ingredient list doesn't seem to justify it. With half of the ingredients present being right where they need to be as far as Recommended Dietary Allowance (RDA) is concerned, the other half are extremely low or left off the list entirely.
This includes ingredients such as Vitamin K and Omega-3s, which are crucial for both mother and baby during pregnancy.
While NutriVital Supplements Prenatal Multivitamin isn't a total flop, there are definitely better options available on the market at a cheaper price point, and with more ingredients present guaranteed to help keep you and your little one healthy and developing for those 9 months.
Detailed Opinion:
Ease of Use
NutriVital Supplements Prenatal Multivitamin is super easy to use! You just have to take two capsules daily. It doesn't mention anything about taking them with or without a meal, but I personally waited to take them until after I had eaten breakfast, and I didn't experience any problems.
These prenatal vitamins are also very easy to swallow. They're powder encased in a plastic pill coating, and they aren't very big, so I was able to swallow them both at the same time, and they went down without any issue!
It does instruct that you avoid taking these vitamins within one hour of taking any medication, so if you are taking any medications, make sure you look at the clock when taking them so you know when you're clear to take the prenatal vitamin. I'm not personally on any medication so I'm not able to tell you why this is the case, but this is something I would definitely listen to.
Taste
These prenatal vitamins don't have any taste. Unlike many others on the market, NutriVital Supplements Prenatal Multivitamins are enclosed in a plastic pill coating, so you don't get that nasty vitamin taste.
It does taste like plastic in your mouth, but it isn't gross or overpowering, and it's super temporary before you swallow them down with water!
Ingredient Analysis
With a higher price tag than many prenatal vitamins on the market, I was super interested to see how NutriVital Supplements' ingredient list would stack up against others available to expectant mothers today. After thoroughly analyzing the ingredients and their Recommended Dietary Allowance (RDA), I'm pretty split on whether the price tag is worth it or not.
Before jumping in to the rest of the ingredients, I did want to point out that NutriVital Supplements Prenatal Multivitamin has 800 mcg of Folic Acid, which is the perfect amount! Just make sure that you take note of the fact that it's in the form of Folic Acid, not Folate, so if you need to take Folate specifically, this probably isn't the best option for you.
Some additional positives regarding the ingredient list of NutriVital Supplements Prenatal Multivitamins is that they have the proper amount of Vitamin A, Vitamin B1, Vitamin B2, Niacin- B3, Vitamin B6, Biotin, Vitamin B12, Vitamin E, and Zinc.
This prenatal vitamin also contains Vitamin B5, which I don't see very often in prenatal vitamins. However, it has been linked to helping ease painful leg cramps during pregnancy, and producing important pregnancy hormones, so this was a nice added ingredient!
These prenatals are a tiny bit low in Vitamin C and Vitamin D, but not anything that would be harmful to you or baby. I'm just being super picky, as usual 🙂
On the flip side, NutriVital Supplements Prenatal Multivitamin doesn't contain any Vitamin K, Omega-3s, or Choline, which was a huge bummer for me to see, and they're super low in Iron, Iodine, and Calcium. I'm always able to look past Choline and Calcium slightly since you can get it from so many other food sources, but the lack of Omega-3s and Vitamin K is super surprising.
Vitamin K is essential for healthy blood clotting, and may also be associated with the formation of the baby's skeletal, cranial, and tooth formation. Vitamin K is not easily transferred to the baby during pregnancy to begin with, so I don't know why they wouldn't include any to help with that.
I'm pretty torn on this ingredient list. To me, it sort of seems split. Half of the ingredients are at the proper RDA, but the other half aren't, or are missing from the ingredient list altogether. It seems hard to swing a high price tag if the vitamin isn't going to give mothers and babies what they need to thrive during pregnancy.
Side Effects
I didn't experience any negative side effects while taking this vitamin, so that's a major bonus!
Price/Value
While the ingredient list for NutriVital Supplements Prenatal Multivitamins isn't a total flop, I'm not sure they can justify asking people to spend nearly $.075 a serving. That's pretty darn expensive compared to other available prenatal vitamins on the market, so you would think they'd have a nearly perfect ingredient list, which just isn't the case.
I personally don't think this prenatal multivitamin is worth the money.
Guarantee
NutriVital Supplements offers a 30-day money back guarantee on their products. Given that this prenatal multivitamin is a 30-day supply, I think that's totally fair!
Where To Buy
To buy NutriVital Supplements Prenatal Multivitamin, click here.
NutriVital Supplements Prenatal Multivitamin: Summary
| | |
| --- | --- |
| Factor | NutriVital Supplements Prenatal Multivitamin |
| Overall Rating | |
| Ease of Use | Super easy; swallow two capsules daily, with or without food. Wait one hour to take prenatal if taking other medications |
| Taste | No taste |
| Ingredients | Split ingredient list—half of the ingredients are at the proper RDA, the other half aren't or are left completely off the list, such as Vitamin K and Choline. |
| Side Effects | No negative side effects |
| Price/Value | $22.80 for 30-day supply |
| Guarantee | 30-day money-back guarantee on all products |
| Where To Buy | Click Here |