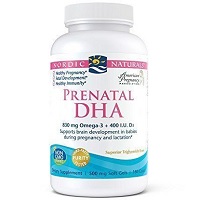 Product Name:  Nordic Naturals Prenatal DHA
Overall Rating: 

Type/Size:  90 Soft Gels
Serving Size:  2 soft gels daily
Servings Included:  45
Price:  $28.95
Cost Per Serving:  $0.64
Where to Buy:  Click Here
# of Ingredients:  4
Overall Opinion:
Let me start out by saying, this is not a prenatal vitamin.  This is a DHA supplement you take in addition to your daily prenatal vitamin.  These are great for when your prenatal doesn't have DHA or when it doesn't have enough DHA in it.
So overall, I really like these soft gels; I give them 4.5 out of 5 stars.
It just has a few drawbacks, such as there is no guarantee and it's not vegan.  (It has fish oil in it.)  So for those of you with fish allergies or who are vegans for other reasons, you'll want to stay away from this one.
I found they're very easy to swallow; the pill's size is not too big.  Their soft gels, which make them very easy to get down.  You just need to remember to take them with a meal.
The ingredient dosage is also great!  I took these when I was testing out a prenatal that had no DHA in it. Now, you can get DHA from your diet as well, I just don't eat a ton of fish so I feel good about taking these in addition to my prenatal pills or gummies.
Now, these are pricey, especially when you factor in you need to buy a prenatal vitamin to use as well.  But I'd gladly pay the $29 for these again.
Overall, I really like these and think they're great to use along with your daily prenatals.
Detailed Opinion:
Ease of Use
These DHA soft gels are pretty simple to use.
You just need to swallow 2 per day, with a meal.  Now, you do need to take these in addition to your prenatal vitamins, they aren't a substitute.  These are meant to be taken with a prenatal that either doesn't include DHA or doesn't include enough DHA.
There were times that I forgot to take these with a meal, and I took them right before bed, I still didn't have any issues.  But I'd recommend taking them as directed, with a meal.
The soft gels aren't very big, and they go down nicely.  I never got them stuck in my throat.
Taste
You swallow these, so thankfully the taste doesn't last long.  I got the unflavored version and there was a tiny bit of a fishy taste as they went down, but it wasn't very strong.
They also have a strawberry flavor (that I wish I had tried), so that sounds like a good alternative for those of you who have trouble with the taste of a pill as you swallow it.
I noticed I had some fishy burps throughout the day, that's why I preferred taking these with dinner instead of in the morning.
Ingredient Analysis
Nordic Naturals Prenatal DHA is very simple as far as ingredients go.  It has DHA and Vitamin D…that's all.  Like I mentioned before, this is NOT a prenatal vitamin, it's meant to be taken in addition to your daily prenatal.
So, let's jump right into the ingredients.  It has 830 mg of DHA, which is great.  Many prenatal vitamins out there don't contain any DHA (Omegas).  They can only fit so many ingredients into those small pills and gummies.  So DHA is often the first one left out.  But it's not to be forgotten!
I like to see at least 650 mg of DHA in my prenatals, so the fact that this one has even more than that is great.  Omegas are essential for both baby and mama during pregnancy and can enhance the building blocks for your baby's brain.  This is a very important ingredient when it comes to intelligence and a properly functioning brain.
In addition to the DHA, these soft gels also have a little bit of Vitamin D.  I'm not sure why, but they do. It has 400IU of Vitamin D, which falls a tad bit short of what I like to see in my prenatals.  But if you're just taking these in addition to your prenatal, you'll most definitely make up the rest of the Vitamin D from your daily prenatal.
Side Effects
I got fishy tasting burps throughout the day.  I found I could cut back on these if I took them with dinner instead of earlier in the day.
Price/Value
Nordic Naturals Prenatal DHA is $29 per bottle, and a bottle will last you 45 days.  Now, this is pretty pricey seeing as this is in addition to your daily prenatal vitamin.  But in my opinion, it's worth it.
Guarantee
Unfortunately, Nordic Naturals doesn't have a money back guarantee.  You can only return the product within 30 days if it's unopened and sealed.  I'm very disappointed to see they don't stand behind their products.
Where To Buy
To buy Nordic Naturals Prenatal DHA, click here.
Nordic Naturals Prenatal DHA: Summary
| | |
| --- | --- |
| Factor | Nordic Naturals Prenatal DHA |
| Overall Rating | |
| Ease of Use | Take 2 soft gels per day, with a meal |
| Taste | Taste fishy as I swallowed them |
| Ingredients | DHA and Vitamin D |
| Side Effects | Fishy burps |
| Price/Value | $29.00 for a 45 day supply |
| Guarantee | No guarantee, so disappointing |
| Where To Buy | Click Here |