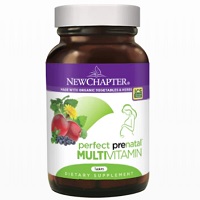 Product Name:  New Chapter Perfect Prenatal Multivitamin
Overall Rating: 

Type/Size:  48 Tablets
Serving Size:  3 tablets per day
Servings Included:  16
Price:  $22.58
Cost Per Serving:  $1.41
Where to Buy:  Click Here
# of Ingredients:  25
Overall Opinion:
New Chapter Perfect Prenatal Multivitamin is a high quality prenatal vitamin.
I'm very impressed with the ingredient lineup as well as how easy it is to use.  The one big drawback about this prenatal, it the price tag.  Once bottle only lasts 16 days, so you'll end up spending about $45 per month.
This prenatal comes in the form of tablets, that you need to take 3 of per day.  You can take them whenever you'd like, with or without food, which is really convenient.
The ingredient list is also better than most prenatal vitamins.  It's only lack in a few areas.  It has a great amount of Folate, B Vitamins, and many other essential nutrients both mama and baby need during pregnancy.
Although, it doesn't have any Choline or Omegas, which sucks a little.
I'm pregnant right now and feel perfect comfortable taking this prenatal vitamin to support both me and baby.
I just wish it wasn't so dang expensive.
So overall, I gave this vitamin 3.5 out of 5 stars.
Detailed Opinion:
Ease of Use
Although you need to take 3 tablets per day, I found this prenatal vitamin pretty easy to use.
The tablets are about average size, not too big and not too small.  You need to take 3 daily, which kinda sucks, but you can take them any time, even on an empty stomach.
I ended up taking all 3 at bedtime, which worked great for me.
The tablets themselves are brown in color and are pretty easy to get down.  I didn't have any problems with them getting stuck in my throat, because the size wasn't too big.
Taste
You swallow these tablets, so there's not much going on in terms of taste.
But I do have to say, they have a funky smell.  I could smell it immediately once I opened the bottle.
Ingredient Analysis
I'm overall very impressed with the ingredients in New Chapter Perfect Prenatal Multivitamin.
It has most things I'm looking for.
Let's start with Folate, which is the first ingredient mamas to be look for in prenatals.  It has 600 mcg of Folate, which is a perfect dosage.  I'm very happy to see this.
This prenatal vitamin also has very good amounts of Vitamin A, Thiamin (B1) B2, B3, B6, Biotin, Folate, B12, and Vitamin E.
It's a tad bit low in Vitamin K, Iron and Vitamin C, but all of these I'm okay with them being a little low in.  And when I say a tad bit low, I really mean that they almost have the perfect dose.  Vitamin C and Iron you can make up with in your diet easily.
Now, it's also a little lower in Iodine, Calcium and Zinc, I would've liked to see the amounts of these be higher.  Zinc is essential for your growing baby as it helps with cell division and production of DNA.
Now, this one has a very high amount of Vitamin D, which could be a good thing, but just know it's higher than your average prenatal vitamin.
It doesn't have any Omegas or Choline.  I'm not surprised that it doesn't have Omegas, a lot of prenatals don't.  That's an easy vitamin to supplement outside of your prenatal. But I do with it had at least some Choline in them.
In addition to all the common ingredients you find in prenatal vitamins, this one also contains a Prenatal Herb Blend and Cruciferous Sprouts Blend,
Side Effects
I took these at bedtime and didn't see any negative side effects while taking them.
Price/Value
New Chapter Perfect Prenatal Multivitamin is very expensive.  It's $22.50 for a 16-day dose, so that's about $45 for a month supply.  That's a pretty penny compared to most prenatal vitamins!
Guarantee
Yes, they have a great guarantee!
They want you to be happy with the product, and if not, you can receive your money back.  I love that they stand behind their prenatal vitamins.
Where To Buy
To buy New Chapter Perfect Prenatal Multivitamin, click here.
New Chapter Perfect Prenatal Multivitamin: Summary
| | |
| --- | --- |
| Factor | New Chapter Perfect Prenatal Multivitamin |
| Overall Rating | |
| Ease of Use | Swallow 3 tablets per day, at any time |
| Taste | No taste, but they smell gross |
| Ingredients | I'm impressed with the ingredients. |
| Side Effects | No negative side effects |
| Price/Value | $22.58 for 16-day supply |
| Guarantee | Yes, they have an awesome guarantee. |
| Where To Buy | Click Here |