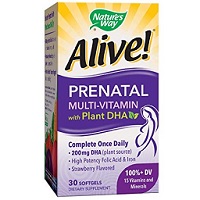 Product Name: Nature's Way Alive! Prenatal Multi-Vitamin
Overall Rating:

Type/Size: 30 Softgels
Serving Size: 1 softgel
Servings Included: 30
Price: $15.99
Cost Per Serving: $0.53
Where to Buy: Click Here
# of Ingredients: 19
Overall Opinion:
As a prenatal vitamin brand seen everywhere, it's clear why Nature's Way Alive! Prenatal Multi-Vitamin gets the attention it does in a saturated market. With an ease of use that's hard to beat, and an affordable price tag, this prenatal vitamin can and should be an option for any expectant mother.
While the ingredient list isn't perfect and fails to include a couple key ingredients—such as Vitamin K and Choline—overall, it provides pregnant women and their babies with nearly all the necessary ingredients (and at the proper RDA) to maintain a healthy pregnancy.
Overall, Alive! Prenatal Multi-Vitamin is a great option for women who are trying to conceive, already pregnant, or even breastfeeding. And the best part? You can pick it up in nearly any local drugstore, taking away any hassle of repurchasing each month.
Detailed Opinion:
Ease of Use
Nature's Way Alive! Prenatal Multi-Vitamin is super easy to take. You simply swallow one softgel daily—that's it!
It doesn't instruct to take the vitamin with food, however, I always chose to take it with breakfast each morning simply because I'm a person of routine. However, it seems like you have the flexibility to take it whenever you remember it throughout the day, and it's always nice to have that flexibility.
Taste
Normally when a prenatal vitamin has a plastic coating around it, you can't taste anything at all. So I thought it was a bit odd when Alive! Prenatal Multi-Vitamin advertised that they were strawberry flavored.
While I don't personally think they taste like strawberry, I do think they have a minor flavor resembling grape. It isn't overpowering and you don't taste it once you've swallowed it. I also didn't have any nasty burps later so there isn't any aftertaste. But it's a bit weird for a vitamin that's swallowed to have a taste.
For me, the taste wasn't good or bad. It's just sort of random that there is a taste at all!
Ingredient Analysis
I've passed Nature's Way Alive! Prenatal Multi-Vitamin a million times in the aisle of nearly every grocery store, so I was eager to see how this well-known prenatal vitamin stacked up against other prenatal vitamins on the market, both well known and otherwise.
After analyzing the ingredient list, it's fairly clear why this prenatal vitamin is as prevalent as it is on the market!
For starters, this prenatal vitamin has 800 mcg of Folic Acid in it. While this is the Recommended Dietary Allowance (RDA), it's important to point out that it's not in the form of Folate, which more and more expectant mothers are finding they specifically need in their prenatal vitamin. Make sure you chat with your OB about this before taking Alive! Prenatal Multi-Vitamin.
In addition to have the proper RDA of Folic Acid, Alive! Prenatal Multi-Vitamin also has the perfect amount of Vitamin A, Thiamin-B1, Riboflavin-B2, Niacin-B3, Pyridoxine-B6, Biotin-B7, Vitamin B12, Vitamin E, Iron, and Zinc.
It's slightly low in Vitamin C, but as I've said in many other prenatal reviews, this isn't cause for concern since so many foods we eat have plenty of Vitamin C in them.
I find it pretty impressive that this prenatal vitamin has the proper RDA of Zinc in it since I've found that many prenatal vitamins on the market don't. Zinc plays a role in tissue growth, production of DNA, and healthy brain development and function, so it's clearly a very important ingredient!
On the flip side, Alive! Prenatal Multi-Vitamin is low in Vitamin D, Calcium, and Iodine, and completely missing Vitamin K and Choline.
It has a plant based form of DHA in it, which is great in my opinion!
I'm super bummed this prenatal multi-vitamin is missing Vitamin K completely. Vitamin K isn't easily transferred to the baby during pregnancy, so all babies have low Vitamin K levels at birth. For that reason, I don't know why a prenatal vitamin wouldn't include the supplement to try to give the baby as much as possible, especially since it's essential for healthy blood clotting.
Despite those few negatives, I'm overall impressed with Alive! Prenatal Multi-Vitamin. It contains most of the essential ingredients needed for a healthy pregnancy and at the proper RDA.
Side Effects
I didn't experience any negative side effects while taking Nature's Way Alive! Prenatal Multi-Vitamin.
Price/Value
Alive! Prenatal Multi-Vitamin falls in the middle of the spectrum as far as price tag is concerned. However, based on the ingredient list, ease of use, and many other factors, it's absolutely worth the money!
Guarantee
Alive! sells their products on third-party websites, such as Amazon, and in major retailers, such as Walmart. The return policy for their products is dependent on the individual retailer, so make sure you check with them before purchasing.
Where To Buy
To purchase Nature's Way Alive! Prenatal Multi-Vitamin, click here.
Nature's Way Alive! Prenatal Multi-Vitamin: Summary
| | |
| --- | --- |
| Factor | Nature's Way Alive! Prenatal Multi-Vitamin |
| Overall Rating | |
| Ease of Use | Swallow one softgel daily |
| Taste | Slight grape flavor; doesn't have any aftertaste |
| Ingredients | Overall impressive ingredient list—missing Vitamin K and Choline but contains most of the necessary ingredients at the proper RDA |
| Side Effects | No negative side effects |
| Price/Value | $15.99 for 30-day supply |
| Guarantee | Alive! sells their products on third-party websites and stores, such as Amazon and Walmart. Return policy dependent on individual retailer |
| Where To Buy | Click Here |