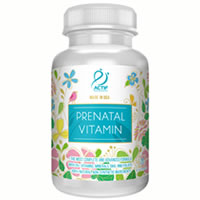 Product Name:  Actif Organics Prenatal Vitamin
Overall Rating:  

Type:  90 Softgels
Serving Size:  1 Softgel
Servings Included:  90
Price:  $42.49
Cost Per Serving:  $0.47
Where to Buy:  Click Here
# of Ingredients:  33
Overall Opinion:
After testing out Actif Organics Prenatal Vitamin, I gave it 4 out of 5 stars.
I think this is overall a very high quality prenatal vitamin.
As far as ingredients go, it checks off a lot of must haves.  It contains Folate, Zinc, Biotin, Iodine, and many other vitamins that are essential to both you and your baby's health.
This prenatal went above and beyond by including a special blend of herbs and extracts that are said to help with nausea.  In addition, it also contains probiotics to help with digestion.  I love that it includes both of these things.
However, it was missing a few ingredients, and also had lower dosages than I'd like to see in a few areas.  In particular, it's missing both Choline and Vitamin K, which I usually like to see included in my prenatals.
You only need to take one pill per day (in the morning), which makes using it very easy.  The only thing I really didn't care for are the softgels themselves.  They're pretty big and chunky and hard to get down.  I even got one stuck in my throat a few times.  The gag reflex is not something you want when you're pregnant!
But overall, I think this is a very good prenatal vitamin so I gave it 4 out of 5 stars.
Detailed Opinion:
Ease of Use
Honestly, these aren't the easiest to use.
The softgels are rather large and hard to swallow.
They'll be especially difficult for those of you with morning sickness.  I've had a few of them get stuck in my throat and it's not pleasant!
You only need to take one pill a day though (they recommend the morning), which is nice.
Taste
Since you swallow these pills, there's virtually no taste to them.  They do smell like maple syrup though.
Ingredient Analysis
The ingredients in this prenatal vitamin are really good.  A lot of the ingredients are derived from organic fruits, which I love.  The ingredients are natural and non-GMO.
Now, before I get into the ingredients, know that no prenatal is going to have all the vitamins needed (at the correct dosages) despite what the company tells you.  That being said, this one has a lot of good things in it.
To start, it contains Folate (800 mcg) as L-methylfolate from Organic Lemon. That dosage falls within the recommended daily amount.
It also contains 30 mg of Iron, which many prenatals don't include.  It's actually very normal for a prenatal vitamin not to include iron.  But this one does, which makes it very convenient to use.
This prenatal vitamin also includes Omega Fatty Acids, which are great for supporting healthy brain development in babies.
Actif Organics Prenatal Vitamin also includes an "Organic Prenatal Blend" which is made up of some herbs and extracts that are said to help with nausea and digestion.  It also includes probiotics to further help with digestion while trying to conceive and during pregnancy.
Now for what it's lacking…it doesn't contain Choline or Vitamin K, which are both ingredients I like to see in my prenatal vitamins.
Side Effects
I saw a slight boost in energy about 30 minutes after taking Actif Organics Prenatal Vitamin. It's probably due to all the B Vitamins in it.
I also notice my urine turned bright yellow while taking this prenatal, which is completely normal.
Price/Value
$42.49 sounds expensive for a bottle of prenatal vitamins.  But when you break it down, it's only $0.47 per day, which is less than your average prenatal vitamin.
Guarantee
This doesn't have a guarantee that I could see– so that's unfortunate 🙁
Where To Buy
To buy Actif Organics Prenatal Vitamin, click here.
Actif Organics Prenatal Vitamin:  Summary
| | |
| --- | --- |
| Factor | Actif Organics Prenatal Vitamin |
| Overall Rating |   |
| Ease of Use | They're hard to swallow, but you only need one per day |
| Taste | There's no taste which is nice |
| Ingredients | Has most of what you need but missing Vitamin K and Choline |
| Side Effects | I noticed a slight burst in energy after taking these prenatal vitamins |
| Price/Value | $42.49 for a 90 day supply |
| Guarantee | None |
| Where To Buy | Click Here |