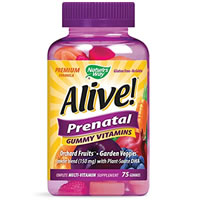 Product Name:  Nature's Way Alive! Prenatal Gummy Vitamins
Overall Rating:  

Type:  75 gummies
Serving Size:  3 gummies per day
Servings Included:  25
Price:  $19.99
Cost Per Serving:  $0.80
Where to Buy:  Click Here
# of Ingredients:  17
Overall Opinion:
In my opinion, this is one of the better prenatal vitamins out there, so I ranked it 4 out of 5 stars.
This prenatal gummy has a lot of good things going for it.
It contains a bunch of good vitamins in it that are good for your baby's development in critical stages of pregnancy.  Some of the ingredients I was very happy to see included in these gummies are: Vitamin A, Folic Acid, Choline, Iodine, and DHA.
It even contains a small amount of fruits and veggies (I think mostly for the flavoring).  On the downside, it's missing a few ingredients such as Vitamin B6, Iron, and Vitamin K.  But it got pretty close to hitting the mark on all the vitamins/nutrients I look for.
They taste pretty good, and have a nice, gooey texture.  They have two flavors, but I found them both to taste very similar.
The one thing I really don't like about Nature's Way Alive! Prenatal Gummy Vitamins is that they leave a really bad aftertaste in your mouth. Yuck!
But overall, I'm very happy with this prenatal vitamin.
Detailed Opinion:
Ease of Use
These gummies are easy to use.  You just take 3 gummies daily; it doesn't say to take them with or without food.  I'd just take them when I remembered, which was normally with breakfast or lunch.
Taste
These little gummies taste pretty good.  Now, they aren't the absolute best tasting, but they still somewhat resemble candy and I looked forward to taking them daily.
They have two flavors, strawberry and lemon.  (They're also in the shape of strawberries and lemon slices.)  To me, they both had a lemony taste; I never tasted much strawberry flavor (which sucks, because strawberry happens to be my favorite).  The texture is a chewy gummy.  They were a bit chalky at first, but then became moist and delicious as I chewed them.
They aren't as soft as gummy bears… they're a little bit tougher, but still very easy to chew.
The one thing I didn't like is Nature's Way Alive! Prenatal Gummies left a sour aftertaste in my mouth.  So I always wanted to brush my teeth after I ate them.
Ingredient Analysis
These prenatal gummies have a lot of great vitamins in it.
They contain 4,000 IU of Vitamin A.  I did the conversion, and that works out to 1,200 mcg, which is an amount within the recommended daily amount.
It also has 800 mcg of folic acid as Vitamin B9. That's the perfect amount J
Another ingredient in these is Iodine, at 3750 mcg.  That's higher than I'd like to see; I like my dosage to be between 220 mcg and 1,100 mcg.
These gummies also contain choline, which I was happy to see as many prenatals leave this ingredient out.  Choline is great for placental function, liver function, and neural tube and brain development.
DHA is an Omega Fatty Acid that I was pleasantly surprised to see in this prenatal vitamin.  DHA has been directly linked to baby's brains and intelligence, so it's a very beneficial ingredient.
This prenatal was lacking a few ingredients such as Iron, B6, Vitamin K, and Calcium.  But it got pretty close to having all I look for in my prenatal vitamin.
I also want to mention that these gummies have 5 grams of sugar per serving.  So it's not the most amount of sugar I've seen, but it's also not the least.
Side Effects
The only side effect I noticed was a really bad/sour aftertaste in my mouth after I ate them.
Price/Value
A bottle costs $19.99, which works out to $0.80 per serving.  That's pretty average, and I wasn't upset by the price of these.
Guarantee
Yes, if you purchase through Vitamin Shoppe online.  Nature's Way doesn't sell them through their website, so the company themselves doesn't have a guarantee.  But Vitamin Shoppe has a very good guarantee if you decide to purchase through them.
Where To Buy
To buy Nature's Way Alive! Prenatal Gummy Vitamins, click here.
Nature's Way Alive! Prenatal Gummy Vitamins: Summary
| | |
| --- | --- |
| Factor | Nature's Way Alive! Prenatal Gummy Vitamins |
| Overall Rating | |
| Ease of Use | Very easy, eat 3 gummies per day |
| Taste | Taste like lemon, but have a bad aftertaste |
| Ingredients | Vitamin A, Folic Acid, DHA, Iodine, Choline |
| Side Effects | Bad aftertaste in mouth |
| Price/Value | $19.99 for a 25-day supply |
| Guarantee | Yes |
| Where To Buy | Click Here |