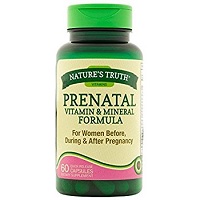 Product Name:  Nature's Truth Prenatal Vitamin
Overall Rating: 

Type/Size:  60 Capsules
Serving Size:  1 capsule per day
Servings Included:  60
Price:  $8.19
Cost Per Serving:  $0.14
Where to Buy:  Click Here
# of Ingredients:  22
Overall Opinion:
I didn't have many expectations for this prenatal vitamin; just based off the price, I thought it'd be cheap.  But I actually found Nature's Truth Prenatal Vitamin to be slightly better than your average prenatal vitamin.
I ranked it 3 out of 5 stars after trying it out.
It's super easy to take, all you need to do is swallow one pill per day with a meal.  They have no taste, which is great (although gummies do taste better!).
The ingredient list is pretty good, but it's still missing a few things. I have yet to find the perfect prenatal vitamin, and I frankly don't think one will ever exist.  I just want them to get as close as possible 🙂
This one has 800mcg of Folic Acid, which is a very common dosage.  Now, I know some of you can only take Folate or Methylfolate, so if you're one of those people, I wouldn't use this one.
It's also missing a few other ingredients and is low in a few as well.  So, if you're going to take these prenatal vitamins, just make sure to get enough nutrition through your diet!
But overall, I think these prenatal vitamins are a little better than your average prenatal vitamin on the market.
Detailed Opinion:
Ease of Use
This prenatal vitamin is very easy to take.  Nature's Truth Prenatal Vitamin comes in the form of a quick release capsule, and the capsules are the size of your average pill.  They aren't too big or too small, and they go down easily. The capsules are an off white color.
You only need to take one per day, but you need to take it with a meal.  I'd usually take mine with dinner.
Taste
These capsules literally taste like nothing as I swallowed them, which is good.  They didn't have any vitamin or plastic taste.
Ingredient Analysis
I'm actually pleasantly surprised with the ingredients in Nature's Truth Prenatal.  I thought that based on the price of it, that it'd be missing a lot.  Now, it's still missing a few things, but it's better than I expected.
It has 800 mcg of Folic Acid in it, which is the perfect amount.  However, it's not in the form of folate, so those of you who need folate, should steer clear of this one.
It has great amounts of Vitamin C, D, B1, B2, Niacin, B6, B12, Biotin, Iron, and Zinc as well.  I'm happy to see that this vitamin contains a good amount of Iron, because a lot of them don't.  Iron becomes very important as your baby is developing and growing!
Now, these prenatals are a little low in Vitamin A.  But not to the point where I'm overly worried about the lack of Vitamin A.
They're very low in Vitamin E and Calcium, so I definitely would like to see more of those two ingredients in here.  Especially Vitamin E as it helps convert food to energy and can protect against free radicals.
This prenatal is completely lacking Vitamin K, Choline, Iodine, and Omegas.  I'm not surprised about the lack of Omegas, a lot of prenatals forego DHA.   If I were going to use these throughout pregnancy, I'd definitely invest in an additional Omega supplement (but always check with your OBGYN first!). I wish it had at least some Vitamin k, Choline, and Iodine.  You and your baby need those during pregnancy.
So overall, the ingredients aren't perfect, but I've definitely seen worse!
Side Effects
I didn't have any negative side effects while I was using these capsules, which is great!
Price/Value
Nature's Truth Prenatal is very cheap.  It's a little over $8.00 per bottle, which is definitely less than your average prenatal.
Guarantee
These have your typical Amazon guarantee, which I think is 30 days.
Where To Buy
To buy Nature's Truth Prenatal Vitamin, click here.
Nature's Truth Prenatal Vitamin: Summary
| | |
| --- | --- |
| Factor | Nature's Truth Prenatal Vitamin |
| Overall Rating | |
| Ease of Use | Easy to take, swallow one capsule per day |
| Taste | No taste at all |
| Ingredients | Overall decent ingredients, missing a few things |
| Side Effects | No side effects |
| Price/Value | $8.19 for 60-day supply |
| Guarantee | No guarantee |
| Where To Buy | Click Here |