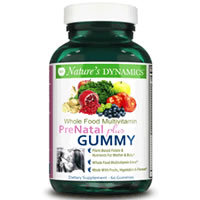 Product Name:  Nature's Dynamics PreNatal Plus Gummy
Overall Rating:  

Type:  60 gummies
Serving Size:  2 gummies per day
Servings Included:  30
Price:  $29.95
Cost Per Serving:  $1.00
Where to Buy:  Click Here
# of Ingredients:  33
Overall Opinion:
I think Nature's Dynamics PreNatal Plus Gummy is a very high quality vitamin, so I gave it 4.5 out of 5 stars.
I really like how this company uses plants and whole foods as sources for their vitamins.  The ingredients are plant based, non-GMA and are made with fruits and vegetables.
The ingredients in this prenatal vitamin are great, although some of their dosages are a little low and I would've liked to see them a bit higher.
The gummies themselves are very easy to use.  They taste delicious (not as sweet as some gummies), but they have a bit of a vitamin/plant tasting after taste.  And I love they only have 2 grams of sugar in them.  That's lower than most gummies.
Nature's Dynamics doesn't offer a money back guarantee, which really sucks.  I like when companies stand behind their products, and Nature's Dynamics doesn't.
But overall, I'm very impressed with these prenatal gummies, so I gave them 4.5 out of 5 stars.
Detailed Opinion:
Ease of Use
These gummies are very easy to use.  They look and feel like your average gummy bear; they also have the same texture as the candy gummy bears. They're an orangey, brown color, and don't have any added coloring in them.
You just take 2 gummy bears per day, which is easy enough.  It doesn't say whether to take them morning or night, or with or without food.  So I took them after my breakfast.
Taste
These gummies taste pretty good.  They have a fruity taste, but aren't overly sweet like some prenatal gummies that are covered in sugar. The flavor is more of a mixed fruit flavor; I didn't taste any one fruit that stood out to me.  They have a bit of an after taste that resembles plants to me.  But I didn't really mind it because it has a lot of plants in it that are good for you and baby.
Ingredient Analysis
I really love the ingredient lineup in this prenatal vitamin.
Nature's Dynamics PreNatal Plus Gummy is gluten free, plant based, and non-GMO.
It includes Natural Vitamin B9, which is a form of Folate. Folate is a vitamin that's critical for baby's development, and this prenatal contains 800mcg, which is a great amount.
These gummies also have Natural Iron in it, which a lot of prenatal vitamins don't have.  It only has 0.918 mcg, which isn't nearly enough, but you can supplement the rest with an additional iron supplement or through your diet (just make sure to talk with your physician about which option is best for you).
Mixed Carotenoids are a form of vitamins that your body converts into Vitamin A. Vitamin A is an ingredient I love to see in my prenatals (within the correct dosage). Although this Nature's Dynamic Prenatal doesn't contain a lot of this ingredient, I would've liked to see a higher dosage.
Like I've mentioned numerous times, no one prenatal vitamin will contain all the vitamins you need for a healthy pregnancy, I just like to see them get as close of possible J
Another thing I like about these gummies is they contain a "Berry Garden Blend".  This blend contains things like Flax Seed Powder and Kale Powder, which also give great nutrients to mom and baby.
Another added bonus is there's only 2 grams of sugar per serving.  That's less than most gummies out there.
This vitamin is missing some ingredients that I think are important. It's missing Vitamin K, Choline, and Omega 3.  But like I mentioned earlier, it's hard to squeeze everything into one vitamin.
Side Effects
I didn't notice any adverse side effects while taking this prenatal gummy, which is great!
Price/Value
These gummies are $29.95 for a 30-day supply.  That works out to $1.00 per day, which is pretty average.  I'd gladly pay that price again for this prenatal vitamin.
Guarantee
No, they don't have a guarantee through their website, which is upsetting.  You can only get store credit if you choose to send them back, and on top of that, they charge you a 20% restocking fee.
In my opinion, this is a very weak return policy; I was disappointed to see they don't stand behind their products.
Where To Buy
To buy Nature's Dynamics PreNatal Plus Gummy, click here.

Nature's Dynamics PreNatal Plus Gummy: Summary
| | |
| --- | --- |
| Factor | Nature's Dynamics PreNatal Plus Gummy |
| Overall Rating | |
| Ease of Use | Easy to use, take 2 gummies per day |
| Taste | Taste delicious, but have an after taste |
| Ingredients | Vitamin B9 (Folate), Natural Iron, Flax Seed Powder, Beta Carotenoids |
| Side Effects | I didn't have any side effects with these gummies. |
| Price/Value | $29.95 for a 30-day supply |
| Guarantee | No guarantee |
| Where To Buy | Click Here |