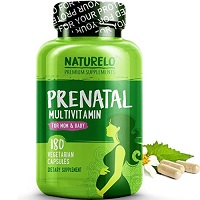 Product Name:  Naturelo Prenatal Multivitamin
Overall Rating: 

Type/Size:  180 Capsules
Serving Size:  3 capsules per day
Servings Included:  60
Price:  $39.95
Cost Per Serving:  $0.66
Where to Buy:  Click Here
# of Ingredients:  28
Overall Opinion:
Naturelo Prenatal Multivitamin is advertised as being free of GMOs, Soy, Gluten, and any animal by-products (AKA- vegan), so it makes sense that this prenatal would be tempting to many expectant mothers. However, after analyzing the ingredients and actually taking the prenatal multivitamin, I was pretty disappointed in the ease of use and the ingredient list.
For those reason and more, I gave it 2 out of 5 stars after trying it out.
Requiring 3 capsules a day, spread out between three separate meals, this prenatal multivitamin requires a lot more work than the average supplement does.  Combine that with the awful smell, and you're asking a lot of pregnant women!
In addition, the ingredient list is pretty split as far as the Recommended Daily Amounts are concerned. While the vitamin contains all of the necessary ingredients to keep mama and baby both healthy, only half of them actually contain the proper amount needed to make sure they're getting the job done.
With a higher price tag and a somewhat disappointing ingredient list, this isn't a prenatal vitamin you need to rush off and purchase during your pregnancy.
Detailed Opinion:
Ease of Use
I don't think that Naturelo Prenatal Multivitamins are very easy to use.  For starters, you have to take three pills a day, which is a lot.  I actually don't think I've ever used any other vitamin, prenatal or otherwise, that requires you to swallow this many pills on a daily basis.
It also instructs that it's best to take the three pills separately throughout the day—one with breakfast, lunch, and dinner.  Most people have trouble remembering to take a single vitamin in the morning, let alone at three different points throughout the day.
They also express that you can open up the capsules and dump the power inside of the pills into food or drink, but that feels like a ton of work, so I'm not sure who would sign up for that option.
On a positive note, the pills are easy to swallow based on their size and the smooth coating of the capsules.
Taste
Thankfully, these vitamins don't have any taste.  I was really worried because the Naturelo Prenatal Multivitamins smell horrible.  I nearly threw up when I sniffed the bottle.  It smells identical to fish food—yuck!
So I was super worried that they were going to taste as terrible as they smell, but they didn't taste like anything. However, I would be extremely nervous to pour the powder into my food like they say you can do.
I also didn't experience any gross burps or aftertaste once I had swallowed these multivitamins, so that was definitely a relief.
Ingredient Analysis
Naturelo Prenatal Multivitamin is free of GMOs, Soy, Gluten, and is Vegan, so this sounds like a prenatal vitamin that would work for every expectant mother.  After analyzing the ingredients, however, I found that it's not as impressive as it seems, and is lacking in quite a few ingredients,
To start on the positive side, Naturelo Prenatal Multivitamin has over 1,300 mcg of Folate in it, which is great.  However, just keep in mind that it's in the form of Folate, not Folic Acid, so if you prefer one form over the other, you may want to make note of that.
Some of the other positives with this prenatal multivitamin are that they contain the perfect amount of Thiamin-B1, Riboflavin-B2, Niacin-B3, Pyridoxine-B6, Biotin-B7, Vitamin B12, Vitamin C, Vitamin D, Vitamin E, and Zinc.  As I'm sure you already know, a lack of Vitamin D during pregnancy is associated with low birth weight, hypocalcaemia, poorly calcified bones, and higher risk of cavities in the future, so it's a major bonus that they have the proper amount in this prenatal multivitamin.
On the flip side, these prenatal multivitamins are low in Vitamin A, Vitamin K, Choline, Calcium, Iron, Iodine, and doesn't have any Omega-3s.  That includes the fact that it doesn't include any DHA, so you'll definitely want to find a supplement for that if you decide to take Naturelo Prenatal Multivitamin.
I understand that a lot of prenatal vitamins don't include DHA, but I think it's really strange for Naturelo to leave off Omega-3s altogether.  Even if you take out the 300 mg needed from DHA, you still need an additional 350 mg of Omega-3s to help with baby's brain health and development. So I think it's really strange to see this left off completely.
So overall, Naturelo Prenatal Multivitamin is just okay when you analyze the ingredients.  In fact, it is pretty split down the middle as far as the ingredients are concerned.  They have just as many great amounts of some ingredients as they do ingredients they are lacking in, so it's honestly just mediocre.
Side Effects
I didn't experience any negative side effects while taking Naturelo Prenatal Multivitamin, so that's a positive!
Price/Value
Priced at about $40 for a 60-day supply, this is slightly more expensive as far as price is concerned for a prenatal vitamin.  However, I don't think the price point really reflects what you're getting.  Part of me thinks they are priced as highly as they are because they're non-GMO, Soy, Gluten, and are Vegan.  So you feel tempted to pay the high price tag.
However, after analyzing the ingredients, there's nothing special about Naturelo Prenatal Multivitamins, and they aren't super easy to use, so I don't think they are worth the money you spend on them.
Guarantee
Naturelo has a 30-day money-back guarantee on all of their products.  I think this is a fair return policy, especially for a vitamin that takes a while to experience the results.
Where To Buy
To buy Naturelo Prenatal Multivitamin, click here.
Naturelo Prenatal Multivitamin: Summary
| | |
| --- | --- |
| Factor | Naturelo Prenatal Multivitamin |
| Overall Rating | |
| Ease of Use | Not very easy to use—three capsules taken daily, one at each meal.  Can also pour out powder inside capsules into food and drink. |
| Taste | No taste |
| Ingredients | Mediocre ingredients—half of the ingredients have the proper RDA and the other half are lacking. Absolutely no Omega-3s, which is strange. |
| Side Effects | No negative side effects |
| Price/Value | $39.95 for 60-day supply |
| Guarantee | 30-day money-back guarantee |
| Where To Buy | Click Here |