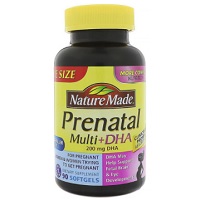 Product Name:  Nature Made Prenatal Multi + DHA
Overall Rating: 

Type/Size:  90 Softgels
Serving Size:  1 softgel per day
Servings Included:  90
Price:  $18.69
Cost Per Serving:  $0.20
Where to Buy:  Click Here
# of Ingredients:  19
Overall Opinion:
To be honest, I didn't expect to like these prenatal vitamins as much as I do.
I thought they'd be just another cheap drugstore brand that has the bare minimum as far as vitamins go.  But I'm pleasantly surprised with the ingredients in here and how easy they are to use.
Nature Made Prenatal Multi + DHA is packed with great stuff for both mama and baby.  I feel very confident taking these while pregnant with my son J
Like I've said before, no prenatal vitamin is perfect.  Even this one has its drawbacks.  I did have some side effects that were not so pleasant.  I developed cystic acne and I had heartburn.
These also have a bad taste until you can get them down.
But overall, I'm impressed with these vitamins and give them 4 out of 5 stars.
Detailed Opinion:
Ease of Use
Nature Made Prenatal Multi + DHA are softgels that are super easy to use.
You just need to take one softgel per day with a meal.
I'd usually take mine with dinner, but any meal will work!  The softgels are long, but they're skinny, so I didn't have any problems getting them down.  They're red in color, which is interesting.
Taste
Even though you swallow these, they have a yucky taste as they go down.
I don't really know how to describe the taste, but they have a strong vitamin/plastic taste.  Thankfully the taste goes away as soon as the pill goes down.
I didn't notice any fishy burps throughout the day or night, which is good.
Ingredient Analysis
I'm surprisingly impressed with the ingredients in this prenatal vitamin.
It has the perfect amount of Folic Acid, at 800 mcg.  That's a great amount for you and baby.
It also has perfect amounts of Vitamin A, B1, B2, B3, B6, Biotin, B12, Vitamin C, D, E, K, Iron, and Zinc.  Wow, that is a lot of vitamins to have great amounts in.  I didn't expect to see these kinds of amounts in a cheap drugstore prenatal vitamin.
That makes me very happy to see and confident that my growing baby and me will get most the vitamins we need.
Now, this prenatal isn't perfect.
It has no Choline in it, which is a let down.
It's also very low in Calcium and a little low in Iodine.
I'm also surprised to see that it's low in Omegas.  But, at least they have some Omegas in them.
Overall, I'm very happy with this ingredient lineup.
Side Effects
Now, this prenatal vitamin isn't without some side effects.
After I started taking these, I noticed my acne got worse.  Now, it could be the hormones, but my acne did calm down when I stopped these.
I also got a little heartburn after I'd take these.
Price/Value
Nature Made Prenatal Multi + DHA is very cheap.  It's only $0.20 per serving!  Now, this is a drugstore prenatal, so I expected it to be on the cheaper side.
Guarantee
The guarantee will just depend on where you buy it. So no, Nature Made doesn't have a guarantee, but other places may.
Where To Buy
To buy Nature Made Prenatal Multi + DHA, click here.
Nature Made Prenatal Multi + DHA: Summary
| | |
| --- | --- |
| Factor | Nature Made Prenatal Multi + DHA |
| Overall Rating | |
| Ease of Use | Very easy, take one softgel per day with a meal |
| Taste | Taste bad, like vitamins or plastic |
| Ingredients | Great ingredient lineup |
| Side Effects | I had acne and heartburn while using these softgels. |
| Price/Value | $18.69 for a 90-day supply |
| Guarantee | No guarantee |
| Where To Buy | Click Here |