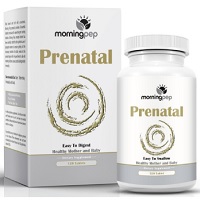 Product Name:  Morningpep Prenatal Vitamin
Overall Rating: 

Type/Size:  120 Tablets
Serving Size:  1 tablet per day
Servings Included:  120
Price:  $19.90
Cost Per Serving:  $0.16
Where to Buy:  Click Here
# of Ingredients:  28
Overall Opinion:
When it comes to prenatal vitamins, Morningpep Prenatal Vitamin is a great option for both mama and baby.  From the ease of use, to its better-than-most ingredient list, this prenatal vitamin is one expectant mothers should have on their radar.
For those reasons and more, I gave it 4 out of 5 stars after trying it out.
Morningpep Prenatal Vitamin requires you to take just one pill a day, and it's super easy to swallow.  While it directs to take it with food, it's gentle enough on your stomach that if you forget and take it without a meal, you'll be just fine.
While the ingredient list isn't perfect, it does contain the proper Recommended Daily Amount for nearly all ingredients included, and only leaves a couple ingredients out altogether.
Considering that, and the extremely affordable price tag it's sporting, this is definitely one that will keep mama and baby healthy without breaking the bank.
Detailed Opinion:
Ease of Use
I found Morningpep Prenatal Vitamin extremely easy to use.  You just have to swallow one tablet a day, preferably with food.  I took the vitamin both with and without food and didn't find that it upset my stomach either way, which was nice!
The pills are also pretty easy to swallow.  They are a little bit dry but they aren't super big, so they were easy to take with a few sips of water.
Taste
Morningpep Prenatal Vitamin has a sour, orange-like taste to the tablets.  The tablet isn't in your mouth very long, and the taste isn't overpowering, so it didn't bother me too much.
However, it was definitely unexpected! It wasn't necessarily a gross taste, it just wasn't what I would have thought the vitamin would taste like (if anything at all).
Ingredient Analysis
If I'm honest, I was a little skeptical of Morningpep Prenatal Vitamin because of how cheap it is.  I wasn't sure how they would fit all of the necessary ingredients in while only charging $20.  However, after reviewing the ingredient list, I'm pretty impressed!
To start on the positive side, Morningpep Prenatal Vitamin has 800 mcg of Folate in it, which is great.  However, just keep in mind that it's in the form of Folate, not Folic Acid, so if you prefer one form over another, you may want to make note of that.
Morningpep Prenatal Vitamin also has the perfect amount of Vitamin A, Thiamin-B1, Riboflavin B-2, Niacin-B3, Pyridoxine-B6, Biotin-B7, Vitamin B12, Vitamin C, Vitamin D, Vitamin E, Iron, and Zinc.  It also contains Ginger Root Extract, which I think is a nice addition, especially for women who are battling morning sickness, and a Probiotic Blend, which is also wonderful for expectant mamas.
While Morningpep Prenatal Vitamin does contain the right amount of a lot of ingredients, it's lacking in other areas.  This prenatal is a bit low in Vitamin K, really low in Choline and Calcium, and doesn't contain any Iodine or additional Omega-3s outside of Folate.  While you can get plenty of Calcium from other sources, Choline is slightly more difficult.  Proper placental function, neural tube and brain development, and liver functions of the fetus are dependent on the presence of choline, so I'm bummed this prenatal doesn't contain the right amount.
Also, make sure you talk to your doctor about a DHA supplement if you choose to take this prenatal vitamin.  Since Morningpep Prenatal Vitamin doesn't contain DHA, you want to make sure you find another way to incorporate that into your pregnancy.
Overall, I think Morningpep Prenatal Vitamin does a pretty nice job with their ingredient list. There are definitely areas they're lacking in, but overall, this would be a nice fit for mama and baby.
Side Effects
I didn't experience any negative side effects while taking Morningpep Prenatal Vitamin, so that's always good!
Price/Value
Morningpep Prenatal Vitamin is extremely affordable.  For essentially a 4-month supply, this prenatal will cost you less than $20.  After analyzing the ingredient list, I think this is definitely worth the money.
You may need to take a supplement or two along with it, or make sure to eat certain foods rich in specific vitamins, but overall, I think they did a nice job at getting the major vitamins in at the correct dosage.
Guarantee
Morningpep does not list any information about their return policy or money-back guarantee (if they have one) on their website, but they do provide a Contact Us form on their site, so you'd probably have to reach out to them there if you weren't satisfied with the prenatal vitamin.
Where To Buy
To buy Morningpep Prenatal Vitamin, click here.
Morningpep Prenatal Vitamin: Summary
| | |
| --- | --- |
| Factor | Morningpep Prenatal Vitamin |
| Overall Rating | |
| Ease of Use | Super easy to use.  Take one tablet daily, preferably with food. Pretty easy to swallow, as well. |
| Taste | Tablet tastes a little bitter, similar to sour orange. |
| Ingredients | Overall good ingredient list; lacking in Iodine, Calcium, Choline, and Omega-3s, but has the proper RDA for all other ingredients. |
| Side Effects | No negative side effects |
| Price/Value | $19.90 for 120-day supply |
| Guarantee | No guarantee listed on website |
| Where To Buy | Click Here |