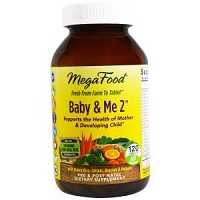 Product Name:  MegaFood Baby & Me 2
Overall Rating: 

Type:  120 tablets
Serving Size:  4 tablets per day
Servings Included:  30 servings
Price:  $53.97
Cost Per Serving:  $1.80
Where to Buy:  Click Here
# of Ingredients:  27
Overall Opinion:
These prenatal vitamins are slightly better than average, so I ranked them 3 out of 5 stars.
MegaFood Baby & Me definitely has some positives, but there are also some drawbacks to these tablets.
First off, the ingredients are overall really good.  It doesn't hit every mark, but it comes close.  It has a great amount of the most essential vitamins I look for before, during, and after pregnancy. It has 800mcg of Folate, which is a great amount.
Now, these tablets are really hard to take.  They're humungous, and you need to take 4 per day.  I literally dreaded taking them because they're so big, and they taste awful.   They have a salty, sour taste, which isn't pleasant.
I purchased on iHerb for $53.97, which is very expensive, especially considering they don't have a money back guarantee.  If I were you, I'd try to find them somewhere cheaper, where you can return them if needed.
So, after trying MegaFood Baby & Me prenatal vitamins, I gave them 3 out of 5 stars.
Detailed Opinion:
Ease of Use
I find these tablets hard to use.  First off, they're HUGE! Talk about horse pills.  These are definitely one of the biggest prenatal vitamins out there. And on top of that, you need to take 4 per day.  I found 4 to be a lot, just because of how big they are.  It says you can take them anytime throughout the day, even on an empty stomach, so that's a nice perk.  I found it easiest to take 2 in the morning and 2 at night to break up the dosage.
They're in tablet form, and they get stuck in my throat all the time. I think tablets are harder to take in general, due to a lack of coating to help them go down easier.
Taste
Although you swallow these, they taste horrible.  They have a really salty, sour taste as you swallow them.  The taste didn't last long in my mouth, thankfully.
But I dreaded taking these because they taste so horrible.
Ingredient Analysis
MegaFood Baby & Me has really great ingredients in it.
All I have to say is it better come pretty dang close to having all of the necessary vitamins if I'm taking 4 horse pills per day.  And it does come close to hitting almost all ingredient marks I look for.
For starters, it has 800 mcg of Folate, which is a great amount.  This is the amount most prenatal vitamins have in them. Folate or Folic Acid is a very important vitamin to include in prenatals because it can help prevent neural tube defects.
These tablets also have great amounts of Vitamin A, B1, B2, B3, B6, E, B12, and many more, which is great.  All of these vitamins are essential for your developing baby as well as your ongoing health.
Now, this prenatal vitamin is a little low in a few vitamins.  In particular, it's low in Vitamin C, Vitamin K, Iodine, and Calcium.  A lot of prenatal vitamins have no Vitamin K, so I was happy to at least see a little bit in these.  But it could use a little more of these 5 ingredients.
It also has no choline or omega-3s.  I like to see both choline and omegas in my prenatal vitamins as they're critical vitamins to have while your baby is developing. Both of these vitamins are essential for brain and intellectual development, so they're very important.
But all in all, I'm very impressed by the MegaFood Baby & Me's ingredients.
Side Effects
These vitamins would get stuck in my throat, which was really annoying.
Price/Value
MegaFood Baby & Me sells for $53.97 for a month supply, that's very expensive.
Guarantee
Depending on where you purchase the product, they may have a money back guarantee. I purchased on iHerb and they have no money back guarantee, which is very disappointing.
Where To Buy
To buy MegaFood Baby & Me, click here.
MegaFood Baby & Me: Summary
| | |
| --- | --- |
| Factor | MegaFood Baby & Me |
| Overall Rating | |
| Ease of Use | They're huge and you need to take 4 per day! |
| Taste | Taste really bad, sour and salty. |
| Ingredients | Good ingredient lineup |
| Side Effects | They'd get stuck in my throat. |
| Price/Value | $53.97 for a 30 day supply |
| Guarantee | No guarantee |
| Where To Buy | Click Here |