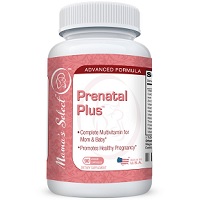 Product Name: Mama's Select Prenatal Plus
Overall Rating:

Type/Size: 90 Capsules
Serving Size: 1 capsule
Servings Included: 90
Price: $17.90
Cost Per Serving: $0.19
Where to Buy: Click Here
# of Ingredients: 13
Overall Opinion:
There's a lot to love when it comes to Mama's Select Prenatal Plus vitamin. From the ease of use to the killer price tag, this prenatal vitamin is one that most expectant mothers can easily fit into their daily lives.
While almost all of the ingredients present in the vitamin itself have the proper Recommended Dietary Allowance (RDA), it sadly leaves off five essential ingredients needed to keep both mother and baby healthy during pregnancy.
For that reason, Mama's Select Prenatal Plus vitamin is rated lower than many others we review. While the majority of prenatal vitamins don't have the proper RDA of every ingredient, many more ingredients are at least represented into the breakdown, and that's unfortunately not the case here.
Detailed Opinion:
Ease of Use
Mama's Select Prenatal Plus vitamin is really easy to use. You simply have to swallow one capsule daily, preferably with a meal. I always took mine after breakfast and never ran into any issues.
The capsules are very easy to swallow, as well. They are relatively small and have a plastic casing around them, so I didn't have any problem taking them with a small amount of water.
Taste
There really isn't any taste for the Mama's Select Prenatal Plus vitamins. Since the powder is in a plastic casing, all you taste is the plastic itself.
Additionally, there isn't any gross aftertaste or weird burps to worry about later in the day, so it really is a tasteless vitamin.
Ingredient Analysis
When I saw that Mama's Select Prenatal Plus vitamin only had 13 ingredients in it, I was a bit worried about how this prenatal vitamin would stack up against others on the market. Most other vitamins have 20+ ingredients, so this seemed quite a bit lower than average.
After analyzing the ingredient list, I'm a bit disappointed in the number of ingredients Mama's Select leaves off, especially due to how important they are for both mama and baby.
As always, I want to start out by pointing out that this prenatal vitamin has 800 mcg of Folate in it. Not only is that the proper Recommended Dietary Allowance (RDA), but it's also in the form of Folate, which many expectant mothers need. So I find this to be a major plus right off the bat!
Some of the additional positives for this prenatal vitamin are that it contains the perfect amount of Vitamin A, Thiamin-B1, Riboflavin-B2, Niacin-B3, Pyridoxine-B6, Vitamin B12, Vitamin C, Vitamin E, Iron, and Zinc.
I'm really happy to see the proper amount of Vitamin B12 in there. I've actually noticed a trend in prenatal vitamins of that ingredient specifically being low. Vitamin B12 aids in regulating gene expression, DNA synthesis, growth of organs, and cell differentiation throughout fetal development, so it's a super important ingredient to have!
On the flip side, Mama's Select Prenatal Plus vitamin is low in Vitamin D and Calcium, and doesn't contain any Biotin, Vitamin K, Choline, Iodine, or additional Omega-3s.
Truthfully, I'm a little bummed about how many ingredients it's missing completely. Many prenatal vitamins don't have the proper RDA of all ingredients, but to completely leave off five essential ingredients seems a bit odd. Specifically Iodine, since most foods have a relatively low amount, and this ingredient is related to the development of the central nervous system for the baby, which includes the fetal brain and spinal cord.
Overall, I would rate Mama's Select Prenatal Plus vitamin lower than most others due to the number of ingredients it leaves off. It does contain the proper RDA for many ingredients, but I'd like to see all important ingredients at least represented in the ingredient list, and that's just not the case here.
Side Effects
I didn't experience any negative side effects while taking Mama's Select Prenatal Plus vitamin. However, I did always take it with a meal, as suggested, so you may have a different experience if you choose to take it on an empty stomach (which I don't recommend).
Price/Value
It's clear that Mama's Select Prenatal Plus vitamin is much more affordable than many other prenatal vitamins on the market. However, I think that's because it's missing many essential ingredients needed during pregnancy.
For that reason, I don't think it's worth the money. You can find other prenatal vitamins at a similar, or just slightly higher, price point that have more ingredients present in them.
Guarantee
Mama's Select has a very impressive return policy. They offer a 100% satisfaction guarantee or your money back, without any time limits or restrictions. It's important to note, however, that this return policy doesn't apply to products purchased with a discount code on their website.
Where To Buy
To purchase Mama's Select Prenatal Plus vitamin, click here.
Mama's Select Prenatal Plus Vitamin: Summary
| | |
| --- | --- |
| Factor | Mama's Select Prenatal Plus Vitamin |
| Overall Rating | |
| Ease of Use | Take one capsule daily, preferably with a meal |
| Taste | No taste at all; covered in a plastic casing that is tasteless |
| Ingredients | Mediocre ingredient list—contains the proper RDA of most ingredients present, but completely leaves off 5 essential ingredients needed during pregnancy |
| Side Effects | No negative side effects |
| Price/Value | $17.90 for 90-day supply |
| Guarantee | 100% satisfaction guarantee or your money back. Return policy does not apply to items purchased with coupon code |
| Where To Buy | Click Here |