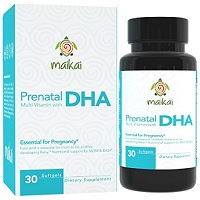 Product Name:  Maikai Prenatal Multivitamin With DHA
Overall Rating: 

Type/Size:  30 Softgels
Serving Size:  1 softgel per day
Servings Included:  30
Price:  $11.64
Cost Per Serving:  $0.38
Where to Buy:  Click Here
# of Ingredients:  17
Overall Opinion:
I was pretty disappointed in the ingredients in this prenatal vitamin, so I gave Maikai Prenatal With DHA 1 out of 5 stars.
First off, I'm sad to see this prenatal is a little low in Folic Acid. We all know how crucial Folic Acid/Folate is to a baby's development, and I usually like to see 600mcg to 800mcg in my prenatals.  This one only has 400 mcg.
It's also low in some other areas, while having very high dosages of other ingredients (B Vitamins).
On the plus side, these are easy to take, cheap, and I didn't have any negative side effects while taking them.
But unfortunately, those things aren't enough to make up for the lackluster ingredient list.  My baby's health is just not something I'm willing to mess around with!
Detailed Opinion:
Ease of Use
Maikai Prenatal softgels are very easy to use.
You only need to swallow one per day with a meal.
The softgels are long, but they're skinny. They also have a slick coating, so I didn't have any issues getting them down.
Taste
When I put these in my mouth to swallow them, they taste a tiny bit sweet.  Once I swallowed them, there was no taste at all, not even fishy burps…which is great!
Ingredient Analysis
These prenatal softgels have a very odd ingredient lineup.  Some ingredient dosages are through the roof (when they don't need to be), yet they're lacking in other very important areas.
Let's start out by talking about Folic Acid. One softgel has 400 mcg of Folic Acid (not Folate).  To me, this is a little low. I usually like to see anywhere from 600-800mcg of Folic Acid/Folate in my prenatals.  This is such a vital vitamin for your baby's development, so I don't like to see it lacking at all.
Maikai Prenatal Multivitamin With DHA softgels are lacking in a lot of areas.  They're low in Niacin (B3), Vitamin C, Vitamin D (extremely low), Vitamin E, Calcium (extremely low), Iron, Zinc, and Omegas.  It honestly worries me how low this prenatal is in Vitamin D especially.  Vitamin D deficiency can be associated with some pretty scary conditions such as low birth weight and cavities later on in life.  So make sure to get your Vitamin D mamas!
Now, there's no Biotin, Vitamin K, Choline, or Iodine in these pills at all.  I rarely see a prenatal with no Biotin, so I find it very odd this one doesn't include it.
About the only ingredient this prenatal hits the mark on is Vitamin A.  It contains a good amount of Betacarotene.
It also has some high dosages in areas where it doesn't need to.  It has a lot of B Vitamins (B1, B2, B6, and especially B12).  The B12 in here is through the roof!  I've never seen such a high amount in prenatal vitamins.  It has 100 mcg, when I usually look for anything over 2.6 mcg.
Needless to say, I'm not impressed with the ingredients in here. They're kind of all over the place and they miss the mark in a lot of vital areas.
Side Effects
One good thing is I didn't notice any side effects while taking Maikai Prenatal Multivitamin With DHA.
Price/Value
This prenatal vitamin is very cheap, and in this case, I think you get what you pay for unfortunately.  One bottle is $11.64.
Guarantee
I purchased these through Amazon, so they should have the typical Amazon guarantee, which I think is 30 days.
Where To Buy
To buy Maikai Prenatal Multivitamin With DHA, click here.
Maikai Prenatal Multivitamin With DHA: Summary
| | |
| --- | --- |
| Factor | Maikai Prenatal Multivitamin With DHA |
| Overall Rating | |
| Ease of Use | Very easy to take… one softgel per day with a meal |
| Taste | Taste a little sweet going down |
| Ingredients | Not impressed with these ingredients |
| Side Effects | No negative side effects |
| Price/Value | Only $11.64 for a month supply |
| Guarantee | Typical Amazon guarantee |
| Where To Buy | Click Here |