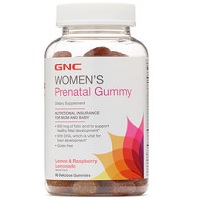 Product Name:  GNC Women's Prenatal Gummy
Overall Rating: 

Type/Size:  90 Gummies
Serving Size:  2 gummies daily
Servings Included:  45
Price:  $12.99
Cost Per Serving:  $0.29
Where to Buy:  Click Here
# of Ingredients:  22
Overall Opinion:
Once I looked at the ingredients of these prenatal gummies, I knew I wasn't going to like them.  I gave them 1 out of 5 stars.
GNC uses a stock formula for these gummies (basically a very basic formula that's used by many other companies).  That's not a bad thing, but in this case, the stock formula is missing SO many ingredients that are good for mama and baby.
So the lack of ingredients really brought the rating of this product down.
They do have 800mcg of Folic Acid however, which I'm happy to see.
The taste is pretty good, although both flavors taste the same.
The price is extremely cheap, you can't beat it.  But I also think the product (gummies) are very cheap in this case.
So overall, I wouldn't feel comfortable taking these gummies while pregnant, so I gave them 1 out of 5 stars.
Detailed Opinion:
Ease of Use
GNC Prenatal Gummies are very easy to use.
You just need to chew two per day.  It doesn't say whether to take them with food and drink, so I think you can take them whenever.  That's pretty convenient.
Taste
If I were rating these solely on the taste, I would've given them a higher rating.
The taste is pretty good.  The bottle comes with an assortment of 2 different flavors… lemon and raspberry lemonade.  To be honest, both flavors tasted exactly the same.
They both have a strong lemon flavor that's not overly sweet, but definitely tart.  They're also coated in sugar.
Ingredient Analysis
These gummy leave a lot to be desired as far as ingredients go.  They're lacking quite a few things I like to see in prenatal vitamins.
These gummies are the exact same stock formula as many other prenatal vitamins out there.  I've seen it used by VitaFusion and many others.  So they didn't add anything special to it, they just went with the bare minimum as far as ingredients go.
These have 800mcg of folic acid, which is good.  That's an average amount that a lot of prenatal vitamins include in their formula. However, if you can only take Folate (MTHFR mutation), than the Folic Acid won't cut it for you.
Now, these vitamins are missing a lot of good things.  They don't have any B1, B2, Biotin, Vitamin K, Choline, Calcium, and Iron.  No B1 or B2?! That's very unusual.  All these ingredients are essential for your growing baby, so it's not a good idea to forego them, especially in the critical first trimester.
GNC Prenatal Gummies are also a bit low in the following areas: Vitamin C, Vitamin E, Iodine, Zinc, and Omega-3s.
This prenatal vitamin is missing so many essential nutrients, that I wouldn't trust taking it while pregnant.  I'd take it for a day or two if I were in a pinch, but not long term.
Now that I am pregnant, it's very important to me to give my growing boy all he needs, and I just don't feel very confident in these gummies.
Side Effects
These left a gross, sour after taste in my mouth.  I chose to take them before brushing my teeth, just so I could quickly get rid of the after taste.
Price/Value
GNC Women's Prenatal Gummy is a very cheap prenatal vitamin. Unfortunately, I think the cost reflects the quality of these.
I'd rather pay double for a good quality prenatal.
Guarantee
GNC has a 30-day money back guarantee for their supplements, which I'm very happy to see.  That's a silver lining for these prenatals; you can test them out and return them if you're unhappy.
Where To Buy
To buy GNC Women's Prenatal Gummy, click here.
GNC Women's Prenatal Gummy: Summary
| | |
| --- | --- |
| Factor | GNC Women's Prenatal Gummy |
| Overall Rating | |
| Ease of Use | Easy to use, chew two gummies per day |
| Taste | The taste is good, lemony and tart. |
| Ingredients | Lacking MANY of essential ingredients |
| Side Effects | Sour after taste |
| Price/Value | $12.99 for a 45-day supply |
| Guarantee | Yes, 30-day money back guarantee |
| Where To Buy | Click Here |