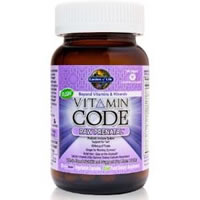 Product Name:  Garden of Life Raw Prenatal
Overall Rating: 

Type:  30 veggie capsules
Serving Size:  3 capsules per day
Servings Included:  10
Price:  $18.39
Cost Per Serving:  $1.84
Where to Buy:  Click Here
# of Ingredients:  27
Overall Opinion:
After using Garden of Life Raw Prenatal for a while, I gave it 3.5 out of 5 stars.
I really like the ingredients in this prenatal vitamin; it has a lot of great things I look for. They're dairy free, gluten free, and vegetarian, which is nice for those of you who have allergies or diet restrictions.
Whenever I try a new prenatal, I have a list of vitamins I look for in there (ones that are essential to mom and baby before, during, and after pregnancy).  This one hit a lot of the marks, but was still low in some crucial vitamins I look for.  But overall, I was really happy with the ingredients.
I don't like how you need to take one pill, three times per day.  I had a really hard time remembering to do this.  And, the pills are humungous!  They'd get stuck in my throat more often than not.
The price is also a little steep for Garden of Life Raw Prenatal.
Overall, I think this prenatal vitamin is better than average, so I gave it 3.5 out of 5 stars.
Detailed Opinion:
Ease of Use
I found this prenatal vitamin very hard to use.
The directions say to take one capsule, three times per day.  So I had to remember to take my pill, three times a day, which was hard for me.  I prefer prenatals where you can take them all in one sitting, it's just easier to remember.  You can take them with or without food, which is convenient.
To top it off, these capsules are HUGE.  They're bigger than your average capsule, and they'd always get stuck in my throat, which was so annoying.  For those of you out there who have trouble swallowing pills, I'd steer clear of these.
On the box, it says you can open the capsules and empty the contents into water or raw juice, so I think they know that the capsules are very big and hard to swallow.
Taste
Since you swallow these, there's not much taste.
However, mine would get stuck in my throat and start to dissolve there, which lead to a gross after taste.
The vitamins don't really smell like much either.
Ingredient Analysis
Garden of Life Raw Prenatal has a very nice ingredient list.
For starters, it contains 800mcg of folate to support healthy neural tube development in your baby.  This is a very common dosage, most prenatals contain 800mcg.
It also has Vitamin D3 in the amount of 1400 iu, which is a good amount.
It has 18mg of Iron, which is lower than I'd like, but at least it has some.  A lot of prenatal vitamins don't have any iron in them.
It has great amounts of Vitamin E, Vitamin A, and B6 as well.
But there are some ingredients this prenatal is lacking, and also some where the dosage is too low.
I wish it had higher amounts of Vitamin C, Vitamin K, Iodine, Calcium, and Zinc.
Vitamin C is essential for making collagen in both mom and baby. It also fends off infections and can help repair cells. So I wish these pills had a little more Vitamin C in them.
During pregnancy, a women's daily Iodine needs jump from 150mcg to 220mcg.  This one only has 150mcg, so I wish it had more.  Iodine is used to help your baby develop a healthy central nervous system.
It's also very low in Calcium, which is critical during pregnancy.
Now, this vitamin is also completely lacking Choline and Omega 3s, which I would've liked to see in here.
But it does have a probiotic blend with ginger to help combat morning sickness, which is a plus!
Side Effects
These pills would get stuck in my throat, thus causing nausea and a weird feeling in my chest.
I also would get a bad taste in my mouth.
Price/Value
These veggie capsules are $18.39 for a 10 day supply. First off, why even sell a 10 day supply?  If you buy this size, you'll need to buy 3 bottles per month.  They do sell larger sizes though.
Overall, the price of this prenatal is not cheap.
Guarantee
They have a 30 day money back guarantee through the Garden of Life website, which is great.
Where To Buy
To buy Garden of Life Raw Prenatal, click here.
Garden of Life Raw Prenatal: Summary
| | |
| --- | --- |
| Factor | Garden of Life Raw Prenatal |
| Overall Rating | |
| Ease of Use | Hard to swallow, need to take 3 times per day |
| Taste | Taste fine, but sometimes have weird after taste |
| Ingredients | Great ingredient lineup overall |
| Side Effects | Chest pain and nausea when they'd get stuck in my throat |
| Price/Value | $18.39 for 10 day supply |
| Guarantee | Yes, 30 day guarantee |
| Where To Buy | Click Here |