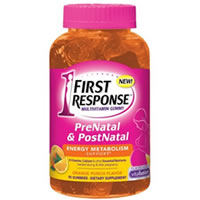 Product Name:  First Response PreNatal & PostNatal Gummy
Overall Rating: 

Type:  90 gummies
Serving Size:  2 gummies per day
Servings Included:  45
Price:  $14.99
Cost Per Serving:  $0.33
Where to Buy:  Click Here
# of Ingredients:  14
Overall Opinion:
Unfortunately, this prenatal vitamin really let me down, especially in the ingredient department.  I ended up ranking it 1.5 out of 5 stars after testing it out.
The only things I like about these gummies is that they're easy to take, and they're very cheap.
The ingredient list just isn't up to par.  There are certain ingredients I look for in prenatal vitamins, all which have been shown to benefit both mother and baby in some way, and this one is missing a lot of those ingredients.  It's essential to find a prenatal vitamin that hits most of the marks as far as ingredients go, because both yours and your baby's health are top priority during pregnancy.  Now, no prenatal vitamin is perfect, but there are some out there that get pretty close.  This just isn't one of them.
I also find the taste of these to be off putting.  They're SO sweet due to the fact that they're coated in sugar.  I actually think they'd be better without the sugar coating on them.  The orange flavor also tastes artificial to me.
So overall, these gummy vitamins underwhelmed me, so I gave them 1.5 out of 5 stars.
Detailed Opinion:
Ease of Use
These are square shaped gummies that come coated in sugar.  You need to take two per day; it doesn't say whether to take them with or without food.
Overall, these are very easy to take.  The texture is easy to chew, and the size of the gummies is perfect.  They aren't too big or too small.
Taste
I personally am not a fan of how these gummies taste.
They're way too sweet and artificial tasting in my opinion.  They're coated in sugar, which they definitely don't need to be; it just makes them overly sweet.
These are an "orange punch flavor".  Orange isn't my favorite flavor to begin with, but these gummies taste especially artificial. They don't taste like natural orange at all. I prefer the taste of other gummies to these.
Now, if you like very sweet tastes, you'll probably like these. I let my husband try one and he really enjoyed the taste.
Ingredient Analysis
First Response Prenatal Gummies have some of the crucial vitamins I look for, but it definitely doesn't have all of them.  I found this prenatal vitamin to be lacking in a lot of areas.
We can talk about what they DO include first.
They have 800 mcg of folic acid, which is a very common dosage in prenatal vitamins.
They also contain 20 mg of Niacin (B3). I like to see anywhere between 18 to 35 mg, so 20 mg is the perfect amount.
Now, in almost every other vitamin, these are lacking.
They don't contain nearly enough Vitamin C, Vitamin D, Vitamin E, Calcium, Iodine, Zinc, Choline, and Omega-3s.  That's a lot of vitamins to be lacking in.  Now, these gummies do contain all the above listed vitamins, but all the amounts fell short of the RDA (recommended daily allowance) for pregnant ladies.
These gummies are also completely without some of the most important vitamins you need before, during, and after pregnancy.
They don't include Vitamin K, Iron, Biotin, B1, and B2.  B1 aids in the healthy development of your baby's heart, brain, and muscles. It's a very important ingredient to take daily. B2 is also crucial to both mom and baby during pregnancy. It can help mothers metabolize fats and drugs, and the benefits for babies are proper growth and good vision (among many others).
So overall, these gummies have some of the needed ingredients, but it's also missing a lot of very important ones.
Side Effects
They left a weird after taste in my mouth.
Price/Value
First Response PreNatal and PostNatal gummies are $15.00 per bottle.  That's only $0.33 per day, which is extremely cheap.  In this case, I think you get what you pay for.
Guarantee
You can't buy these gummies on the First Response website, so I bought them through Amazon. So they have Amazon's 30 day money back guarantee.
Where To Buy
To buy First Response PreNatal Gummy, click here.
First Response PreNatal Gummy: Summary
| | |
| --- | --- |
| Factor | First Response PreNatal Gummy |
| Overall Rating | |
| Ease of Use | Easy to use, eat 2 gummies per day |
| Taste | Taste very sweet, they're covered in sugar |
| Ingredients | Lacking a lot of essential vitamins |
| Side Effects | It had a bad after taste. |
| Price/Value | $14.99 for 45 day supply, that's very cheap |
| Guarantee | Yes, through Amazon |
| Where To Buy | Click Here |