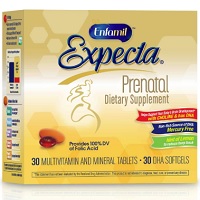 Product Name:  Enfamil Expecta Prenatal Vitamin
Overall Rating: 

Type/Size:  30 Tablets and 30 Softgels
Serving Size:  1 tablet and 1 softgel daily
Servings Included:  30
Price:  $12.95
Cost Per Serving:  $0.43
Where to Buy:  Click Here
# of Ingredients:  Softgel – 1 ingredient, Tablet – 19 ingredients
Overall Opinion:
If you're looking for a prenatal vitamin that checks nearly every box, look no further than Enfamil Expecta Prenatal Vitamin.  While the prenatal vitamin only comes in a 30-day supply, it contains two separate vitamin bottles in its packaging.  The first is a tablet that contains the majority of essential vitamins and minerals needed during pregnancy.  The second is solely dedicated to providing expectant mothers with DHA for their baby's brain development.
Not only does this prenatal vitamin have one of the best ingredient breakdowns I've seen, but the price tag is also hard to beat.  Costing less than $13 a month, this is one of the most affordable prenatal vitamins I've seen, with an ingredient list that beats out nearly every other competitor.
The only downfall is Enfamil's terrible return policy, but unless you're looking for Folate instead of Folic Acid in your prenatal vitamin, I doubt there would be many reasons to return this prenatal vitamin.  Do yourself, your growing baby, and your wallet a favor and check out Enfamil Expecta Prenatal Vitamin immediately!
Detailed Opinion:
Ease of Use
I think Enfamil Expecta prenatal vitamins are really easy to take.  Even though you have to take both a softgel and a tablet each day, there are plenty of other prenatal vitamins on the market that require swallowing two pills daily, so this wasn't an inconvenience to me at all.  The pills also look very different, so you won't get confused on which vitamin you've taken and which one you still need to take each day.
The softgel is particularly easy to swallow because it's both small and has a plastic coating on it.  The tablet was slightly more challenging to swallow simply because it's a larger, dry pill, but even that went down easily with a glass of water.
Enfamil also instructs to take both vitamins with a meal, so I made sure to take it after I had eaten breakfast.  I had zero stomach issues, or any other issues for that matter, by taking it this way.  So overall, it was very easy and straightforward!
Taste
Since the softgel has a plastic coating around it, it doesn't taste like anything at all.  I was really worried about the taste of the tablet because when I opened the container, it had the most overwhelming fish smell to it.  Yuck!  Thankfully, that tablet didn't have any sort of taste either.  It just tasted like a regular vitamin.
Thankfully, neither of the vitamins left any sort of aftertaste or gross burps, so that's a definite bonus!
Ingredient Analysis
When I first came across Enfamil Expecta Prenatal Vitamin, I was really intrigued by it.  It's two separate bottles, one of which is solely dedicated to DHA.  Many prenatal vitamins I've encountered leave out DHA altogether, or you have to seek out your own supplement for it, so I thought right off this bat that this was a pretty genius approach to their prenatal vitamin!
After analyzing the ingredient list, I am beyond impressed with Enfamil Expecta Prenatal Vitamin, and think it's an excellent choice for most expectant mothers.
To kick off the positives of the ingredient list, Enfamil Expecta's tablet has 800 mcg of Folic Acid in it, which is the perfect amount.  However, make sure to note that it's not in the form of Folate, so if you're OB has specifically told you to find a prenatal vitamin with Folate, you'll need to avoid this one altogether.
Additionally, this prenatal vitamin also has the perfect Recommended Dietary Allowance (RDA) of Vitamin A, Thiamin-B1, Riboflavin-B2, Niacin-B3, Pyridoxine-B6, Biotin-B7, Vitamin B12, Vitamin D, Vitamin E, Iron, Iodine, and Zinc.
It's slightly slow in Vitamin C and Calcium, but as I've said in other prenatal reviews, this doesn't really concern me since Vitamin C and Calcium are both found naturally in many of the food products we eat.
Unfortunately, on the flip side of all those positive, Enfamil Expecta Prenatal Vitamin leaves Vitamin K off completely, which is something I'm sadly seeing more and more of in prenatal vitamins on the market.  It's also very low in Choline.
Vitamin K is essential for healthy blood clotting, and Choline plays a significant role in the creation of organs, so both are really important to keeping both mama and baby healthy during pregnancy.
Finally, while the softgel offers nearly the right amount of DHA needed for baby's brain development during pregnancy, neither the tablet nor the softgel have any other Omega-3s in it.  And the RDA of Omega-3s is 650mg, so it definitely falls short in this department, as well, despite trying to include a separate supplement for the DHA.
Overall, I'm really impressed with this prenatal duo from Enfamil Expecta.  Is it perfect?  Definitely not.  But it's probably one of the best ingredient breakdowns I've seen in a prenatal vitamin on the market today.
Side Effects
I didn't experience any negative side effects while taking Enfamil Expecta Prenatal Vitamins.
Price/Value
I can't believe how amazing the price is for Enfamil Expecta Prenatal Vitamin, especially given what a great prenatal vitamin it is!  You'll have to repurchase the duo every month since it only comes in a 30-day supply, but at less than $13.00 for both a tablet and a softgel, this has got to be one of the best deals on the market today.  I'm extremely impressed!
Guarantee
In my opinion, Enfamil has a really poor return policy.  They only accept returns on unopened packages 30 days after purchasing.  I'm not sure how customers are supposed to know if the prenatal vitamin agrees with them if they don't even have a chance to try it?
The customer is also responsible for shipping charges to send the product back, which seems silly to me, as well.  So overall, I'm really unimpressed with their return policy.
Where To Buy
To purchase Enfamil Expecta Prenatal Vitamin, click here.
Enfamil Expecta Prenatal Vitamin: Summary
| | |
| --- | --- |
| Factor | Enfamil Expecta Prenatal Vitamin |
| Overall Rating | |
| Ease of Use | Take one capsule and one softgel daily with a meal |
| Taste | No taste for softgel or tablet, and no gross aftertaste either |
| Ingredients | Impressive ingredient list—only leaves on Vitamin K.  Low in Choline and Omega-3s but perfect RDA for every other ingredient |
| Side Effects | No negative side effects |
| Price/Value | $12.95 for 30-day supply |
| Guarantee | Bad return policy—only accepts returns on unopened packages 30 days after purchase, and customer is responsible for shipping charges, too |
| Where To Buy | Click Here |