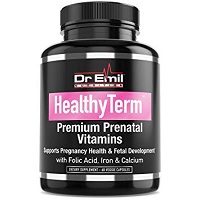 Product Name: Dr. Emil HealthyTerm Prenatal Vitamin
Overall Rating:

Type/Size: 60 Capsules
Serving Size: 2 capsules daily
Servings Included: 30
Price: $21.95
Cost Per Serving: $0.73
Where to Buy: Click Here
# of Ingredients: 19
Overall Opinion:
If you're like I was and have never heard of Dr. Emil HealthyTerm Prenatal Vitamin, it's time you get well acquainted. Not only is this prenatal vitamin extremely easy to work into your day-to-day life, but it actually does what a prenatal vitamin should do—provide real nutrients for both mother and baby during pregnancy.
No prenatal vitamin is perfect, and that's the case with Dr. Emil HealthyTerm Prenatal Vitamin, as well. It fails to include a few key ingredients in their ingredient list, and pregnant mothers on other medications have to be more aware of timing out when to take their prenatal vitamin.
However, despite these small hiccups, Dr. Emil HealthyTerm Prenatal Vitamin is one of the better prenatal vitamins available on the market today, and it won't break the bank either. This is definitely a vitamin to consider if you're pregnant or planning to become pregnant soon!
Detailed Opinion:
Ease of Use
Overall, I think Dr. Emil HealthyTerm Prenatal Vitamins are easy to take. I'm not currently on any other medications, which added to the ease of use. However, if you do take any other medications, you have to make sure to take this at least one hour before or after any other medications. That aspect of this prenatal vitamin could make it more difficult for some to use.
Besides that, you just need to swallow two capsules daily. The capsules are really easy to swallow as they're small and have a plastic coating on them. I found I could easily swallow them together and with a small amount of water. So overall, Dr. Emil HealthyTerm Prenatal Vitamins were super easy to incorporate into my day-to-day life.
Taste
Since you simply swallow the Dr. Emil HealthyTerm Prenatal Vitamins, and due to the plastic coating around the vitamin, I didn't taste anything at all when taking this prenatal vitamin.
I also didn't notice any aftertaste or nasty burps, which is definitely a plus for me!
Ingredient Analysis
Since I've had such a positive and easy experience actually taking Dr. Emil HalthyTerm Prenatal Vitamin, I was crossing my fingers that the ingredient list was stellar, as well. And since this was a brand I'd never heard of before, I really had no idea what to expect when it came to the product quality.
After analyzing the ingredient list, I'm happy to report that this prenatal vitamin does much better than most other prenatal vitamins on the market today!
Firstly, something I want to point out about the ingredient makeup specifically is that it contains 800mcg of Folic Acid, which is the perfect amount. However, make sure you note that it's in the form of Folic Acid, not Folate, which some expectant mothers need. Unless your OB has told you otherwise, you're likely fine with Folic Acid, but make sure you chat with your doctor about this aspect if you have any concerns.
Beyond having the right amount of Folic Acid present, some of the other ingredients that are spot on in Dr. Emil HealthyTerm Prenatal Vitamin are Vitamin A, Thiamin-B1, Riboflavin-B2, Niacin-B3, Pyridoxine-B6, Biotin-B7, Vitamin B12, Vitamin E, and Zinc.
It's a little bit low in Calcium, Vitamin C, and Vitamin D, but that doesn't concern me since all of those vitamins are found naturally in many of the foods we eat on a daily basis. And it's only slightly low, as well, so nothing to be concerned about if you aren't eating a super balanced diet 🙂
On the flip side, unfortunately, Dr. Emil HealthyTerm Prenatal Vitamin completely left Vitamin K, Choline, and Omega-3s off of the ingredient list. Boo! I know that many pregnant mamas take a separate supplement for Omega-3s, specifically in the form of DHA, so I'll let that one slide. But I'm pretty bummed about the Vitamin K and Choline.
Vitamin K is essential for healthy blood clotting, and Choline plays a significant role in the creation of organs, so both are really important to keeping both mama and baby healthy during pregnancy.
Additionally, this prenatal vitamin is low in Iron and Iodine, so you'll want to keep that on your radar, as well, if you choose to move forward with using this as your prenatal vitamin.
Overall, despite having a few key ingredients missing, I'm really impressed with Dr. Emil HealthyTerm Prenatal Vitamin. When comparing its ingredient list to many others on the market, it comes out on top and does a nice job of providing expectant mothers and their babies the nutrients they need during pregnancy.
Side Effects
I didn't experience any negative side effects while taking Dr. Emil HealthyTerm Prenatal Viitamin. I never took it on an empty stomach since I'm in the habit of taking my prenatal vitamin with breakfast, so I'm not sure if that would cause any problems.
However, it doesn't specify in the instructions to take the vitamin with food, so I think you'd be good to go either way.
Price/Value
When compared to other prenatal vitamins on the market, Dr. Emil HealthyTerm Prenatal Vitamin outperforms most in nearly every department. From price point and ease of use, to the impressive ingredient list makeup, this is definitely a prenatal vitamin designed to provide for expectant mothers and their babies.
Based on all of that, I would say Dr. Emil HealthyTerm Prenatal Vitamin is well worth the money!
Guarantee
Dr. Emil Nutrition sells their prenatal vitamins on third-party websites and stores, such as Amazon and Walmart. The return policy for these vitamins is dependent on the individual retailer where you purchase the vitamins from, so make sure you investigate the return policy before purchasing.
Where To Buy
To purchase Dr. Emil HealthyTerm Prenatal Vitamin, click here.
Dr. Emil HealthyTerm Prenatal Vitamin: Summary
| | |
| --- | --- |
| Factor | Dr. Emil HealthyTerm Prenatal Vitamin |
| Overall Rating | |
| Ease of Use | Swallow two capsules daily. Do not take within one hour of other medications. Capsules are very easy to swallow. |
| Taste | No taste when taking vitamin, and no gross aftertaste or burps |
| Ingredients | Despite missing a few key ingredients, the ingredient breakdown of this prenatal vitamin does much better than most other prenatal supplements on the market. |
| Side Effects | No negative side effects |
| Price/Value | $21.95 for 30-day supply |
| Guarantee | Sold through third-party retailers; based on return policy of individual retailers |
| Where To Buy | Click Here |