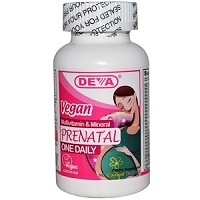 Product Name:  Deva Vegan Prenatal
Overall Rating: 

Type/Size:  90 Tablets
Serving Size:  1 tablet
Servings Included:  90
Price:  $11.79
Cost Per Serving:  $0.13
Where to Buy:  Click Here
# of Ingredients:  35
Overall Opinion:
After testing out Deva Vegan Prenatal, I think it's slightly better than your average prenatal vitamin out there.
It's very easy to take; all you need to do is swallow one (average sized) pill per day.  You need to take it with food though, so don't forget that!
As far as ingredients go, this prenatal is close to being complete, but it's low in some areas. One concerning area it's a tad low in is Folate.  Now, it's not alarmingly low, it has 550 mcg, when I like to see 600.  But most prenatals nowadays have 600-800 mcg.  So I would've liked to see 600-800 mcg in here.
It's also a little low in a few other areas and is missing Omegas completely.  But compared to other prenatal vitamins, the ingredients look pretty good.
Now, they did make me nauseous a few times after I took my daily pill.  That wasn't fun at all.  They also don't have a money back guarantee through their website, but you can probably find one elsewhere.
So overall, Deva Vegan Prenatal is slightly better than your average prenatal vitamin and I give it 3 out of 5 stars.
Detailed Opinion:
Ease of Use
These tablets are very easy to use.
They're the size of an average pill, and they're coated which makes them very easy to get down.
They're bright yellow in color, which is kind of different.
The best part is, you only need to take one per day.  You do need to take them with a meal, however.
Taste
These tablets have no taste at all.
I really didn't mind taking them; they literally taste like nothing and didn't have any bad after taste.
Ingredient Analysis
The ingredient list in these vegan prenatal tablets is very impressive.  I'm pleasantly surprised by how much they have in them.
There's one thing that is kind of concerning however.  They have 550 mcg of Folate, which is a tad bit shy of the 600 mcg I like to see in my prenatal vitamins.  Now, it's not drastically low, but it's still something I look at. Folate is a very vital vitamin during pregnancy, (especially the first trimester) and it helps prevent neural tube defects in baby.
But it has great amounts of Vitamin A, B1, B2, B6, B12, and Vitamin E.
It's a little low in a few other areas such as Vitamin D, Iron, and Iodine.  It wasn't low enough to concern me, however.
Now it's lacking a good amount of Calcium, Vitamin K, and Choline.  So I would've liked to see all those areas bumped in dosage.
There's no Omegas in here, but Omegas are commonly left out of prenatal vitamins. So speak with your OBGYN about whether you should take an additional Omega/DHA supplement if you're taking these.
They also included a few extra ingredients such as Alfalfa, Chamomile, and Rose Hips, which is interesting!
But overall, this prenatal vitamin looks pretty good as far as ingredients go.  My main concern is the semi-low amount of Folate.
Side Effects
These pills made me nauseous a few times after I took them.  Thankfully, it wasn't every time, but it did happen a few times.
I think it could be because the amount of B12 in these is through the roof!  But that's just a hunch.
Price/Value
Deva Vegan Prenatal is so cheap at only $11.79 for a 90 day supply.  That's less than $4.00 per month!
Guarantee
No, I didn't find a guarantee through their website, so it depends on where you purchase them.
Where To Buy
To buy Deva Vegan Prenatal, click here.
Deva Vegan Prenatal: Summary
| | |
| --- | --- |
| Factor | Deva Vegan Prenatal |
| Overall Rating | |
| Ease of Use | Very easy to use, swallow one tablet per day |
| Taste | There's no taste whatsoever |
| Ingredients | Overall good, but little low in Folate |
| Side Effects | Got nauseous after taking them a few times |
| Price/Value | $11.79 for a 90 day supply, so cheap |
| Guarantee | No guarantee |
| Where To Buy | Click Here |