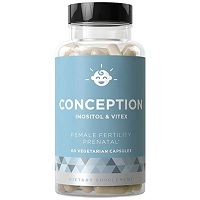 Product Name:  Conception Female Fertility Prenatal
Overall Rating: 

Type/Size:  60 Tablets
Serving Size:  2 tablets daily
Servings Included:  30
Price:  $29.99
Cost Per Serving:  $0.99
Where to Buy:  Click Here
# of Ingredients:  15
Overall Opinion:
Conception Female Fertility Prenatal vitamin is actually marketed as both a fertility pill and a prenatal vitamin.  I'm a bit skeptical about any OTC supplement helping you conceive, but that isn't my area of expertise.  So, since they instruct to continue taking this prenatal vitamin the entire first trimester, I am reviewing Conception Female Fertility supplement solely as a prenatal vitamin.
After actually taking this prenatal vitamin and closely analyzing the ingredients, I rated it a 1/5.  So obviously, I don't really like it.
The only thing this product has going for it is that the capsules are easy to swallow and don't leave you with any negative side effects.  Not saying much, right?
Besides the absolutely disgusting taste and extremely high price tag, the ingredients found in this product are severely lacking.
Instructed to specifically be used during the first trimester when all vital organs are developing, this prenatal is missing a bunch of the crucial vitamins and supplements needed to support a healthy pregnancy for both mother and baby.
Maybe this vitamin works when it comes to fertility, but you'll want to avoid it at all costs when you actually do become pregnant.  Nearly any other option on the market would be a better one, and won't require you to switch prenatals a third of the way through your pregnancy.
Detailed Opinion:
Ease of Use
For the most part, Conception Female Fertility Prenatal is easy to use.  You do need to take this prenatal vitamin with a meal, and it also recommends taking it with 8 ounces of water, which I had never seen before.  They aren't difficult pills to swallow, so I'm not sure why they recommend that much water, but I guess it helps with absorption.
Like I said, the pills are easy to swallow, and I always take my prenatal vitamin with breakfast, so that aspect of it was really easy.  You also only need to take two capsules, which seems reasonable.
On a more interesting note, this supplement is supposed to help you conceive, and they recommend using it through your first trimester and then switching to a different prenatal vitamin.
That aspect of Conception Female Fertility Prenatal seemed a little weird and semi-difficult to me.  I like to use the same prenatal vitamin throughout the course of my entire pregnancy, so to switch after 14 weeks is a bit odd, but maybe that's just me!
Taste
Whenever I've taken a prenatal vitamin with a plastic coating on the outside, they never taste like anything besides plastic.  Unfortunately, this was definitely not the case with Conception Female Fertility Prenatals.
The taste is absolutely disgusting.  I know this is a very strange comparison, but it literally tasted like a hermit crab enclosure to me—yuck!  I only had the capsules in my mouth for a few seconds while I got water, and it made me want to throw up.
If that smell doesn't make sense to you, imagine something dead and rotting on the beach, and that's what it tasted like.  It gives me the chills to even write about the taste.
Ingredient Analysis
As a supplement that's intended to "support" your reproductive cycle to help you get pregnant, and then be taken during the first trimester only of your pregnancy, Conception Female Fertility Prenatal is a very unique concept to me, and one I had never seen on the market before.  So I was really intrigued to see how it differed and stacked up against other prenatal vitamins available.
In all fairness, this prenatal vitamin might be great as a fertility supplement, but that's not my area of expertise, so I'm simply reviewing this from a prenatal vitamin standpoint.
After analyzing the ingredient list, I really don't think these are a great choice for the majority of pregnant mamas out there…
Before I cover the extent of the ingredients in this prenatal review, I did want to point out that Conception Female Fertility Prenatal vitamins contain 800 mcg of Folate, which is the perfect amount.  In addition to being the correct dosage, it's also in the form of Folate, which a lot of pregnant mamas need, so this is one small positive aspect right off the bat for this supplement.
Some additional positives about the ingredients found in this prenatal vitamin is that they have the right amount of Thiamin, Riboflavin, Pyridoxine-B6, Vitamin B12, Vitamin D, and Zinc.  All of those are such important vitamins to have in a prenatal vitamin.  For example, Riboflavin helps the baby with healthy skin, good vision, and nerve, bone, and muscle development.
Unfortunately, they are low in Niacin, Iron, and Iodine.  While those supplements are present, they just don't have the proper Recommended Dietary Allowance (RDA) for a prenatal vitamin, which is a bummer.
When it comes to the negative aspects about this prenatal vitamin, Conception Female Fertility Prenatal vitamins don't have any Vitamin A, Biotin, Vitamin C, Vitamin E, Vitamin K, Calcium, or Omega-3s.
I really don't even know where to begin with this.  The first trimester is when most of your baby's vital organs are developing, so to take a prenatal vitamin that doesn't contain them doesn't seem to make sense.
For example, Omega-3s are directly involved with brain health and intelligence for your baby.  And Vitamin A aids in regulating gene expression, cell differentiation, and development.  What does that mean?  It's crucial for the development of the eyes, arms, legs, ears, heart, and circulatory/central nervous systems.  HOW could that not be in there?!
Conception specifically tells women to take this prenatal vitamin through the first trimester, and I couldn't disagree more.  To have major vitamins and supplements missing that are necessary for both mom and baby during those weeks in pregnancy make this a prenatal vitamin to avoid.
Side Effects
I didn't experience any negative side effects while taking this vitamin, so that's a nice positive!  I did have very bright pee while using it, but other than that, I didn't notice any difference.
Price/Value
For starters, I have to point out that Conception Female Fertility Prenatal vitamins are extremely expensive.  I can't believe it's a dollar per serving.  That seems outrageous to me!
Guarantee
Conception sells their products on third-party websites and health stores, such as Amazon.  The return policy for these vitamins is dependent on the individual retailer where you purchase the vitamins from, so make sure you investigate their return policy before purchasing.
Where To Buy
To buy Conception Female Fertility Prenatal Vitamin, click here.
Conception Female Fertility Prenatal: Summary
| | |
| --- | --- |
| Factor | Conception Female Fertility Prenatal |
| Overall Rating | |
| Ease of Use | Take two tablets daily with a meal and 8 ounces of water. Should be used through the first trimester before switching to a different prenatal |
| Taste | Absolutely disgusting; tastes like a hermit crab enclosure |
| Ingredients | Probably shouldn't be labeled as prenatal vitamin; does not contain necessary ingredients for healthy pregnancy, specifically in first trimester |
| Side Effects | No negative side effects; bright yellow urine while taking it |
| Price/Value | $29.99 for 30-day supply |
| Guarantee | Sold through third-party retailers; based on return policy of individual retailers |
| Where To Buy | Click Here |