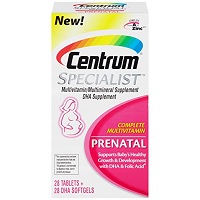 Product Name:  Centrum Specialist Prenatal
Overall Rating: 

Type/Size:  28 Tablets and 28 DHA Softgels
Serving Size:  1 tablet and 1 softgel daily
Servings Included:  28
Price:  $16.99
Cost Per Serving:  $0.61
Where to Buy:  Click Here
# of Ingredients:  28
Overall Opinion:
I'm very impressed with Centrum Specialist Prenatal so I rank it 4.5 out of 5 stars.
As far as ingredients go, this one is pretty complete.  However, it's not perfect; I have yet to find the perfect prenatal vitamin! I just aim to get as close to perfect as possible.
This prenatal vitamin used Folic Acid (as opposed to Folate) in the amount of 800 mcg.  This is a great amount, exactly what I like to see J It also hits the mark as far as most other essential ingredients go.  It's only lacking a few things such as Vitamin K, Calcium, Omegas, and it has no Choline at all.  But overall, the ingredients are impressive.
These vitamins come with both tablets (multivitamins) and DHA softgels.  So you need to take one of each per day with a meal.
I didn't experience any negative side effects while using these pills.
Overall, I recommend these and would feel very good about taking them throughout my pregnancy.
Detailed Opinion:
Ease of Use
This combo is pretty easy to use.  All you need to do is swallow one tablet and one softgel daily, with food.
I took mine with dinner each night. I wish you didn't need to take them with a meal, because that'd make them even easier to take.
Both the tablet and the softgel are a reasonable size (not too big, not too small).  The tablets are pink in color and the DHA softgels are a yellow, gold color.
I had no issues swallowing either of them.
Taste
The tablets taste like literally nothing.  I didn't have any plastic or vitamin taste in my mouth as they went down.
I also worry about having fishy burps throughout the day when I take a DHA supplement.  Thankfully, that didn't occur with these when I took them at dinnertime.  I can't speak to if you were to take them at breakfast or lunchtime though.
Ingredient Analysis
As a whole, Centrum Specialist Prenatal is a very complete prenatal vitamin.
I'm very happy with the ingredients in here.
To start off with, it contains Folic Acid in the amount of 800 mcg.  This is a wonderful amount, just what I look for in my prenatals. But take note of the form.  It's in the form of Folic Acid, not Folate.  I know a lot of women can't take Folic Acid, so this is something to take note of.
It has great dosages of Vitamin A, B1, B2, B3, B6, Biotin, Folic Acid, B12, Vitamin C, E, Iron, Iodine, and Zinc.  I'm so happy to see it includes all the very essential vitamins in such good amounts.  All of these play a role in how your baby develops, and you really don't want to be lacking in any area.
Centrum Specialist Prenatal isn't lacking in much, but it is low in Vitamin K, Calcium, and Omegas (even though they come with an Omega softgel!). I wish they'd included more DHA in the softgels, especially since they already went through the extra effort to make a separate DHA softgel.
This prenatal vitamin is a tiny bit low in Vitamin D as well.
One other thing that kind of bugs me is they didn't include which form of Vitamin E they include in these tablets. I like knowing exactly what I'm putting into my body.
Side Effects
I took my pills with dinner, which isn't that long before I go to bed. I prefer to take my prenatals at bedtime because then even if I do experience side effects, I'll be sleeping so I won't know J
With these, I had no side effects.
Price/Value
These vitamins are $16.99 for a 28-day supply.
That's $0.61 per day, which is reasonable.
Guarantee
I couldn't find a place to purchase these through the Centrum website, so I bought them through Amazon. If you purchase on Amazon, you'll most likely have the typical Amazon 30 day guarantee.
Where To Buy
To buy Centrum Specialist Prenatal, click here.
Centrum Specialist Prenatal: Summary
| | |
| --- | --- |
| Factor | Centrum Specialist Prenatal |
| Overall Rating | |
| Ease of Use | Take one tablet and one softgel daily with meal |
| Taste | No taste, you swallow both pills |
| Ingredients | Great ingredient list |
| Side Effects | No side effects |
| Price/Value | $16.99 for a 28-day supply |
| Guarantee | Depends on where you purchase it |
| Where To Buy | Click Here |