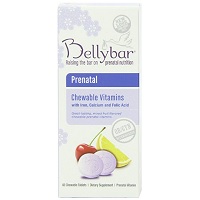 Product Name:  Bellybar Prenatal Chewable Vitamins
Overall Rating: 

Type/Size:  60 Chewable Tablets
Serving Size:  2 tablets per day
Servings Included:  30
Price:  $10.35
Cost Per Serving:  $0.34
Where to Buy:  Click Here
# of Ingredients:  13
Overall Opinion:
Before trying Bellybar Prenatal Chewable Vitamins, I had never heard of the brand, so I went in with a completely open mind.  After using it, I found that it excels in many areas but fails to deliver in all of the ways necessary for pregnant women and their babies.
For that reason, I gave it 3 out of 5 stars after trying it out.
The prenatal is very easy to take—you just need to eat two a day, and it's totally up to you when you want to take it, and whether you take it with or without food.  I didn't love the taste and found that I needed a glass of water after chewing them, but it definitely wasn't an overly horrible experience.
When analyzing the ingredients, it's clear that the vitamins and other ingredients it does contain have the perfect amount for pregnant women, and don't seem to be lacking in the recommended dietary allowance (RDA).  However, the ingredients it fails to include, such as Vitamin K and Iodine, are pretty major for keeping both mom and baby healthy.
While this prenatal is super affordable, and would allow you the budget to purchase and take the supplements this vitamin is lacking, I think there are better options out there that won't require you to take 5+ pills a day.
Overall, Bellybar Prenatal Chewable Vitamins aren't a flop, but may not be the best choice for pregnant mamas!
Detailed Opinion:
Ease of Use
Bellybar Prenatal Chewable Vitamins are super easy to use.  In fact, the only instructions provided are to chew two tablets daily, so you can decide when during the day you want to take them, and if you want to take them with or without food.
It was easiest for me to remember to take them each morning with breakfast, so that's how I chose to use the vitamins.
These chewable vitamins are pretty chalky tasting and get stuck all up in your teeth, so I would make sure you have a glass of water nearby to take a few drinks of after chewing up these vitamins.
Taste
I'm definitely not a fan of the taste of Bellybar Prenatal Chewable Vitamins.  At first, I thought they tasted pretty good—similar to the Flintstone vitamins I would take as a kid.  However, it leaves a nasty after-taste in your mouth.  To me, it sort of tasted like black licorice and medicine combined, so if you're a fan of black licorice, you might like the taste.
It also says that they're mixed flavor, but they all tasted like orange to me before the gross after-taste set in, so I'm not sure what other fruit tastes they were going for, but they don't come through at all.
Ingredient Analysis
I had never heard of the Bellybar Prenatal Chewable Vitamins before trying them out, so I didn't have any expectations going into it.  However, after analyzing the ingredients, I found that I'm impressed in some areas and disappointed in others.
On the positive side, Bellybar Prenatals have 800 mcg of Folic Acid in it, which is the perfect amount.  However, it's not in the form of folate, so any of you who need folate should steer clear of this one.
These chewable vitamins also have a great amount of Vitamin A, Vitamin C, Iron, Vitamin D, Thiamin-B1, Riboflavin-B2, Niacin-B3, B6, and Zinc, as well.  I'm happy to see that this vitamin contains a good amount of Vitamin D, which helps prevent scary stuff such as preterm labor and miscarriage, and Zinc, which plays a part in healthy brain development and function of your baby!
However, on the flip side, these prenatals are super low in Calcium, and a little low for Vitamin E.  I'm actually shocked at just how low the Calcium is, especially since it's so necessary for bone development!  It isn't majorly low for Vitamin E, but I do like to see that at the proper amount since it plays a crucial role in helping mama's immune function protect against harmful viruses and bacteria, and it's great for protecting the baby from free radicals! Again, it's not too low but I still think worth mentioning.
You may notice that this prenatal vitamin is high in B-12 for the recommended dietary allowance (RDA), but it doesn't have any upper limit, so there is no reason to worry about that at all!
This prenatal is completely lacking in Biotin, Vitamin K, Choline, Iodine, and Omegas. It's pretty hit or miss if prenatals include DHA and other omegas or not, but many women now are looking for the DHA to be included instead of needing an additional supplement to take.  You'll definitely want to consult with your OBGYN first, but if you choose to take this vitamin, you may want to invest in an Omega supplement.
As for the lack of Biotin, Vitamin K, Choline, and Iodine, I'm pretty bummed this prenatal vitamin chose not to include them because they are great for you and your baby!  For example, Iodine is crucial for the development of the central nervous system, which includes the fetal brain and spinal cord, and Vitamin K is essential for healthy blood clotting.
So overall, while it contains the perfect RDA for the ingredients it does choose to include, it also leaves off some major vitamins you want to see in your prenatal vitamin.
Side Effects
I didn't experience any negative side effects while I was taking Bellybar Prenatal Chewable Vitamins, so that's definitely a positive!
Price/Value
Priced at $10 for a 30-day supply, Bellybar Prenatal Chewable Vitamins are insanely affordable!  And if you buy them on Amazon, you can get a pack of two that equals out to less than $10 a bottle, which is crazy to me.
I think overall this is worth the money because it's so affordable and does contain a lot of the recommended vitamins mom and baby need during pregnancy.  I think you'd have to go out and purchase additional supplements, which would jack up the cost of your supplements each month, but for the prenatal on its own, I think it's worth $10 for 60 chewable vitamins.
Guarantee
Bellybar doesn't have a website you can purchase these prenatal vitamins from directly, so you have to buy them on Amazon and other brick-and-mortar stores, such as Walmart and CVS.
Since you have to purchase the vitamins from a third-party retailer, the return policy and guarantee is on a case-by-case basis of where you purchase the product from. However, I found that Amazon had the best pricing for the product, and I think they are normally pretty good about refunding you your money, no matter when you purchased the product, so that's a great option.
Where To Buy
To buy Bellybar Prenatal Chewable Vitamins, click here.
Bellybar Prenatal Chewable Vitamins: Summary
| | |
| --- | --- |
| Factor | Bellybar Prenatal Chewable Vitamins |
| Overall Rating | |
| Ease of Use | Easy to take; chew two vitamins daily |
| Taste | Bad after-taste (like black licorice and medicine); tastes like orange initially |
| Ingredients | Has good RDA of the ingredients it contains but leaves off important vitamins such as Vitamin K, Iodine, Choline, and Biotin |
| Side Effects | No side effects |
| Price/Value | $10.35 for a 30-day supply |
| Guarantee | Return policy and guarantee is on a case-by-case basis of where you purchase the product from |
| Where To Buy | Click Here |