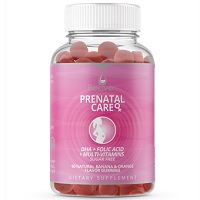 Product Name:  BeLive Prenatal Care
Overall Rating: 

Type/Size:  60 Gummies
Serving Size:  3 gummies daily
Servings Included:  20
Price:  $17.50
Cost Per Serving:  $0.88
Where to Buy:  Click Here
# of Ingredients:  10
Overall Opinion:
I really don't care for BeLive Prenatal Care Gummy Vitamins, so I gave them 1.5 out of 5 stars.
They have a really odd ingredient lineup; they're missing a lot and some ingredients have extremely high dosages.  This is something I've never seen before, so I wonder where they're getting their dosages.  But I'm not impressed at all with the ingredients.  They're missing so many crucial nutrients you and baby need while pregnant.
I definitely wouldn't feel comfortable taking these throughout my pregnancy.  They do have DHA in them, which is good.  But the DHA is still on the low side, not to mention it tastes horrible!
These gummies also have a crap load of Folic Acid in them, more than double what most prenatal vitamins have.  I'm not say it's necessarily a bad thing, but I'd definitely check with your doctor regarding this high dose of Folic Acid.
I really couldn't tolerate the way these taste and smell.  They smell so strongly of fish and taste the same.  They were really hard to get down. I usually love taking gummies because they taste so good…but not these.
BeLive also doesn't have a money back guarantee, which I'm disappointed to see.
So overall, I don't like these and unfortunately I cannot recommend them.
Detailed Opinion:
Ease of Use
This prenatal vitamin is in the form of gummies, and you need to take 3 per day.  Usually I'm more than happy to take 3 gummies per day, but these tasted horrible.  So I dreaded taking them.
The directions don't say whether to take them with or without food, so you can take them whenever you'd like to.
I'd either take mine around lunch time or right before bed.
Taste
These gummies taste awful.
As soon as I opened the bottle, I was hit with the overwhelming smell of fish.  It literally smelled like I was at a fish market.
When I ate one, I realized that the gummies really taste of fish as well.  They have a "Natural Orange and Banana Flavor", but the overpowering taste was fishy.  The banana and orange taste was there, and it tasted good.  But it just didn't do a good enough job covering up the fish.
These also left a really fishy aftertaste in my mouth.
Fish flavor and morning sickness aren't a good combo, so if you're experiencing morning sickness I'd avoid these.
Ingredient Analysis
BeLive Prenatal Care Gummies are lacking as far as ingredients go.  They only have 10 ingredients in there; I usually like to see more than that.
These gummies have 1900 mcg of Folic Acid, which is a crap load of Folic Acid.  I've actually never seen a prenatal with an amount this high; it's more than double what most prenatal vitamins have.  I don't know if it can harm you or baby taking too much Folic Acid, but I'd ask your doctor about this for sure.
These are also very high in Vitamin A, which I find odd. They have 10,800 mcg, and I usually look for anywhere between 770 and 3,000.  So that's another ingredient you'll want to speak with your OBGYN about before taking these.
Niacin is also another ingredient with a high dosage in here.
This prenatal vitamin is also low in quite a few areas.  It's a little low in Vitamin C, Zinc, and DHA.
Now, it doesn't have any B1, B2, Biotin, Vitamin K, Choline, Calcium, Iodine, or Iron.  That's a lot of vitamins to be lacking when you're growing another human being.
I wish they'd lowered the amounts of some of the ingredients so they could include more of others.
Another thing I noticed is that they don't say what form of vitamins they use, besides with the Vitamin A.  So I have no idea what form of Vitamin D, E, etc. is in these.
Overall, these ingredients don't impress me.
Side Effects
These give the worse after taste/breath out of any prenatals I've tried.  I needed to brush my teeth after I chewed them or else I'd get nauseous.  They also made me feel a little sick to my stomach, but that could be because they tasted so bad.
Price/Value
One bottle of these gummies is only a 20-day supply.  Most prenatals come in a 30-day supply, so it sucks you'll need to repurchase these more often.
The cost per serving is $0.88 per day, which is pretty average in my opinion.
Guarantee
No, they don't have a guarantee through their website.  I couldn't even find a return policy.
I really don't like seeing when companies don't stand behind their products.
Where To Buy
To buy BeLive Prenatal Care Gummy, click here.
BeLive Prenatal Care Gummy: Summary
| | |
| --- | --- |
| Factor | BeLive Prenatal Care Gummy |
| Overall Rating | |
| Ease of Use | Chew 3 gummies per day, with or without meal |
| Taste | They taste very fishy and gross. |
| Ingredients | Missing a lot, and have some ingredients with very high dosages, which is odd |
| Side Effects | Fishy aftertaste and stomach ache |
| Price/Value | $17.50 for a 20-day supply |
| Guarantee | No guarantee, which really sucks |
| Where To Buy | Click Here |