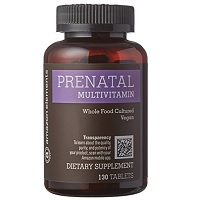 Product Name:  Amazon Elements Prenatal Multivitamin
Overall Rating: 

Type/Size:  130 Tablets
Serving Size:  2 tablets per day
Servings Included:  65
Price:  $34.99
Cost Per Serving:  $0.54
Where to Buy:  Click Here
# of Ingredients:  25
Overall Opinion:
Overall, I'm happy with the ingredients in this prenatal, but there were some red flags that I really didn't like.
After trying out these prenatal tablets, I give them 2 out of 5 stars.  So they fell short in my eyes and I wouldn't purchase them again.
As for the positive, I think they're easy to use and a good price point for how many servings you get.
The ingredient lineup is also pretty impressive, BUT there is a crap load of Niacin in here that caused me (and others) to have a reaction to the product.  Now, I can't be for sure that it was the Niacin that caused the reaction, but if I were to guess, I'd say it was.  Niacin caused a flushing reaction (red, hot skin) when taken in large doses, and that's exactly what I got.  I was further reassured, when I checked out reviews and saw I wasn't the only one who experienced this.
This prenatal vitamin is vegan, which is great for those of you who have certain allergies, but it also prevents it from containing Omegas (DHA fish oil), which is very important during pregnancy.
Also, this product is a little shady in that it's not always available for sale.  Amazon will take it down and then put it back up again, which I find really weird.
So overall, I think there are better prenatal vitamins out there for your money.
Detailed Opinion:
Ease of Use
With this prenatal vitamin, you need to swallow 2 tablets per day.
As far as the tablets go, they're brown in color and a pretty average size.  I wouldn't say they're huge horse pills, but they do have a little girth to them.  However, I didn't have a problem swallowing them.
They don't say whether to take them with or without food, so I took mine before bedtime.
Taste
These have a pretty strong vitamin taste as they go down, luckily it doesn't last long because you swallow them.
If you smell them in the jar, they also don't smell too good.
Ingredient Analysis
Amazon Elements Prenatal Multivitamin seems to have a pretty good ingredient lineup.
For starters, it has 800 mcg of Folate, which is a great amount for your growing baby. Never skimp on the folate/folic acid, it's very important in preventing neural tube defects!
It has a good amount of Vitamin A, all the B Vitamins, Vitamin E, and many more.  I'm very happy to see that.
It also has added probiotics and a botanical blend.  Probiotics can be very helpful in regulating your digestive system while pregnant.
Now, these tablets are a tad low in Vitamin C, Calcium, Iodine, and Zinc.  I know no prenatal is perfect, but I would've liked to see a little bit more in these areas.
It also has no Choline and no Omegas.  So make sure to take an additional Omega supplement (clear it with your OBGYN first of course).
I also have to mention that the Niacin dosage in these is a lot higher than most prenatal vitamins.  I'll talk about what kind of side effects this can cause below.
But overall, this prenatal vitamin is pretty complete as far as most ingredients both mama to be and baby need.
Side Effects
I noticed that shortly after I took these pills, I became flushed, hot, and my skin was very red.  I thought I was having an allergic reaction to these pills, and became overly worried.
It wasn't until after I looked online that I saw many users of this prenatal have encountered this problem.  Now, I'm no professional, but if I were to guess, I'd say it's from the high dosage of Niacin in these tablets.
Niacin is known to cause a "flushing" effect, that is supposedly harmless, but pretty scary nonetheless.
Price/Value
Amazon Elements Prenatal Multivitamin sells for $34.99 per bottle, which comes out to $0.54 per day.  That's a very average price point.
Guarantee
Yes, right now they're only available through Amazon, so you have Amazon's typical guarantee.
Where To Buy
To buy Amazon Elements Prenatal Multivitamin, click here.
Amazon Elements Prenatal Multivitamin: Summary
| | |
| --- | --- |
| Factor | Amazon Elements Prenatal Multivitamin |
| Overall Rating | |
| Ease of Use | Swallow two tablets daily |
| Taste | Taste gross, like vitamins |
| Ingredients | High amount of Niacin.  Good amount of Folate |
| Side Effects | Flushing reaction |
| Price/Value | $34.99 for a 65 day supply |
| Guarantee | Yes, through Amazon |
| Where To Buy | Click Here |